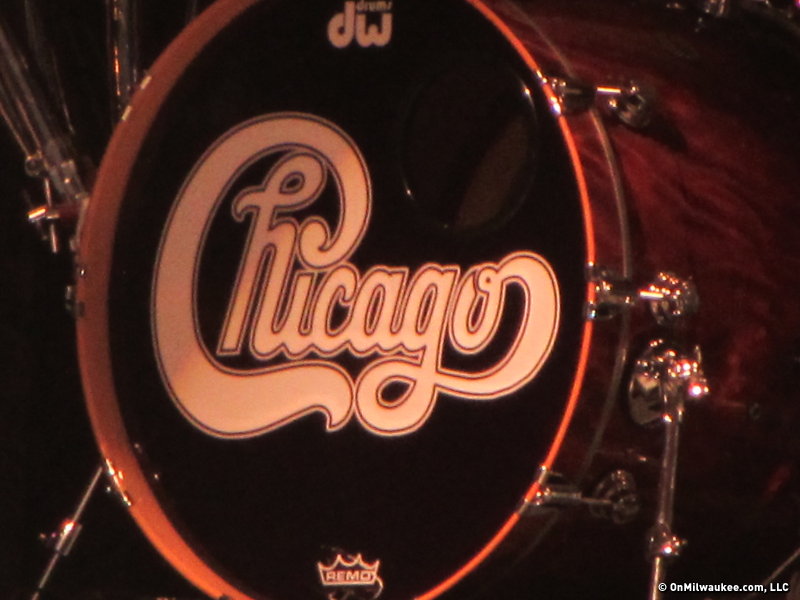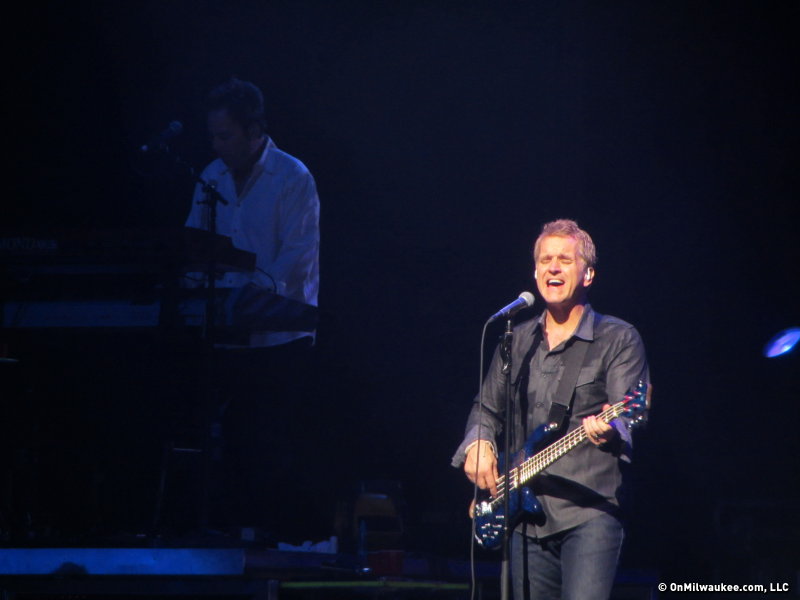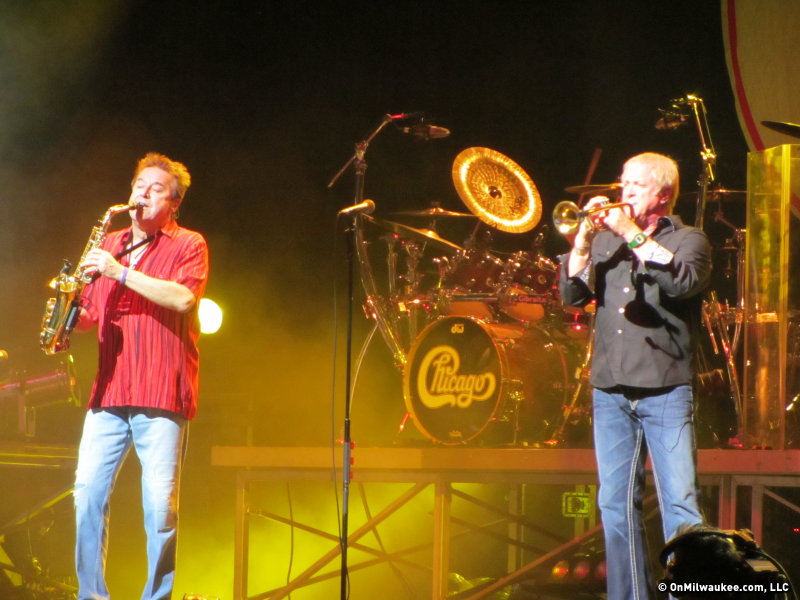 There is a lot of symmetry to Chicago and Summerfest – Chicago was formed 45 years ago in 1967, the Big Gig is celebrating its 45th year – so it seems only fitting the two icons in the music industry shared a day Sunday at the BMO Harris Pavilion on the shores of Lake Michigan.
It also seems only fitting that Chicago headlines a stage at the Big Gig the same day as The Beach Boys – celebrating their 50th anniversary tour– as the rock group from the Windy City is second only to the California rockers in Billboard singles and chart success among American bands.
The band has changed quite a bit from its inception nearly five decades ago, and, of course, has been fronted since 1985 by Jason Scheff, but the group played all of the songs people wanted to hear, as well as some deeper cuts.
The two-hour set started slowly, as keyboardist Lou Fardini handled many of the early vocals during the four songs that featured heavy horns and instrumentals. In fact, some fans in the standing-only area outside the pavilion walked away during this time, and the pavilion crowd was relatively subdued.
The fifth song was "Does Anybody Really Know What Time It Is?," which was led vocally by Bob Lamm, and it seemed to get the crowd stirring. Two songs later Scheff performed "Alive Again" which then brought the show to life.
Trumpet player and founding member Lee Loughnane introduced the following song by saying, "We already had a few hits under our belt and we thought we were established music stars. When this song came out, we were established as international stars."
That song was the group's only Grammy winner and a chart topper, "If You Leave Me Now."
From there the band transitioned into many of the hits from the Peter Cetera era such as "Hard To Say I'm Sorry/Get Away," "Hard Habit to Break" and "You're The Inspiration." Scheff was properly warmed up and he received help from Fardini, Bob Lamm and Loughane with the harmonies.
Having been performing these songs for nearly 30 years, Scheff knows his range and what he can and can't do. While everyone has Cetera in their head on those songs, they didn't enjoy it any less – and it wasn't performed any less solidly – with Scheff manning lead vocals.
Early hits like "Beginnings" and "Saturday in The Park," which was a long time concert opener for the band, instead came near the end with vocals by Lamm.
Founding member James Pankow then spoke to the surprisingly diverse crowd of baby boomers and people in their late 20s and early 30s when he introduced "Will You Still Love Me?" by saying "We think this song has two distinct audiences: One that got married to it, and one that got conceived to it."
The song also featured a strong flute solo by founding member Walter Parazaider.
After a very, very brief pause, the group came back for an encore that featured "25 or 6 to 4."
The group's musicianship was sharp and the signature horns were on point, though several long instrumental interludes did suck some of the energy out of the crowd.
While the pavilion was not sold out, the standing room area grew to reach the vendors behind them, and many fans who were leaving the Beach Boys show stayed on the ramps to listen in – especially during the trio of "Will You Still Love Me?", "Saturday In the Park" and "Hard To Say I'm Sorry/Get Away."
Chicago knows what it is at this point – a band that made a lot of hits that people love – and they know that's what people want. I do give them credit though for knowing themselves, too, and allowing Scheff the time to get himself vocally ready to tackle many of Cetera's signature songs.
There was plenty of dancing by young and old, which is a testament to the staying power of Chicago's music – as well as its ability to still entertain after 45 years.
ucszsuxaccfxbavdvswzfw
Facebook comments
Disclaimer: Please note that Facebook comments are posted through Facebook and cannot be approved, edited or declined by OnMilwaukee.com. The opinions expressed in Facebook comments do not necessarily reflect those of OnMilwaukee.com or its staff.
Recent Articles & Blogs by Jim Owczarski