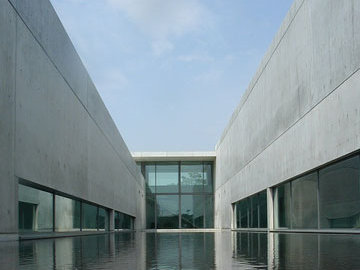 While on a business trip to St. Louis, we wanted to visit The Pulitzer Foundation of the Arts, one of the most beautiful buildings I have ever been to and designed by one of my favorite architects, Tadao Ando, who lives and practices in Osaka, Japan.
This art museum, commissioned by Emily and Joseph Pulitzer, is his first freestanding public building in the United States and it is in the Grand Central district of St. Louis.
Ando is known for his exceptionally crafted concrete and this is no exception. This building took four years to construct to getting the concrete just right and to the architect's desired level of polish. Glass and concrete, that's pretty much it.
The attention to detail is what makes this building so unconsciously magnificent. If you look closely, the seams in the concrete line up with the seams of the windows and even the seams in the mechanical grating throughout the building. The stair balustrade is made of glass and meets the concrete treads very cleanly, a testament to the relationship between the architecture and the craftsmanship.
Take Ando's description of his own building: "It's basically just two simple rectangles. But as you enter this simple figure or box, you discover a space that is complex and rich. Once you're inside, you learn things that could not be foreseen from the outside."
To me, this is a very humble way of describing the building but there is a lot of truth in his statement. As is characteristic of his works, Ando creates breathtaking moments in this architecture as well. You look down a long hallway that captures a view through a window and finishes the opening with a warm toned wood that somehow coexists with concrete, materials that are generally not adjacent due to their properties. He frames a view to the outside with a third dimensional natural element of a horizon pool that draws your eye out. The light filters through the interior in a non-threatening (to the artwork) way.
The materials -- simple and clean, but perfect in their finishes -- clear your mind of clutter and chaos allowing you to enjoy the open space they create. When you are upstairs and out on the balcony, you look back at the form of the concrete cantilever over the glass box and it looks like it should crush that form, but somehow the delicate material is able to hold it up.
Ando also had a unique opportunity to work with two artists that were going to have permanent commissions designed with and specifically for the space. Ellsworth Kelly created a piece called Blue Black at the end of a ramped stair and Richard Serra created a sculpture called Joe (named after Joseph Pulitzer) in the rear courtyard of the museum.
As with many moments that Ando creates in his works, he characteristically revealed these pieces with the same subtle wow factor that he is known for. Simultaneously the artists and architect worked together and this is by far the most beautiful Serra I have ever experienced. You walk around this sculpture and you are drawn into the form at a very personal level because the canted steel walls make you feel drunk, and in order to stay upright you have to pay attention (there's no touching). But then, the sculpture opens and the sky is revealed through this very particular view. All three of these artists worked together to create such site specific pieces, it is understood to be purposeful and deliberate and it works.
I would love to hear from anyone else who visits the museum, do you think he worked more with Serra than with Kelly? Just a hunch, but the Serra seems like it works with the site and the building that much more.
Then it was time to leave and it's like leaving a movie you wished you were a character in (that's set at night), mid-afternoon. It takes a few minutes to adjust, back to reality. You just want to stay in there, get me back to that altered reality, why can't every encounter be that wonderful?
OK, Wisconsinites, get on over to St. Louis. It is a 45-minute plane ride or a six-hour drive from Milwaukee. Even if you see this museum and turn around, it is worth the effort. But, while you are there, check out Saarinen's Arch and the Laumeier Sculpture Park. We stayed at the Moonbeam Hotel and it was fabulous. Everywhere we went, the people of St. Louis were friendly and helpful and proud of their city.
Pulitzer Foundation for the Arts is open Wednesdays and Saturdays and admission is free. You cannot take pictures inside the building, so it is definitely something you will have to experience for yourself. Yeah road trip!
Talkbacks
TheDudeAbides | Dec. 10, 2010 at 11:53 a.m. (report)
I've always liked Tadao Ando. He has a way with working with natural light and his simple forms are elegant. As a designer, though, Ando displays no competence in understanding how buildings play a role in an urban context. The Pulitzer Foundation building is a perfect example. Walking next to this building made me feel like something bad was going to happen to me at any moment. There's not enough transparency between the public realm and the interior of the building to get the feeling that there are "eyes on the street." The building's use of heavy, opaque materials made me feel that I should make no attempt to walk within the walls of this fortress. Great interior spaces, though.
Facebook comments
Disclaimer: Please note that Facebook comments are posted through Facebook and cannot be approved, edited or declined by OnMilwaukee.com. The opinions expressed in Facebook comments do not necessarily reflect those of OnMilwaukee.com or its staff.
Recent Articles & Blogs by Libby Castro