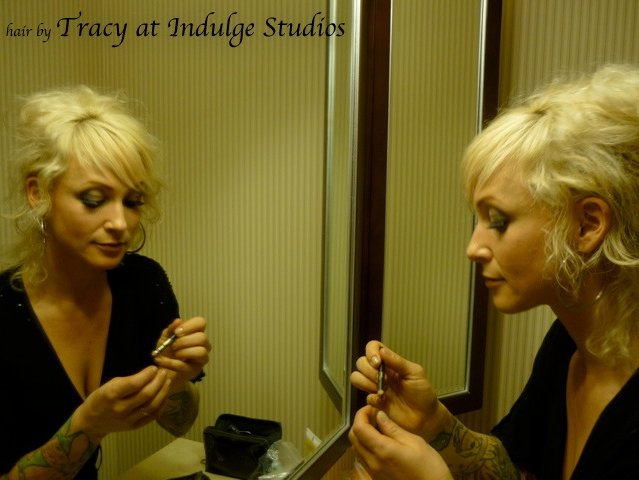 Custard on crisp cones
And hair expertly colored.
Custom-made jewelry
And professional photos.
Designer duds by Shanel Regier,
These are a few of my favorite things (in Mil-ee-wah-kay).
Okay, so the last line doesn't exactly fit in perfect meter unless you sing it really, really quickly. I encourage you to belt it out anyway and shop locally this holiday season!
We all know Milwaukee is the best city to live in. I also nominate it for one of the best cities to gift from.
There are only a few weeks to go before bows are hastily torn from thoughtfully chosen tokens, so here are some local gift ideas I have personally experienced that are sure to make your loved ones gasp with joy upon ripping them open.
Kopp's Custard
7631 W. Layton Ave., Greenfield, (414) 282-4312
18880 W. Bluemound Rd., Brookfield, (262) 789-9490
5373 N. Port Washington Rd., Glendale, (414) 961-3288
kopps.com
I passionately feel that Kopp's Custard is reason alone to visit, go to school or permanently reside in Milwaukee. I also vote it as the best custard in the state. Their chocolate malt custard has me licking a double scoop cone every time its flavor is blared across the Kopps's signage. But, did you know that you can share the gorgeousness that is the uniquely rich, seriously decadent cold treat that we residents often take for granted? An amazing gift for your foodie friends, or perhaps a Wisconsin ex-pat, Kopp's will send 10 pints of customized flavors, plus hot fudge and pecans, to salivating giftees. Imagine the delight you'll provide by gifting someone their first frozen custard experience. As someone who spends time outside of Wisco each year, I can vouch – Kopp's is the only thing I miss more than my family.
Indulge Studios
407 E. Silver Spring Dr., Whitefish Bay, (414) 431-3155
indulgestudios.com
I have only once achieved perfect, platinum blond hair. My "level one," naturally jet-black hair is notoriously tough to color, but Tracy Pohlkamp, owner of Indulge Studios in Whitefish Bay, took on the challenge and emerged victorious. She's the sole winner in a lifetime of hair experimentation who has been able to "blond" me. She did it in one appointment and without even a hint of brassiness. Just perfect, buttery, beige-y, champagne-y blond! Besides killer color, Indulge has a team of skilled stylists to maintain or make over your current look with the latest haircuts, blowouts, nail services, makeup, waxing and skincare.
Indulge is offering major gifts with salon gift certificate purchase to OnMilwaukee.com readers. Mention this blog and receive a Dermalogica Booster Skin Care Kit with a $75 gift certificate purchase, a Power Exfoliation Kit with a $100 gift certificate and an Age Smart Kit with a $175 gift certificate. Plus, for every $100 spent, you will also receive a $20 gift card!
A Trio Jewelry Design Studio
215 ½ N. Water St., (414) 431-7112
atriojewelry.com
Disclaimer: this custom design jewelry studio and showroom is owned by my brother and sister-in-law. But, that doesn't stop A Trio from being the place to get a one-of-a-kind gift for someone special in your life. Just ask my husband – he's dripping in A Trio custom sterling silver awesomeness for the stage and he just gifted me with a dazzling black diamond sparkler. A Trio also acquired a third-place finish for best jewelry store in the Shepherd's "Best of Milwaukee" issue in just their first year of business! Fifth generation jewelry designer Amy Shallow, along with her father, Mike Shallow, and my brother, Noah Bern, custom create any piece of jewelry you can dream of. They also manufacture unique pieces for their A Trio collection.
This holiday season, check out their ready-to-wear items like the interlocking "King and Queen Crown" rings, an "Add-a-Rock" necklace (a twist on the add-a-pearl, this time with diamonds!) and the "Watch Movement Cufflinks." Plus, they carry original "costume" designs by local jewelry artisans! Or, give the ultimate gift and make an appointment for a complimentary design consultation to bring "blingin'" reality to your dazzling jewel fantasies.
A Trio is offering 10 percent off anything in their showroom to OnMilwaukee.com readers who mention this blog, plus an A Trio original "Snowflake" pendant as a gift with purchase of $100.
Ellen Cook Photography
(414) 962-4741
ellencook.com
I love walking into someone's home and seeing professional family photos. It's a unique talent to be able to capture the subtle intimacies of relationships on film and that is truly Ellen Cook's skill. Her photos capture the spark, heart and personality of her subjects in an effortless, classy and truly timeless style. Whether in her Third Ward studio space or at the location of your choosing, Ellen's lens finds your best angle and most tender moments. Have Ellen do a session with you and yours for photos to gift to others or give the gift a photo session with her for a lasting memory.
Ellen is offering some very special packages for OnMilwaukee.com readers, too. Mention this blog to receive $50 off a regular priced session with a $100 photo print credit for $495, or a parent/child session for $295 that comes with a framed 8x10.
Shanel Regier
(414) 795-4584
shanelregier.com
Milwaukee is home to so many talented artists and designers. Shanel Regier is one of our Mil-fashion originals who qualifies as both. Her artful clothing designs have been gracing the hangers of stylistas in Milwaukee and beyond for over eight years now. The MIAD grad has prêt a porter pieces, but also does custom design for a garment gift that will truly wow. Regier's "ruffled" and "infinity" scarves are a beautiful option for the clothing lover on your list. Buy two scarves and get the third for 50 percent off! Also check out her "ruffled collars" and vests, which are sure to add interest to any lovely's wardrobe.
Shanel's styles are available at Lela Boutique in the Third Ward or directly though Shanel at her private showroom (by appointment only) by contacting her at (414) 795-4584 or shanel@shanelregier.com. Gift certificates and custom design orders also available by contacting Shanel directly. Plus, Regier is offering 15 percent off to OnMilwaukee.com readers who mention this blog and contact her directly for orders! Be sure to shop her Facebook page and website for more.
Facebook comments
Disclaimer: Please note that Facebook comments are posted through Facebook and cannot be approved, edited or declined by OnMilwaukee.com. The opinions expressed in Facebook comments do not necessarily reflect those of OnMilwaukee.com or its staff.
Recent Articles & Blogs by Lindsay Garric