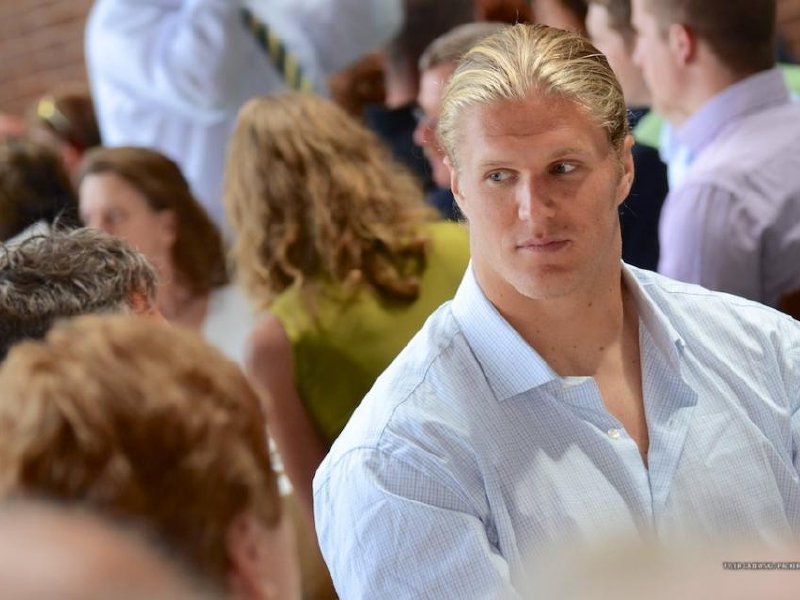 I don't usually go for blondes. And I really don't watch football. (Silence your gasps.)
But, a flaxen-haired Adonis has captured my interest and is keeping my bottom glued to the couch during Packers games.
It started innocently enough. I was turning the pages of the latest issue of W Magazine while my husband was being mesmerized by "the game." Unexpectedly, out of the corner of my eye, I saw sun-bleached strands flying in slo-mo across the screen.
I did a double take. I even had Chuck rewind. Was that Thor charging down the field? Had David broken free of his marble prison and found life in Wisconsin? Did a younger version of Fabio find out that it really isn't butter?
My football crush is No. 52, Clay Mathews.
His name evokes a classic film star whose name was emblazoned across the silver screen in westerns and romances.
His jaw is impossibly square, chiseled at an angle only Marvel comic book heroes can rival.
His physique is powerfully carved out; all 255 pounds of his 6-foot-3-inches deliberately sculpted for speed and power – and I'm sure, other physical endeavors.
How I've been oblivious to this California import the last three years is a tragic loss for only me, but I am down to play catch-up. I am officially into Packers football this year. Call me a Cheesehead, but I'll be watching every time my new favorite linebacker removes his helmet and tosses his golden locks.
I am inspired to hang a poster in my bedroom, wear a "Claymate" tee on Sundays (that moniker just seems so inappropriate for Clay Aiken now) and start a global chapter of the Clay Mathews fan club.
As everyone else focuses on the robbery that was last night's game, I'll be looking on the blonde, I mean, bright side.
Facebook comments
Disclaimer: Please note that Facebook comments are posted through Facebook and cannot be approved, edited or declined by OnMilwaukee.com. The opinions expressed in Facebook comments do not necessarily reflect those of OnMilwaukee.com or its staff.
Recent Articles & Blogs by Lindsay Garric