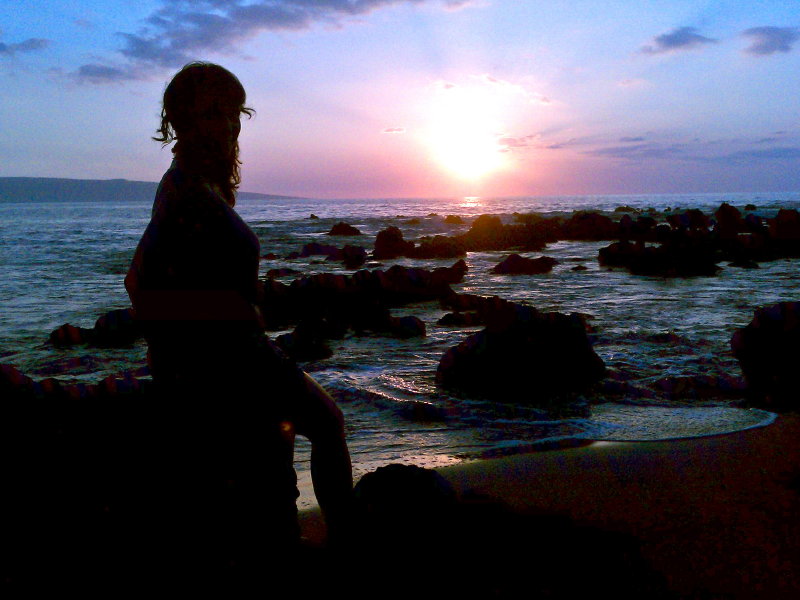 I just landed back on the mainland after a week in Maui.
There should be rehab facilities for re-entry into "normal" life after an island getaway. I have never felt such dread boarding a flight homeward bound. Leaving behind daily beach walks, yoga with a soundtrack of waves, horseback riding through tropical forests, fresh fruit and fish beyond fantastic, swimming in warm, aqua water and highly available, decadent cocktails was not an enjoyable moment.
I did, however take home some precious, immaterial souvenirs that will stay with me forever. I didn't have to shove them in my sand-filled suitcase, so I thought I'd spill them out here.
1. It's important to take vacations. This was my first real, official vacation of my adult life and with my husband. Although we both travel extensively for work and family obligations, traveling for leisure has eluded us. I now understand the necessity of the "holiday" and why people do this at least once a year.
2. Live Aloha. Maui was by far the happiest place I have ever been. We strayed from our resort every day to experience Maui local life and only encountered smiles, kindness and open hearts from the locals and fellow tourists. I suppose tropical sunshine mixed with sand and salt water will result in boundless joy.
3. Observe nature. We witnessed an incredible day of whale watching with the Pacific Whale Foundation. I am a major animal lover, but I did not understand the power of witnessing animal life in its natural environment until I did it. Our group was lucky enough to see a "competition" group of five humpback whales in a frenzy of activity. Plus, we got the bonus of a couple of sea turtles cruising around our boat.
4. Celebrate. New Year's Eve at Mala Wailea Restaurant was an epic rock moment. My husband had to "work" as the back-up band for his boss Alice Cooper and then was joined by Pat Simmons and Michael McDonald of the Doobie Brothers, Bob Rock, "Weird Al" Yankovic, Mike Myers, Marty Frederiksen and Steven Tyler. Check out this super group's version of "Come Together" here.
5. Rest. I took the luxury of an afternoon nap a few times during our vacay and reaped the benefits. I may have to work a 15-minute siesta into my everyday routine. It's also OK to put an auto-responder on the emails, not to carry the cell phone and to be "CLOSED" for a few days.
6. Appreciate local customs and traditions. We ventured to the Old Lahaina Luau with no expectations and were treated to a full production that captured the history of the islands. The live Tahitian drummers and band, an incredible cast of hula dancers, buffet feast, open bar and attentive staff made this an entertaining and educational evening. It was like being thrust into Old Hawaii for a few hours along with 438 other members of this interactive audience. Plus, if you didn't get "lei-ed" walking off your plane flight, you're guaranteed to here.
7. Watch the sunset. Granted, watching the art of the sun dip across the Maui sky into the ocean each evening is an incomparable sight, but taking the time to reflect on the day is an exercise in consciousness that is good for the soul. I now totally get why artists are inspired to capture this nightly occurrence painting the sky with unimaginable shades of warmth.
8. Make new friends, but keep the old. We were blessed to be with some of our closest friends on this adventure, but met some wonderful new buddies as well. Encountering new people when outside of your everyday environment makes for lasting relationships. With no time constraints and leisure to bring you together, you can really enjoy the company of those around you. And having your nearest, dearest together on an island paradise makes each moment even more meaningful.
9. Try new things. I was raised on pavement. I somehow skipped camping and summer lake-ing for the sounds of the city growing up. So, there is a missing level of comfort when it comes to water and roughing it. But, there is an adventurer inside me that takes a deep breath and goes for it! I had a deep desire to paddleboard, but a little fear of getting out past the breakers. So happy I did! The couple hours spent standing up on the ocean gave me an unforgettable view of where I was. Conquering my fear gave me a beautiful perspective.
10. Practice Mahalo. Give thanks, have an attitude of gratitude. Oprah is big on this one too and it is hard to miss the permeating feeling of how grateful everyone is to be on Maui. Give thanks for what you have in your everyday life and for our great city of Milwaukee, in all its beer-guzzling, cheese-eating, Harley-riding, Packers/Brewers/Bucks/Wave/Admirals-loving, bar on every corner-displaying, four distinct season-demonstrating, sun setting over Lake Michigan-glory.
Talkbacks
beefsupreme | Jan. 9, 2012 at 3:52 p.m. (report)
sounds like a trip of a lifetime. mele kaliki new year. i was Honestly digging on the story until the last sentence. i did not think that the four seasons are acting so distinctly as of late, and i have never seen the sun set on lake michigan from wisconsin. not a huge deal, not to be anal, but from the reading experience perspective, the article flowed quite nicely and then almost audibly screeched to a hault.
Facebook comments
Disclaimer: Please note that Facebook comments are posted through Facebook and cannot be approved, edited or declined by OnMilwaukee.com. The opinions expressed in Facebook comments do not necessarily reflect those of OnMilwaukee.com or its staff.
Recent Articles & Blogs by Lindsay Garric