There are a lot of doughnuts in the U.S., but when Alton Brown picked his favorites, he included one of Milwaukee's favorites -- the cruller at Cranky Al's in Wauwatosa.
In a blog post published on June 9, Brown declared that "The cruller is so good you'll be dreaming of it long after it's gone."
The "Iron Chef" host visited Milwaukee during Valentine's Day weekend, performing live at the Riverside Theater as part of his "Alton Brown Live! The Edible Inevitable Tour."
While he was here, he checked out a number of Milwaukee hotspots, including Valentine Coffee:
He also stood in a pretty long line for a bloody mary at Sobelman's before eating custard at Kopp's.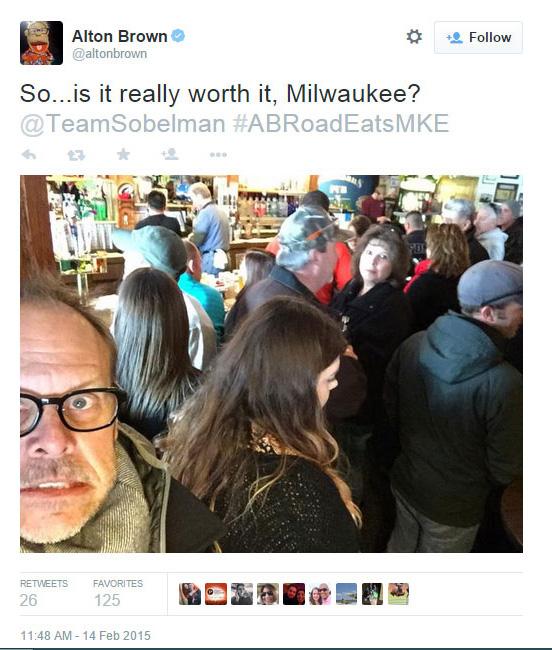 While he was here, Brown declared on Twitter that he at some of "the best donuts on the road so far" at Cranky Al's in Wauwatosa.  
And – since he gave them a mention again on National Doughnut Day – I'm pretty sure he's dead serious.
Do you have a favorite Milwaukee doughnut?
Talkbacks
TosaJim | June 13, 2015 at 9:04 a.m. (report)
My favorite donut too! Stop in...I've been bragging about Cranky Al's for years...a real neighborhood destination.
Facebook comments
Disclaimer: Please note that Facebook comments are posted through Facebook and cannot be approved, edited or declined by OnMilwaukee.com. The opinions expressed in Facebook comments do not necessarily reflect those of OnMilwaukee.com or its staff.
Recent Articles & Blogs by Lori Fredrich