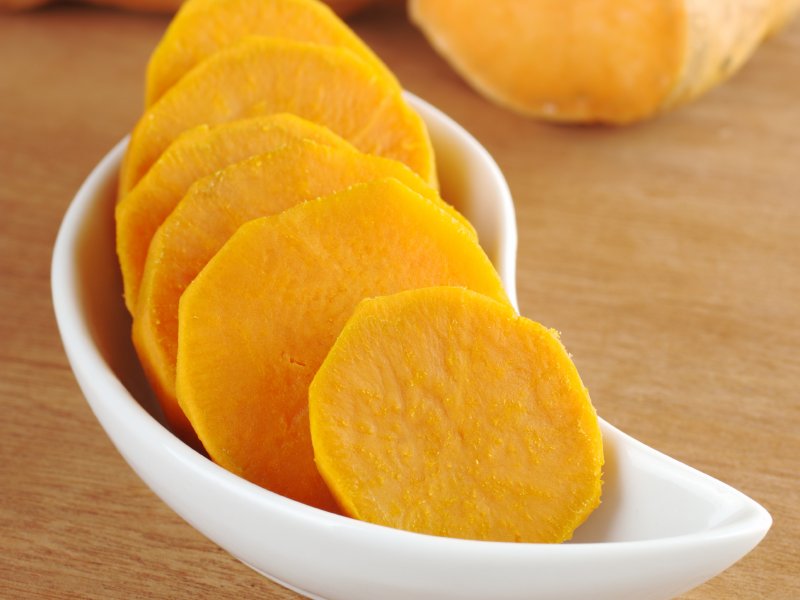 Want to pull out all the stops this holiday? Some of Milwaukee's most talented chefs have shared their favorite holiday side dish recipes with us. So, throughout the month of December, we'll share their takes on holiday-worthy fare.
Chef Scott Pampuch of the Iron Horse Hotel asks "Is there anything worse than over-baked sweet potatoes or yams topped with miniature marshmallows?" And he proposes this recipe instead.
"My first idea was to do a sweet potato soufflé. But then you're in the kitchen for four hours, in the middle of holiday craziness, and all you have is a soufflé. Then I considered mimicking the dish but using better ingredients: freshly whipped yams with dots of Stickney Hill goat cheese standing in for the marshmallows. But seriously, does it have to be this hard to either use a ton of time and effort into something that is so simple, or to just try and remake a visual duplicate of the same dish?
"In this case I want to spotlight the beauty of autumn ingredients in a big, uncomplicated bowl of roasted sweet potatoes tossed with apples, red onions, rosemary and cardamom, with soy nuts thrown in for a little unexpected texture. It's maybe not glamorous, but it's different, seasonal and delicious. Don't be afraid to experiment. There's no reason you can't take familiar ingredients and use them in a whole new way."
Spiced Roasted Sweet Potatoes with Goat Cheese
3 whole sweet potatoes or yams, washed and diced into bite-sized pieces
3 sprigs of rosemary, needles only, ground in spice grinder to a fine powder
1 pod of cardamom, also ground
2 apples, diced into similarly sized bite-sized pieces
1/2 red onion, minced finely
salt and pepper to taste
drizzle of maple syrup
splash of sherry vinegar
4 ounces goat cheese
Start by warming a cast iron pan in a 450-degree oven until hot. Toss sweet potatoes with olive oil, cardamom and rosemary powder. Toss the potatoes into the cast iron pan and put it straight back into the oven for 15-20 minutes or until potatoes are nearly cooked.
Place diced apples into the same bowl in which you tossed the sweet potatoes with oil; toss to pick up any leftover oil and seasonings. Add them to the cast-iron pan full of potatoes and roast for additional 5-8 minutes.
Once both the potatoes and apples are tender, pull them from oven and place them directly back into the bowl. Add raw red onion and soy nuts, then drizzle with maple syrup and vinegar before transferring to a presentation bowl for the table.
Dot with goat cheese and enjoy.
Facebook comments
Disclaimer: Please note that Facebook comments are posted through Facebook and cannot be approved, edited or declined by OnMilwaukee.com. The opinions expressed in Facebook comments do not necessarily reflect those of OnMilwaukee.com or its staff.
Recent Articles & Blogs by Lori Fredrich