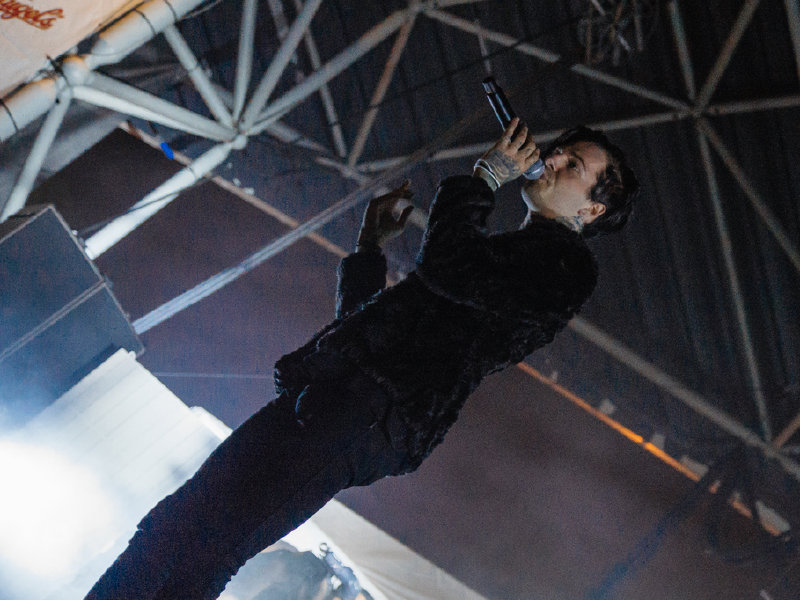 With lyrics like "I don't like you, f*ck you anyway," "you suck anyway" and "you make me wanna die," it's safe to say that glum rockers The Neighbourhood don't really need any more reasons to be angsty and angry. But that's unfortunately exactly what happened Sunday night at the U.S. Cellular Stage, where some apparent behind-the-scenes technical issues sent the California-based rockers off the stage in a huff and the excited young crowd home disappointed.
It seemed to open strong, with the guys starting off as black silhouettes out on the smoky white stage, rocking out their set opener "Female Robbery." There was a brief audio dip and the lead guitar seemed very low, but a few mix issues are to be expected on the first couple of songs; otherwise, it was a good start.
The band's cloudy California beach brand of moody rock sounded good and visually, the stage looked cool, with the boys seemingly in black-and-white (even the screen showed the concert sans color) and aided by black-and-white film and cartoon clips.
Things, however, were apparently not all good in The Neighbourhood. After the opener, lead singer Jesse Rutherford told the crowd essentially that it sucked, that they weren't quite ready and for the fans to "pause your turn up." It's hard to say what exactly the problem was – Rutherford would later describe it as "computer sh*t" – but something somewhere was wrong.
At first, the band seemed to be handling the situation above and beyond pros. Rutherford chatted a bit with the crowd, eventually performing the stripped down rap of "West Coast" as some "story time" before heading into "Sweater Weather," one of the band's big radio hits.
The technical issues may have left the mix sounding a tad on the empty side, but then again, it was very minor. Plus, a "Pulp Fiction" clip of Vincent Vega dancing playing on a loop on a side screen made everything better.
After "Sweater Weather," the technical snafus seemed to be fixed, and The Neighbo…
Read more...