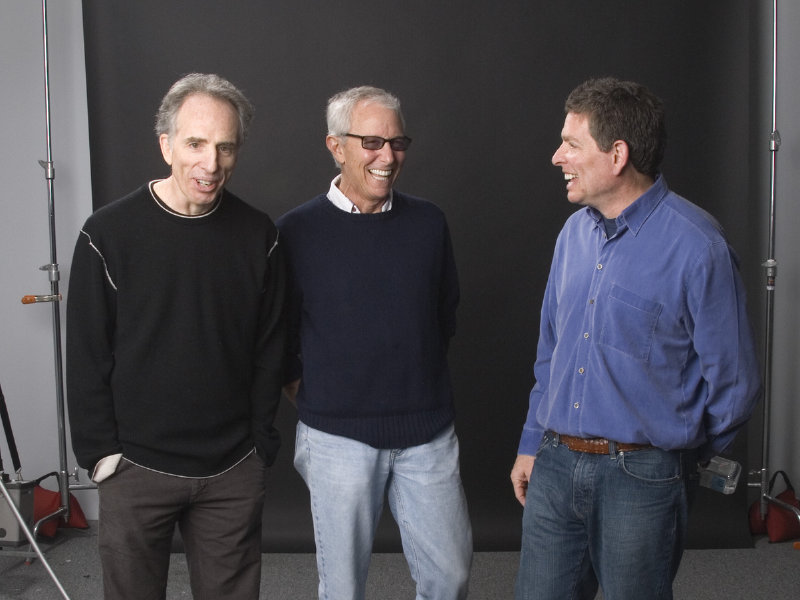 The main draw of the Milwaukee Film Festival is right there in the title: the films (the full lineup to come Friday. Spoiler alert: You will not be wanting). But every year, just off to the side of the main event, Milwaukee Film also wrangles together some really awesome people in the world of cinema, brings them to Milwaukee, hands them a stage and pays fitting tribute to them (plus: more movies!). 
In the past, they've brought in influential people like most of the brilliant staff at The Dissolve – which, if you're a film fan and you're not reading or at least dipping occasionally into The Dissolve, look at your life, look at your choices – prolific Oscar-winning documentarian Alex Gibney (whose latest, "Finding Fela," is a film festival selection this year) and legendary actor Martin Landau.
This year's lineup of tributes is no less spectacular, bringing in a diverse group of accomplished people in the business to share their film expertise and, most importantly, their love of movies with others.
There's a writer-director who's proven to be a star-making factory (just ask Jennifer Lawrence). There's a terrific film critic who might just be the next Roger Ebert – and he has the Pulitzer Prize to prove it. There's also an acclaimed documentarian, and there's the three-headed comedy team behind some of the funniest movies of all time.
But enough with dancing around specifics: Here are the Milwaukee Film Festival's tributes for 2014.
Debra Granik 
Before her Oscar-nominated turn in "Winter's Bone" (still her best performance), Jennifer Lawrence's filmography consisted of a couple of minimally seen indie dramas, some unsold TV pilots and 30 episodes on "The Bill Engvall Show." After "Winter's Bone," she exploded into stardom, becoming the beloved face of hot franchises, red carpets and every other Buzzfeed listicle.
Now, obviously, Lawrence deserves most of the credit for her incredible rise to fame, but it's hard to say the starlet would've made such a leap if it wasn't for "Winter's Bone" writer-director Debra Granik. Just ask Vera Farmiga, whose career also got an impressive bump after starring in Granik's debut feature "Down to the Bone" in 2004.
With just two films, Granik has demonstrated a strong, unique voice and a feel for humanistic stories featuring textured rural Americana grit and great, natural performances.
She's also a female voice behind the script and the camera, still a sad rarity in Hollywood (in 2010 – the year of "Winter's Bone" – two female directors had films in the top 100 at the box office; four years later, that number has currently gone up ... to three – "Endless Love," "Belle" and "Step Up All In"). 
She'll be bringing "Winter's Bone" to the film festival, as well as her latest film "Stray Dog," a documentary about Ron "Stray Dog" Hall, a Harley biker, Vietnam vet and overall multi-facted human being who defies stereotypes. Granik will also be leading a discussion and demonstration about the audition process and one of the most crucial skills a director can possess: working with actors.
Wesley Morris 
"Speaking in my official capacity as a Pulitzer Prize winner, Mr. Schneider, your movie sucks." This is how Roger Ebert topped off his scathing review – and defense of an attacked fellow writer – of the classic Rob Schneider comedy "Deuce Bigelow: European Gigolo." Very few film critics – five to be exact – are able to pull the "I have a Pulitzer Prize" card.
Wesley Morris, former critic at The Boston Globe and current film critic at ESPN's Grantland site, is also one of those five esteemed critics. And like all those before him, he earned it with not only a sharp critical eye and deep knowledge of cinema, but also with the amazing ability to share his thoughts – whether positive or negative – about a film, or merely a part of a film, with clarity, relatability, insight and humor.
Like the best critics, Morris invites you to watch a movie with new eyes, even ones you may have hated or didn't get at all. He can take the seemingly untamable mess of thoughts a movie – whether an art film or a Michael Bay blockbuster – can generate, gather them and communicate them in a way that feels like he's talking with you, not at you.
It's not easy work. I know; I fail at it all the time. 
Morris will deliver the festival's keynote address on the state of cinema, as well as present Michael Haneke's "Code Unknown: Incomplete Tales of Unknown Journeys." I can't wait to attempt to steal his film writing skills "Space Jam"-style with a magical pen or keyboard or something.
Marshall Curry 
Milwaukee Film has a special place in its heart for documentarian Marshall Curry, whose film "Racing Dreams" – about a trio of young racers hoping to make it into NASCAR – was the opening night selection at the inaugural Milwaukee Film Festival back in 2009. He returns to the Milwaukee Film Festival with yet another Oscar nomination (for "If a Tree Falls: A Story of the Earth Liberation Front" back in 2012) and yet another film, "Point and Shoot."
His latest follows Matthew VanDyke, a young Baltimore man fresh out of college and looking for adventure, who journeys out to the Middle East with a camera and a motorcycle, and winds up a imprisoned member of the Libyan rebel army. Curry will also be bringing his debut documentary "Street Fight," a 2005, Oscar-nominated political piece focused on current U.S. Senator Cory Booker's hard-fought Newark mayoral campaign against Sharpe James back in 2002. 
ZAZ (a.k.a. Zucker, Abrahams and Zucker) 
"Airplane!" is one of the funniest movies of all time, full stop. It's an utterly delightful non-stop barrage of jokes that never, ever lets up on the laughing gas pedal. There are more hilarious jokes packed into 10 minutes of "Airplane!" then there are in entire two hour-long modern comedies. Many have tried to recapture the ZAZ brand of off-the-wall goofy anarchy. Many – mainly named Jason Friedberg and Aaron Seltzer – have failed.
So the fact that the comedic masterminds behind "Airplane!" – Wisconsin natives Jim Abrahams, and David and Jerry Zucker – will be back in town summons all sorts of excited giggles from me.
True, the trio isn't presenting their iconic 1980 spoof hit, but they are showing "Top Secret!", an equally satisfying assault of spoof comedy, in honor of its 30th anniversary. There will be puns. There will be wordplay. There will be Kilmer.
Look forward to these tributes – plus a couple of movies, I suppose – when the Milwaukee Film Festival kicks off Thursday, Sept. 25 and continues on through Thursday, Oct. 9.
The full lineup will be released Friday, Sept. 5 with the official program book coming out the next day at the WMSE Backyard BBQ in Cathedral Square. So don't worry, Milwaukee film fanatics; times may be dire for movies right now (who's pumped this weekend for ... "The Identical"?), but there is a light at the end of the tunnel.
Facebook comments
Disclaimer: Please note that Facebook comments are posted through Facebook and cannot be approved, edited or declined by OnMilwaukee.com. The opinions expressed in Facebook comments do not necessarily reflect those of OnMilwaukee.com or its staff.
Recent Articles & Blogs by Matt Mueller