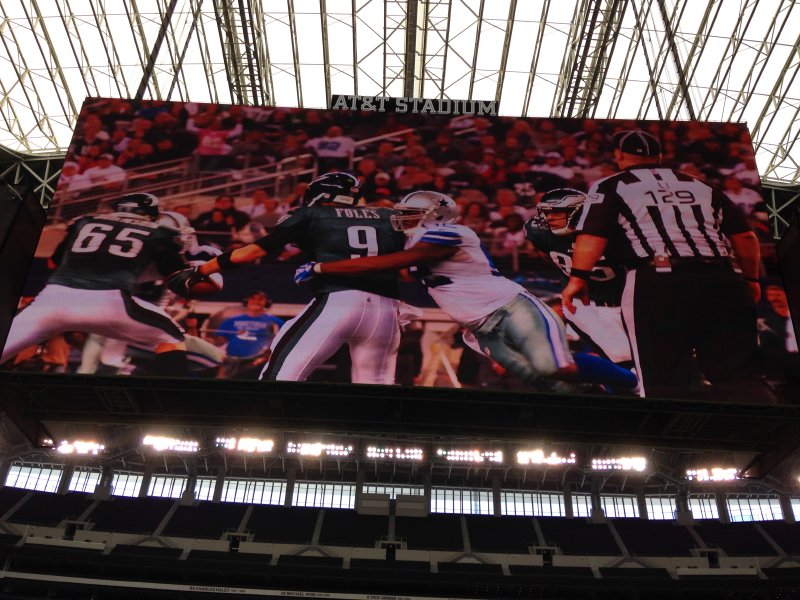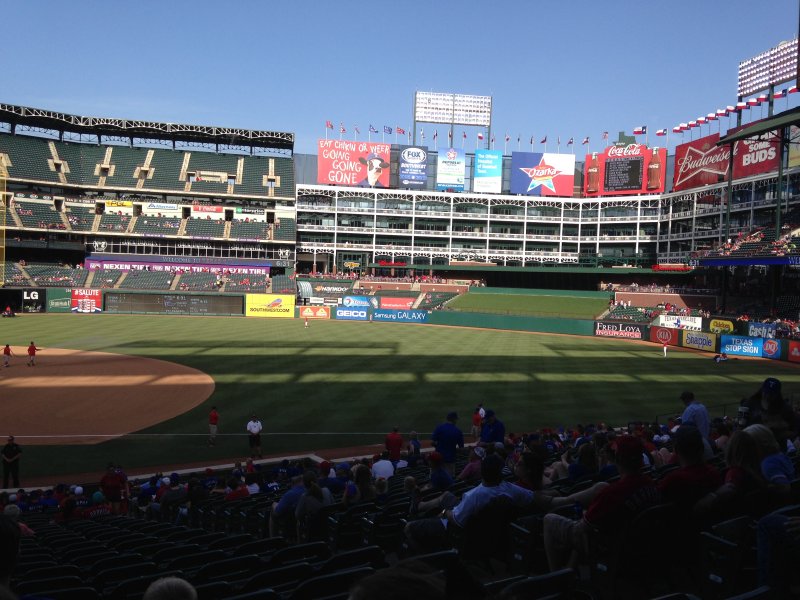 They say that everything is bigger in Texas. Whoever "they" are, after spending five gorgeous, cloudless days in Dallas (sorry to rub that in) for the Mueller boys' annual baseball trip, I would like to shake their hands and congratulate them on being totally and completely correct.
The churches are bigger, many of them seemingly bigger than the BMO Harris Bradley Center (and probably more suitable for a professional basketball team).
The interstates are bigger, sometimes scaling up to roller coaster-esque heights. Unfortunately, so is the construction, which was omnipresent (my poor iPhone's map feature probably had a nervous breakdown trying to navigate through it all, to say nothing of my dad stuck taking instructions like, "Turn … LEFT NOW!").
The cities are bigger. The Dallas/Arlington region is spread out across miles; even merely downtown stretches. Of course, there's a rail system though to make it a bit easier. What a noble concept.
The stadiums are bigger. The Ballpark in Arlington (technically called Globe Life Park, but I don't think anybody actually calls it that, much like how U.S. Cellular Field will always be Comiskey Field) is grand, with the main floor absolutely loaded with almost everything you could want. The number and variety of points of purchase is out of control, with a new stand barely a few steps away from a new one.
More importantly though, it's gorgeous, a big open park that feels both old and new with its own personality, namely the metal latticework out over in center field, and filled with friendly fans (including two beer vendors originally from Wisconsin). It's easily worked a comfy spot into our top ten parks visited thus far, maybe even top five.
Of course, it's dwarfed by its neighbor: AT&T Stadium, otherwise known as the house Jerry Jones built or the house where the Packers won the Super Bowl. Say what you will about Jerry Jones, the Cowboys, Tony Romo's various levels of clutch-ness, etc., but AT&T Stadium is truly incredible, more hotel than stadium. Every floor is dressed to the nines and outfitted with the finest technology. Television manages to undersell how big the legendary scoreboard screen is.
After a while, I stopped trying to keep track of all of the records the place holds and insane factoids. For instance, thanks to Bono, the screen can be moved up for concerts and down for a special Girl Scout showing of "Frozen." Also, Jerry Jones was deep on the waiting list for a special type of granite he wanted, so he did the logical thing; he bought the company.
I just enjoyed the tour, which took us inside Mr. Jones' special booth, into the home team locker room, the cheerleaders' locker room (creeper factor, high) and finally on the field, where you're not just allowed to play and throw a pigskin around, you're encouraged. So I did my best Jordy Nelson impression while my dad did his best Aaron Rodgers. Translation: We looked like uncoordinated idiots and wound up sweating our butts off.
Then again, we needed a work out because, yes, the food is bigger in Texas too. Much bigger. Terrifyingly bigger. Globe Life Park has a stand dedicated to The Boomstick – a 24-inch hot dog covered in onions, chili and cheese – and The Choo-mongous, 24 inches of Korean beef topped with slaw and sauce named after current Ranger Shin-Soo Choo. For those watching their figure, there's also a one-pound burger topped with a handful of bacon, cheese and onions.
My brother-in-law Brian took on The Boomstick, while my dad took on the burger; both got about half-way through. I challenged The Choo-mongous and got about three-fourths the way through it. I could've finished it too if a beer vender hadn't kicked it over while I was taking a break. I cried for hours.
In case that wasn't enough to make me public enemy number one to the cow community, there's the barbecue brisket. Oh my, the brisket. The second night in town, we headed over to Hard Eight, where they have a huge grill of various items. You just walk up, point to what you want and it's off the grill, on your plate and in your stomach. Its all delicious, but the brisket was sinfully tender.
Then again, it's seemingly hard to find bad brisket here in Texas, as Dad and I snagged some pretty great brisket later in downtown Dallas at Sonny Bryan's. Consumer note: at both places, the barbecue sauce is more vinegar-based than sugar or tomato. Not that that is a bad thing.
Combine that with the In-N-Out Burger right next door to our hotel, and it's safe to say I'll come back home gestating a glaringly large food baby.
Fitting with the "bigger in Texas" theme is the baseball trip itself. As previously noted, the whole family came along for most of the Dallas portion of the trip, and they were great. I was admittedly worried about people infringing on my beloved bonding time, but if anything, the fun and banter was only increased.
However, now it's just the guys, and after a final game in Dallas last night, it's now off to San Antonio, where the temperatures expect to hit the triple digits. This is a problem for me because, thanks to a few day games, my delicate, pasty white skin has turned a shade more commonly associated with lobsters. Hopefully the bottles of aloe are bigger in Texas too.
Brisket meals consumed: 3
Baseball update: The Rangers won the first game Friday night, surviving a not exactly top-form start from stud pitcher Yu Darvish thanks to a late go-ahead home run from Michael Choice (?). After that, though, it was all tears. Four straight losses to the Indians and Marlins, including Monday night's 17-7 thrashing, featuring a record-setting 5-for-5, 3 HR and 9 RBI effort from Lonnie Chisenhall (???).
It's an off year for the Rangers, mainly due to an extended visit from the injury fairy. They're on their fourth first baseman (Brad Snyder) after Prince Fielder, Kevin Kousmanoff and Mitch Moreland all went down. Darvish was hurt for a bit, and their second baseman Rougned Odor had to leave a game as well with an injury. Even the home plate ump Sunday night got hurt and had to leave early. It's a damn plague here in Arlington.
Meanwhile, the A's are having a ball sniping runners from the outfield and choosing miraculously wonderful walk-up music. Better luck next year, Rangers. 
Facebook comments
Disclaimer: Please note that Facebook comments are posted through Facebook and cannot be approved, edited or declined by OnMilwaukee.com. The opinions expressed in Facebook comments do not necessarily reflect those of OnMilwaukee.com or its staff.
Recent Articles & Blogs by Matt Mueller