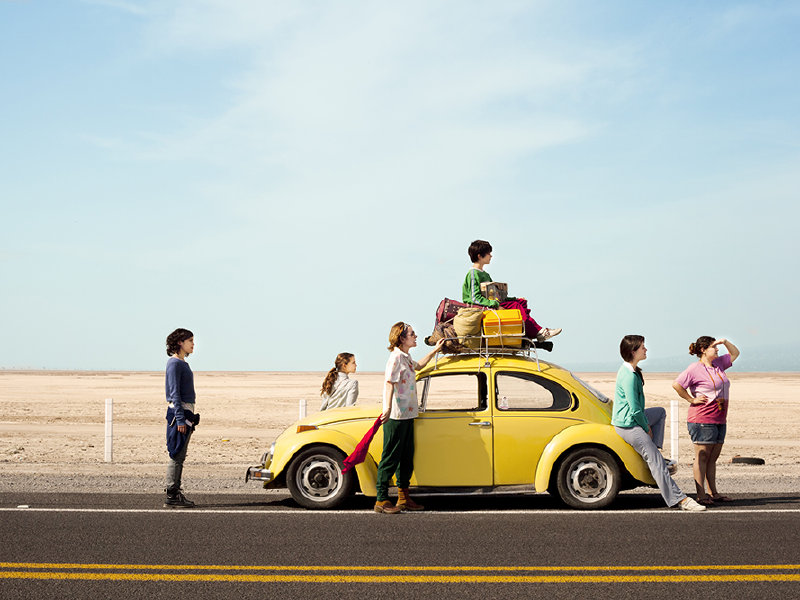 Last year, the Milwaukee Film Festival sent its Passport program's sights on Germany, delivering an impressively cinematic and cultural lineup of movies including "Hannah Arendt," "Lore" and the Wim Wenders classic "Wings of Desire."
This year, however, the festival is backing back to the right side – and by that, I mean the left side – of the Atlantic and getting its Passport program stamped in Mexico, its spotlight country for 2014.
And fairly so, seeing as Mexican directors have made quite the stamp on Hollywood over the past several years. Alfonso Cuaron just won Best Director last year for his out-of-this-world (groan, sorry) work in "Gravity," while Guillermo del Toro – the fanboy favorite behind the worlds of "Pan's Labyrinth," "Pacific Rim" and the upcoming "Crimson Peak" – is one of the most engaging and imaginative minds in the business.
Fellow Mexican director Alejandro Gonzalez Inarritu ("Babel," "Biutiful") also has people buzzing this year with his upcoming "Birdman," a dark comedy about a washed-up former superhero actor starring Batman himself Michael Keaton, Emma Stone, Naomi Watts, Zach Galifianakis and Edward Norton in his underwear. The movie, shot and edited to look like a single take, will premiere at several film festivals – Venice and New York – before coming out in October.
All of that's not even taking into account the great films coming out of Mexico itself, several of which will be highlighted at the Milwaukee Film Festival.
"The growth of the Mexican filmmaking industry has been phenomenal in recent years," said Jonathan Jackson, artistic and executive director of Milwaukee Film, in a press release this morning.
"It's a very strong time for Mexican cinema, and we are proud to offer such a diverse line up of films telling stories that go beyond the incessant sensational news headlines. We hope our Passport program portrays a deeper, more well-rounded view of our neighbors to the south, highlighting their culture, politics and people."
The program features eight films, all set in Mexico and with seven of the selections directed by Mexican directors, as well as a keynote address from author, Ohio State professor and contemporary Mexican cinema scholar Frederick Aldama.
The films (with trailers attached) include:
"The Amazing Catfish": A female-led dramedy about two women at low points bonding and coming together after meeting by chance in a hospital. The film (her feature-length debut) earned writer-director Claudia Sainte-Luce an International Critics Award at last year's Toronto International Film Festival. 
"Club Sandwich": A coming-of-age story about Paloma and Hector, a mother and son whose lazy vacation and extremely tight relationship are interrupted when teenaged Hector falls for a new arrival named Jazmin. 
"Heli": The Best Director winner and Palme d'Or nominee at the 2013 Cannes Film Festival, "Heli" tells the story of a young family inadvertently brought into the Mexican drug world, a seemingly inescapable hell of brutal violence and corruption. 
"Last Call": A backstage comedy starring about a production of Camus' "Caligula" seemingly headed for disaster thanks to the cast and crew of colorful, if unstable, characters. Drama and comedy ensues – on and off stage. 
"Purgatorio: A Journey Into the Heart of the Border": A documentary that takes an in-depth look into both sides of the current Mexico-U.S. border issue.
"Que Caramba es la Vida": German documentarian Doris Dorrie's documentary follows several bold women who have fought and defied cultural and gender expectations to break into male-dominated, often chauvinistic world of mariachi music. 
"We Are the Nobles": The highest grossing movie in Mexican cinema history, "We Are the Nobles" is a political/social farce about a rich millionaire hoping to teach his over-priveledged children a lesson by staging his company's bankruptcy, moving them into a drab home in a working-class neighborhood and forcing them to do the unthinkable: work.
"Workers": As the title hints, "Workers" tells the story of two Mexican workers, one who becomes the caretaker for a dog millionaire and another who discovers one his last day of work that he won't be receiving his pension – 30 years coming – because of his immigration status. 
As usual, the lineup is quite the mix of genres and styles, all very intriguing. It's a promising start to the Milwaukee Film Festival's selection roll out – and there's so many more to come. These little announcements will provide much comfort in the next two months while theaters will be packed with sequels you never wanted ("Sin City 2," "Expendables 3," "Dolphin Tale 2" ... wait, what?) and movies you'll never remember (looking at you, "The November Man").
This year's festival runs from Sept. 25 through Oct. 9.  
Facebook comments
Disclaimer: Please note that Facebook comments are posted through Facebook and cannot be approved, edited or declined by OnMilwaukee.com. The opinions expressed in Facebook comments do not necessarily reflect those of OnMilwaukee.com or its staff.
Recent Articles & Blogs by Matt Mueller