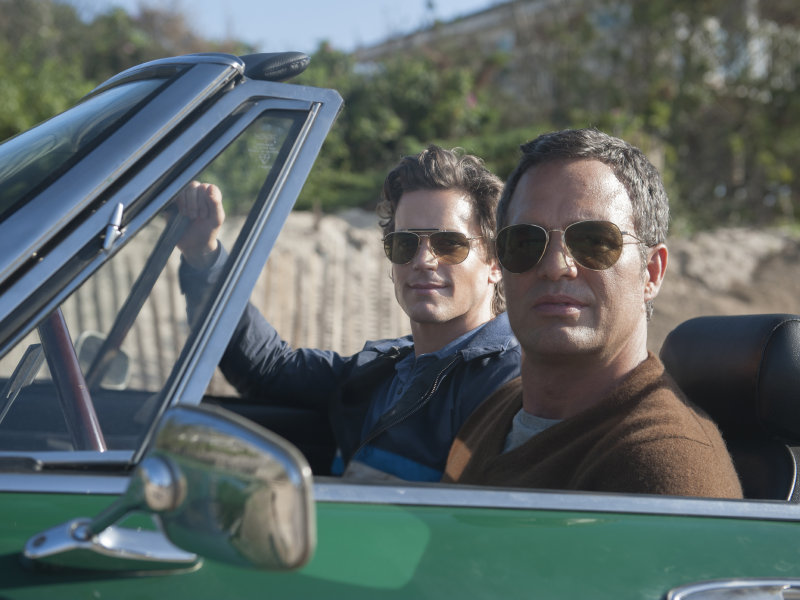 Two years ago, Milwaukee Film and HBO teamed up to bring the North American premiere of the Alex Gibney church sex scandal documentary "Mea Maxima Culpa: Silence in the House of God" to the Milwaukee Film Festival. The film was terrific, but perhaps best of all, the 2012 collaboration seems to spawned an equally terrific relationship between the two organizations, one that's bringing yet another premiere to town.
HBO is currently prepping their latest – and, considering the network's track record, most likely acclaimed – film "The Normal Heart." Based on the Tony Award-winning play from Larry Kramer (nominated for Best Adapted Screenplay Oscar back in 1971 for "Women in Love"), the film follows the gay community and its allies in 1980s New York as they attempt to bring desperate attention to the growing HIV-AIDS crisis to a country in denial. 
It's a star-studded affair, directed by "Glee" and "American Horror Story" creator Ryan Murphy and featuring a cast of Kenosha's own Mark Ruffalo, Matt Bomer ("Magic Mike," TV's "White Collar"), Taylor Kitsch ("Lone Survivor," "John Carter"), Jim Parsons ("The Big Bang Theory"), Alfred Molina ("Spider-Man 2") and an up-and-coming actress named Julia Roberts. 
"The Normal Heart" airs at 8 p.m. on HBO on Sunday, May 25. Milwaukee, however, was chosen along with five other cities (Chicago, San Francisco, Atlanta and Boston) to get an early look at the film. The movie will have a premiere screening here at the Oriental Theatre on Wednesday, May 21 at 7 p.m. Tickets are exclusively available to Milwaukee Film members and supporters by invite, but a limited number of tickets will also be made available to the public through selected media partners. 
"Milwaukee has been identified as one of the top markets for 'Game of Thrones' viewership, so we felt it was only logical to bring a film like 'The Normal Heart' to a market with a proven following," said HBO director of corporate affairs Mike Hopper in a press release this morning. "We are excited to be partnering with Milwaukee Film for the Wisconsin premiere and look forward to a continued relationship to feature our programming in front of a savvy film community."
The first thing that stands out in Hopper's comments is Milwaukee's apparent love of George R.R. Martin. Maybe we relate well to a show whose main protagonists' motto is "Winter is coming." Or perhaps we have a secret deep hatred for weddings. I can't explain it.
But more importantly, my eye keys in on the quote's talk of a continued relationship with Milwaukee and our "savvy film community." Now, if we're being honest, that's probably a good bit of PR flattery.
However, I like – scratch that, abso-freaking-lutely love – the idea of Milwaukee starting to get a whiff of having a real reputation as a film city. The Milwaukee Film Festival has already made massive strides in amplifying the town's film scene, and this partnership between HBO and Milwaukee Film – something both sides seem pretty pleased with – will only enhance that.
Both organizations are certainly benefiting from these arrangements, but I think the film fans in town could get the best of this deal. With events like this upcoming premiere enhancing Milwaukee's entertainment image, maybe someday soon Milwaukee won't have to wait to get strong independent movies – and in many cases, merely a whiff – like "Under the Skin," "Joe" or "Blue Ruin" in theaters months after cities like New York, L.A. and Chicago have already moved onto the next big tiny film.
It'd be nice to be able to join in the cultural conversation as it's happening, not weeks after. And yes, I know many of these movies are watchable on VOD platforms, but I'll always prefer the theatrical experience and will always wait to see if that option is available first. Filmmakers dream, make and envision their movies for the big screen, not for my living room.
Hey, a boy can dream. And maybe I'm just being hopelessly, naively optimistic, but I see this as a strong, positive step toward it. 
Facebook comments
Disclaimer: Please note that Facebook comments are posted through Facebook and cannot be approved, edited or declined by OnMilwaukee.com. The opinions expressed in Facebook comments do not necessarily reflect those of OnMilwaukee.com or its staff.
Recent Articles & Blogs by Matt Mueller