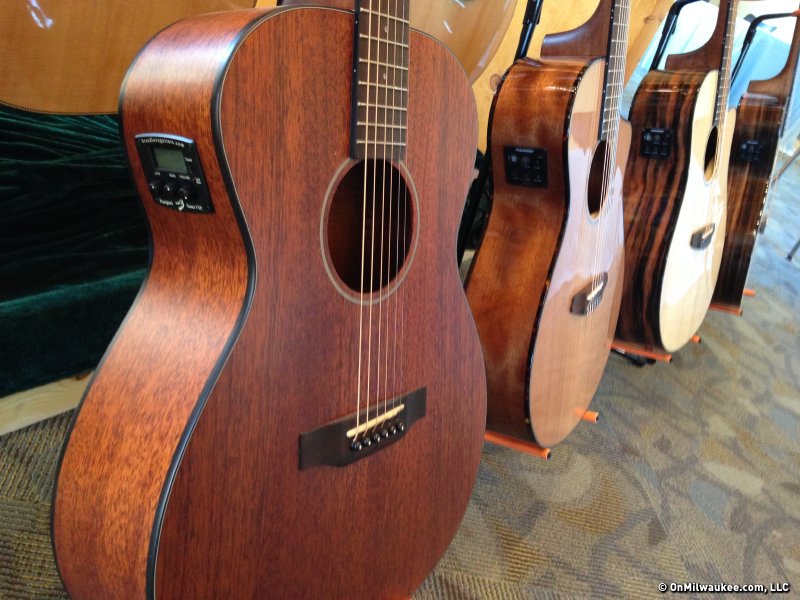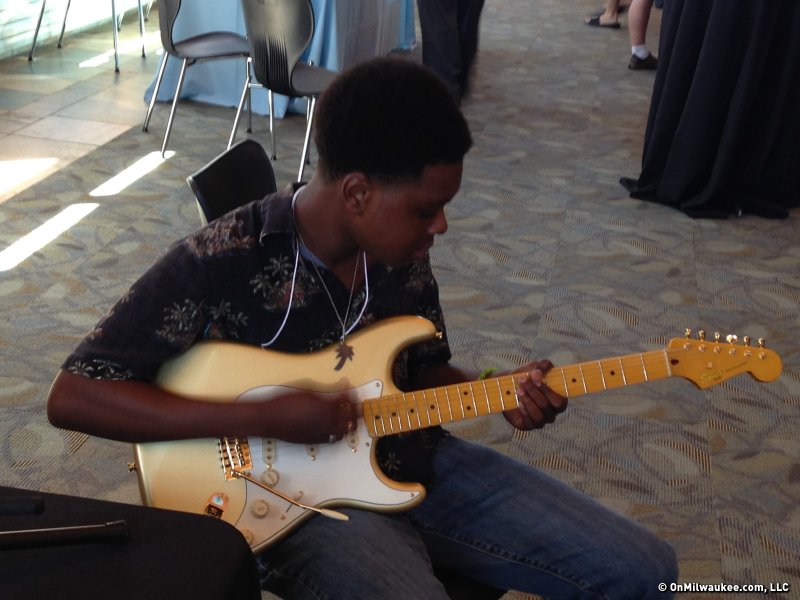 This weekend, if you happen to be driving through or around Brookfield, you might hear a faint roar coming from the Sharon Lynne Wilson Center for the Arts. That's the sound of fierce competition, of furious fingers flying up and down fretboards, of fun and of friendships – spanning the nation and even the whole globe.
Oh, and of course, music. You're probably hearing really good music, too.
The gorgeous Wilson Center for the Arts, tucked away inside Mitchell Park, is currently playing host to their second annual Wilson Center Guitar Competition and Festival. The contest is a multi-layered festival, featuring a four-division competition, several educational master classes taught by professional musicians and a duo of public concerts from Greg Koch and Jesse Cook. Koch's performance is tonight at 7:30, while Cook takes the stage Saturday night.
"For the people competing, they're looking at these more mature professionals who've 'made it,' so there's something to be learned there," said Jonathan Winkle, executive director of the Sharon Lynne Wilson Center for the Arts and one of the lead creators of the festival. "But for the fan of music or an amateur guitarist, just to come out and hear a Greg Koch or Jesse Cook or whomever we've had perform at this festival, you're being transported to another place."
The real centerpiece, however, is the one-of-a-kind contest itself, which spans across four separate categories: jazz, classical, fingerstyle and rock/blues.
"To our knowledge, there is nothing like this anywhere," Winkle said. "We thought what's the most interesting thing we could do, and that's to mash all of that up. You often have a classical competition or a blues festival, but you don't necessarily have a competition that's covering a lot of ground, musically speaking."
The festival's preliminary round involved a video submission call, with interested amateur guitarists recording some tunes on video (in order to best ensure there was no tampering with the sound) and sending them in. From there, the 57 semi-finalists were selected and came to Milwaukee this weekend to perform two songs each – one mandatory pick and one contrasting personal choice – for judges.
"I look for musicality – music that would touch me, not an exhibition of technique," said Jack Grassel, a renowned jazz guitarist who served as a jazz judge and led a master class Thursday afternoon. "Does this person playing understand why he's playing music? Is he feeling it? Am I feeling something from this music that he's giving me? That's more important than exhibiting a knowledge of guitar technique. That's always the bottom line."
The best performers move onto the finals, which take place tomorrow – Saturday, Aug. 16 – beginning at 9 a.m. with jazz and concluding at 1:30 p.m. with rock/blues. There are more performances from the contest winners and standout guitarists throughout the evening as well. Besides Koch's and Cook's shows, all of the performances are free and open to the public.
The first place winners in each category receive $3,000, while second place wins $1,500 and third place takes home $1,000. In the end, the guitar competition will be dishing out $22,000 in prizes. Obviously, the prize money and the title of a competition winner are crucial, helpful awards for guitarists hoping to make a name in the world of music, but the contest rewards young musicians on a deeper level as well.
"Right away last year, we observed that the players really enjoyed talking with one another from different genres," Winkle noted. "All of a sudden, here's the rock/blues player talking to the fingerstyle gal, or the classical person talking to the jazz person, and they're having this really wonderful dialogue. Even this year, I discovered that it's happening again – this wonderful interaction – and they think it's cool."
"I don't really spend a lot of time with blues guitarists or jazz guitarists or even fingerstyle guitarists really," said Ben Werdegar, a young fingerstyle and classical competitor who came to the competition all the way out from California. "It's kind of great that I've already met so many jazz and blues kids, that it's all together."
It's not just genres coming together and harmonizing at the guitar contest. In just its second year, the competition has already gone international, bringing in young musicians from Puerto Rico, Canada, Israel, Australia, New Zealand and Bulgaria. Winkle recalled a casual conversation from earlier in the contest between a young American semi-finalist and another competitor all the way from Slovenia.
"It really turned into an exploration and sharing of, 'This is where I'm from in the world,' and all of a sudden, that young American was having his worldview broadened and opened up because of this experience," Winkle said. "That's really a beautiful part of this. It's not musical per se, but it's human. I think that's ultimately what drives us in the arts, as either performers or administrators. It's one of the most human things that we do. By bringing together people from these smaller communities of guitarists, we're creating a larger community."
It's a community that keeps growing, in just two short years, as well. According to Wilson Center Guitar Competition and Festival manager Don Sipe, there have been 56 percent more competitors in this year's edition, ranging from many different states and countries.
For Sipe, Winkle and everyone else at the Wilson Center, the hope is to keep it growing. Part of that might be adding genres or splitting current genres into separate categories. Winkle said that it's conceivable that the rock/blues category could split into two different categories in the future. Bass guitar, ukulele, banjo and slide guitar were also mentioned as possibilities for later contests, along with a singer-songwriter division – which Winkle noted was in one of the original concepts for the festival.
Even if the divisions stay the same, however, things are looking bright – both for the eager competitors and for the festival.
"There is every reason to believe that this is going to be a very important destination point for guitarists," Winkle said. "We have a larger and better quality field of semi-finalists this year, and the guitarists competing are telling us already, from day one, that next year, this is going to be huge because this is an amazing experience they're having, and some of the best guitarists competing on the circuit today are here. Word is getting out."
Good news for the competition and festival, but even better news for those looking for some great music from some future stars.
Facebook comments
Disclaimer: Please note that Facebook comments are posted through Facebook and cannot be approved, edited or declined by OnMilwaukee.com. The opinions expressed in Facebook comments do not necessarily reflect those of OnMilwaukee.com or its staff.
Recent Articles & Blogs by Matt Mueller