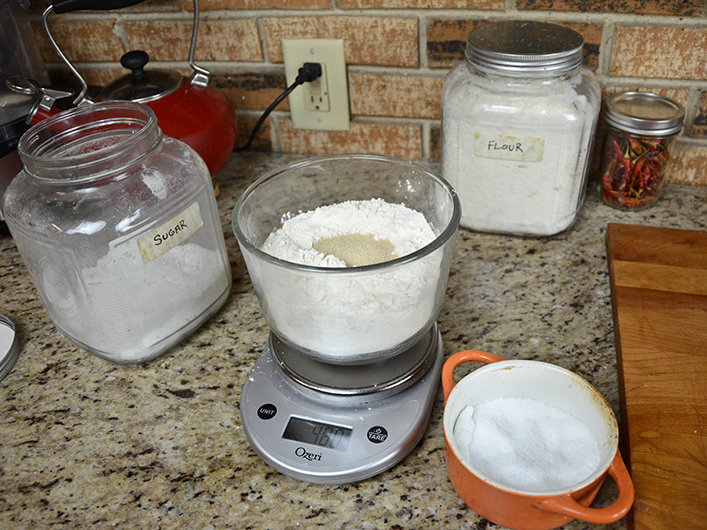 With tomatoes and all sorts of mid-season vegetables coming into the markets, my mind immediately goes to pizza. We make at least two pizzas a week in my house, and I've got a no-knead dough that couldn't be simpler. I'd like to do a couple of pizza recipes here in the next few weeks, so I figured we should start with the dough
A couple of notes with the dough: I like to use "00" flour, which is the finest a flour can be milled, but this dough really works better with all-purpose flour (I prefer King Arthur). A dough's "hydration" is the percentage of flour to liquid. With this dough, we're working with a hydration of about 67 percent, and using the fine-milled "00" flour results in a dough that's just a little too wet.
This recipe calls for a 12-cup food processor fitted with a dough blade, but it can just as easily be made with a mixing bowl and a wooden spoon. The most important thing is that the dough is thoroughly mixed and all of the water incorporated.
Basic No-Knead Pizza Dough
450g all purpose flour
10g kosher salt
10g sugar
10g quick-rise yeast
300g water
10g olive oil
Put flour, salt, sugar and yeast in the bowl of the food processor. Pulse once to combine. Add water and oil.
Turn on food processor and run until the the dough comes together and starts to follow the blade around the bowl, about 20 seconds. Add a little flour if it's not coming together. Run for an additional 20 seconds.
Turn the dough out onto a floured surface and bring it together into a ball. 
This recipe makes enough dough for two 12-inch pies or one pan pie. If you're making two pies, split the dough in half and put in separate lightly oiled containers that can contain the dough once it doubles. Refrigerate at least one day, up to five. It'll taste better three days in.If you're making a pan pizza, put the dough in an oiled 12-inch cast iron pan and cover with plastic wrap. Let rise at room temperature for 24 hours.
Facebook comments
Disclaimer: Please note that Facebook comments are posted through Facebook and cannot be approved, edited or declined by OnMilwaukee.com. The opinions expressed in Facebook comments do not necessarily reflect those of OnMilwaukee.com or its staff.
Recent Articles & Blogs by Matt Smith
Published July 7, 2014
As the tiny shallots, baby bok choy and dried birds-eye chilis begin to appear in local markets, I start to get excited about Thai food. So this week, I thought I'd try a spin on steamed dumplings.
Published June 24, 2014
Early summer at Milwaukee area farmers markets is always kind of a mixed bag, even more so this year after the long, persistent winter. We ventured out to the Tosa Farmers Market this weekend and were pleasantly surprised. I wanted to make something that showcased the mushrooms from the market and made use of the avalanche of spring onions at every produce stand, so I thought a tart was a nice choice, topped with some fresh chèvre.