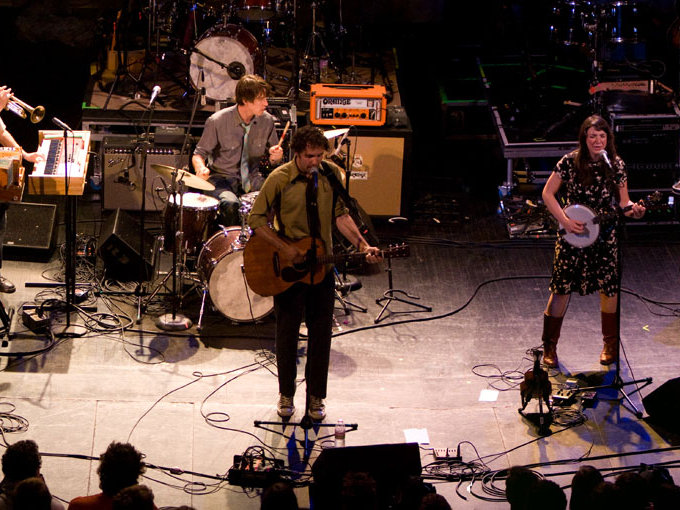 Consistently rumored to be an impressive live show, last night's The Decemberists show at the Riverside Theater delivered exactly what fans were hoping for. 
A thorough combination of old and new material, The Decemberists satiated the crowd with well-played favorites interspersed with a new self-branded style.
Blending a sense of traditional folk with anthems of historical triumph and despair, The Decemberists are nearly impossible to categorize or compare.
Overtly, The Decemberists claim to only have one official influence: Orangina. They don't take themselves too seriously and perhaps their light hearted accessibility is precisely the reason that everyone else does.
Taking the stage right on time, The Decemberists packed a full house complete with a standing audience downstairs and a relaxed seated upper level.
"Hazards of Love," released in March 2009, is epic and dramatic in nature reflecting the basis of the band's overall style and sound. Incredible talent, imagination and more descriptively true authenticity, mirror creative entertainment inventions previously undertaken by bands like Pink Floyd and Phish.
Opting to invest listeners in a full fictional experience, "Hazards of Love" plays out a character-rich torn story meant to be heard in its entirety from start to finish.
Many have dismissed "Hazards of Love" calling the album intense "rock opera" and relegating it to a genre outside typical Portland based indie music. But, I'm fairly certain last night's crowd would disagree.
No doubt, the album was a risk. It doesn't play to the typical scene and it certainly isn't going to lure poppy, catchy radio play. But it isn't the typical trend or industry approved sound that either The Decemberists or their fans have ever actively sought. And last night certainly proved it.
Playing two full sets, the first pulled entirely from "Hazards of Love" and the second drawing from previous works including "The Crane Wife" and "Picaresque," the show satisfied the optimal mixture of old and new that a live show crowd demands without fail.
Played with the same intensity and dramatic anthem heard on the recorded version, "Hazards of Love" reproductions blended theatrical production and strong guitar, organ and drums.
Following, the second set ushered in renditions of "Yankee Bayonet," "Engine Driver," "You'll Not Feel the Drowning," and "We Both Go Down Together." Adding pop cultural reverence to personal classics, front man Colin Meloy belted a cover of Heart's "Crazy on You" to a screaming theater.
And for that reason among others, Meloy is undoubtedly an addictive entertainer.
Interacting on and off alternately with the floor, balcony and side box "special seats," Meloy posses' the rare capability to keep the audience upbeat and alive despite the slow, saddened nature of an acoustic second set.
Slightly wry and sarcastic in his humor, Meloy congratulated in Milwaukee on its great "canals, bridges and things;" reiterating the band's ongoing love for the city. I'm fairly sure the love is mutual.
Talkbacks
LegallyBlonde | June 1, 2009 at 9:04 a.m. (report)
I went in not knowing a whole lot about the band. Yes, there were some times when I said..."Whiny Indie Rock Band from Portland", but more often than not I was impressed by the sound, lyrics, and impressive use of many instruments.

B+
InTheView | May 31, 2009 at 7:33 a.m. (report)
I really don't understand why anyone likes this band... Their first album was good. Picaresque was alright. After that they went down hill really fast. I really don't understand the draw. To me it's just another whiny indie rock act from Portland. But, it takes different strokes, right?
Facebook comments
Disclaimer: Please note that Facebook comments are posted through Facebook and cannot be approved, edited or declined by OnMilwaukee.com. The opinions expressed in Facebook comments do not necessarily reflect those of OnMilwaukee.com or its staff.
Recent Articles & Blogs by Maureen Post