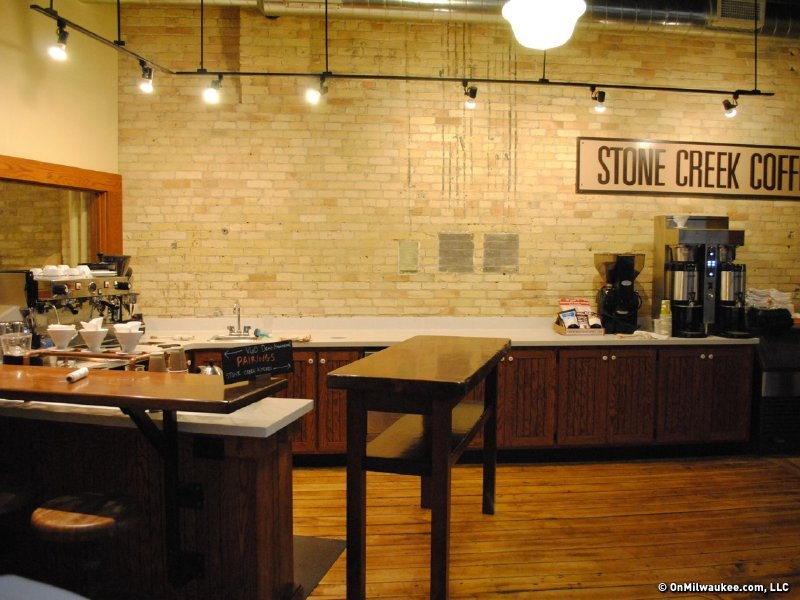 Stone Creek Coffee's Downtown "Factory," 422 N. 5th St., opens Saturday, Dec. 1 after a 10-month renovation project.
The grand opening starts at 7 a.m. with events throughout the day including tours of the roasting facility and kitchen, brew method demonstrations, coffee cuppings and samples from the new kitchen line. For the schedule of events, visit www.stonecreekcoffee.com.
The 124-year-old building was formerly used for roasting, wholesale, storage and office space.
It now also features Stone Creek's ninth retail café – as well as its largest – and the new Stone Creek Kitchen.
Executive Chef Aaron Patin is in charge of the new 1,500-square-foot kitchen, located on the second floor of the Factory. It will supply all of Stone Creek's cafes with made-from-scratch, freshly baked goods that have been designed to pair directly with the coffees.
"Coffee is the inspiration for what we are doing, and the food we are creating will relate back to that, in one way or another, " Patin said. "By focusing on seasonal ingredients and local sources, we want to elevate the morning coffee ritual."
The Factory will also be open to the public for tastings, coffee classes, meeting space and other events.
The cafe features two large sitting areas – one with most of the seating borders the barista station and one with a fireplace.
Much of the materials used to construct the cafe were reused and recycled items, including the wooden tables which were made from the ceiling beams.
There's also a new, massive skylight and a nine-foot-wide coffee cup perched a top the building that's visible from the freeway.
"The cup was (president / owner) Eric's dream," says Kristin Palser, wholesale and e-commerce director. "We're hoping to someday have smoke coming out of it."
According to Palser, the coffee cup could contain 10,000 regular cups of coffee and was designed to look like the mugs used inside the cafes.
The Factory renovations are part of a $1.3 million, two-year…
Read more...