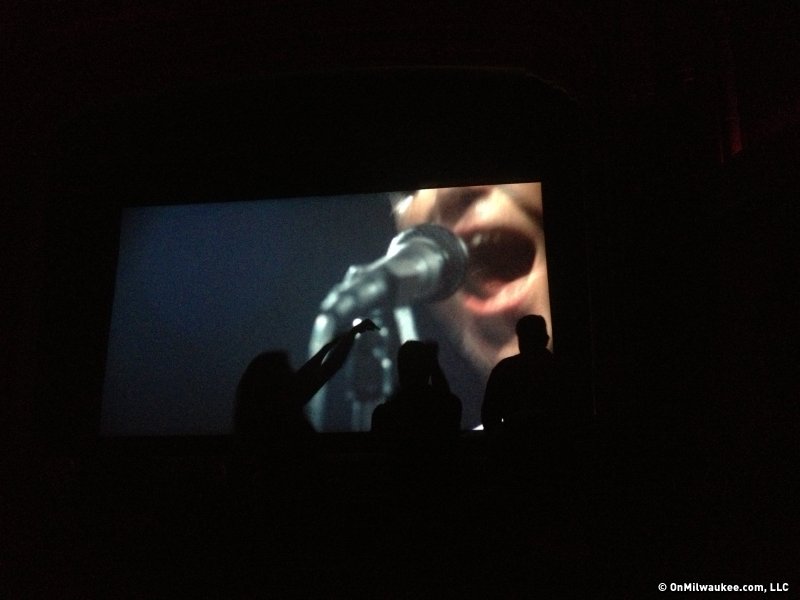 "Stop Making Sense" – the Talking Heads' concert movie – became a Friday night ritual at the Oriental Theater in the mid-to-late '80s.
At that time, the Oriental was not divided into three theaters – instead, it had one screen. It was also before the vending area sold alcohol.
And yet, the show became a popular alternative to the club scene for of-age drinkers as well as a destination for high school kids who were starved for culture and experiences beyond high school.
"Stop Making Sense" returned to the Oriental last night as part of the Milwaukee Film Festival's Sound Vision series. We walked into a well-attended theater with one question on our minds: after 20-plus years since we'd seen the film in that space would it be "same as it ever was"?
The answer is both yes and no.
The quality of the 1984 film was grainy and definitely had a vintage feel. I liked this, much in the way I like the crackles and pops of records, but it did take a few seconds to get used to. A person behind me said, "Wow. How old is this movie?" And I joked to my partner, "What is this? 'Gone With the Wind?'"
Although the women who introduced the film encouraged people to dance, it took a while for the crowd to get moving. The concert opens with "Psycho Killer," a very danceable track, and yet most of the audience was extremely mellow with a smattering of chair dancers throughout the theater.
The show opens with lead singer David Byrne alone on the stage with his guitar and a "boombox" and then one by one the rest of the band joins him. Bassist Tina Weymouth came on first to perform "Heaven." The second band member to reach the stage was drummer Chris Franz for "Thank You For Sending Me An Angel" and then Talking Heads guitarist, the Milwaukee-born Jerry Harrison, came on for "Found A Job."
The addition of Harrison – who was also an original member of The Modern Lovers – sparked a reaction from the audience who applauded for the former Milwaukeean.
"Stop Making …
Read more...