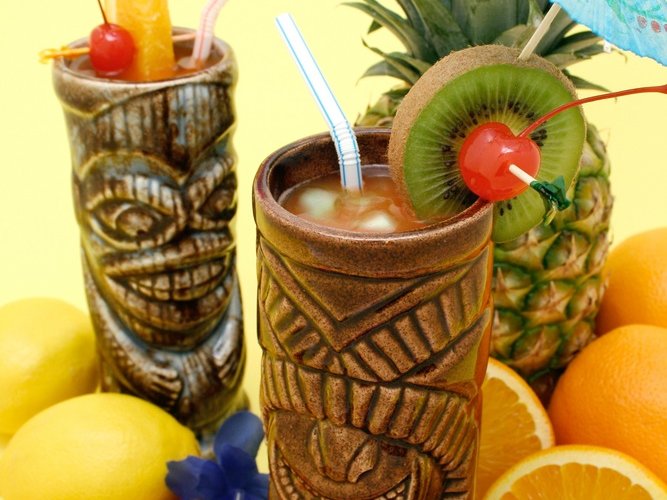 "Bar Month" at OnMilwaukee.com is back for another round – brought to you by Aperol, Pinnacle, Jameson, Fireball, Red Stag and Avion. The whole month of February, we're serving up intoxicatingly fun articles on bars and clubs – including guides, the latest trends, bar reviews and more. Grab a designated driver and dive in!
What we consume our beverages from can be as interesting as the beverage itself. The pina colada served in the real coconut comes to mind immediately, although never having gone on a tropical vacation before, I can't say I've tried one.
I have, however, enjoyed adult beverages from a few memorable containers. Here are a few I remember anyway.
Boots: Years ago, there was a bar called Zur Krone in the current Crazy Water space in Walker's Point that served beer in a glass boot. This was the first time I experienced this German drinking tradition, which requires a certain way of holding the boot or else you'll get a splash of beer to the face.
I later had one at the Mader's bar, called the Knights Bar, where they are sold in one- or two-liter sizes.
The Wicked Hop also features two drinks served in a boot. The Glass Slipper is a Bloody Mary served in a 97-ounce boot and The Heifer is a two-liter mix of Spotted Cow and orange juice. If you finish either of these drinks, the boot is yours to keep as a souvenir of your over-indulgence.
Tiki glasses: Foundation and Lucky Joe's Tiki Lounge both have a great selection of ceramic mugs themed around pirates, skulls, cats, hula girls and of the course the classic long-faced Easter Island masks. Best of all, you can pay a little more and take the glass with you.
At Random also serves the famous Tiki Love Bowl which is served in a massive goblet, complete with a piece of flaming fruit.
Horns:  You can party like it's 1599 at the Bristol Renaissance Faire where the beer and mead are often consumed via drinking horns, usually worn around the neck. I do not own such a vessel myself, but I drank out of a friend's once just for the experience of it. May your cup runneth over.
Talkbacks
olderwiser | Feb. 13, 2013 at 11:21 a.m. (report)
I am most happy with a beautiful Waterford Crystal double old fashioned glass for my beverage of choice. I don't like the Mason jars, the extra tall soda mugs at the Chancery, or glassware with an opening that is too narrow or a rim that is not smooth. Elegant Riedel wine stemware suits me best for drinking wine too. Nothing that is printed with cartoons, circled with gold or silver, or stemless...I really dislike stemless wineglasses.
Facebook comments
Disclaimer: Please note that Facebook comments are posted through Facebook and cannot be approved, edited or declined by OnMilwaukee.com. The opinions expressed in Facebook comments do not necessarily reflect those of OnMilwaukee.com or its staff.
Recent Articles & Blogs by Molly Snyder