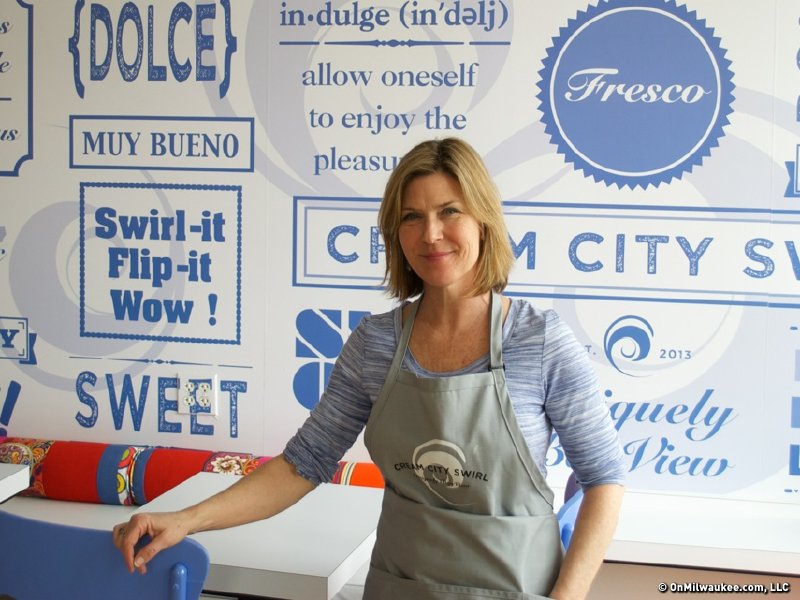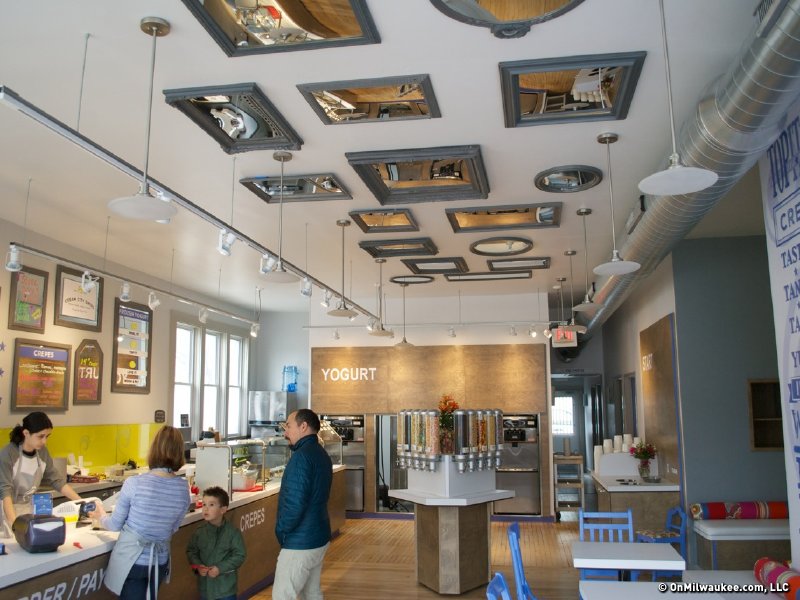 Cream City Swirl, 2663 S. Kinnickinnic Ave., opened on Sunday, April 20 – which was Easter – and owner Susan Nolan says it has been a whirlwind of excitement ever since.
Last summer, Nolan took over the space, which was formerly a salon called Hair Arkitekts, after a couple of years of researching the concept.
Cream City Swirl offers weigh-and-pay yogurt, gelato, made-to-order crepes and Stone Creek Coffee.
Nolan, with the help of other professionals, completely remodeled the space which feels modern and spacious yet cozy. 
One wall features custom-designed wallpaper with words such as "swirl," "Bay View," "muy bueno" and "indulge" and the ceiling is adorned with 16 vintage-looking mirrors. The pleasing periwinkle-painted chairs actually made me crave sweets. (Good job, Susan.)
There's also a fireplace and, later this spring, there will be a patio.
Cream City features four frozen yogurt machines with three flavors each – the middle machine offers a swirl of flavors. Nolan uses a different yogurt company than most of the yogurt spots in Milwaukee: Honey Hill Farms based in Arkansas.
"I was looking for very high end ingredients," she says.
There are 18 cold toppings and 10 dry toppings to choose from, including fruit, nuts and candy. The yogurt is sold by weight and costs 47 cents per ounce.
Nolan says she enjoys seeing the different combinations people choose for their yogurt toppings – particularly kids.
"Sometimes, with kids you want to ask, 'Where's the yogurt?'" she says.
Cream City Swirl offers the locally-made La Coppa gelato in five different flavors. "The raspberry flavor is over half raspberries," says Nolan. "It's all very natural."
The made-to-order crepes are available with golden, chocolate or gluten-free batter. Customers can build their own or pick one from the menu such as the KK Classic that's topped with lemon, butter and sugar and costs $4.50.
The Vanguard will soon open next door and Nolan says the beer-cocktail-sausage-poutine-and-sandwich shop is going to be a great fit for a neighbor.
Someday, Nolan says she plans to offer hot chocolate, more coffee drinks and, possibly, sandwiches.
"We're taking baby steps for now, she says. "Big, big baby steps." 
Nolan has lived in Bay View for 28 years and has two teenaged daughters, one of whom works at the shop. Nolan worked as a professional art teacher for years, but after being laid off, decided to try a completely new career path. 
"I felt I needed to reinvent myself and try something I always wanted to do," she says. "And what I'm finding so far is that this is a really happy place."
Cream City Swirl is open Sunday-Thursday from 11 a.m. to 8:30 p.m. and 11 a.m. to 10 p.m. on Friday and Saturdays. The hours may expand this summer.
Facebook comments
Disclaimer: Please note that Facebook comments are posted through Facebook and cannot be approved, edited or declined by OnMilwaukee.com. The opinions expressed in Facebook comments do not necessarily reflect those of OnMilwaukee.com or its staff.
Recent Articles & Blogs by Molly Snyder