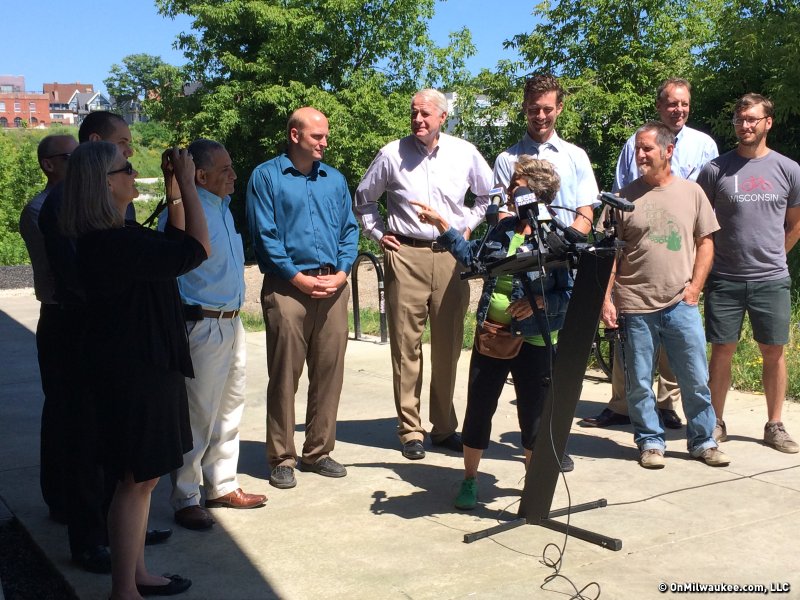 At 11 a.m. today, Mayor Tom Barrett – along with a group of city officials, designers, organizers and citizens (including my two sons) – cut the ribbon on the new swings at the Marsupial Bridge.
"The city is challenging itself to have more fun," Barrett told the crowd, which also included DPW Commissioner Gassan Korban and Julilly Kohler from the Brady Street Business Improvement District (BID) #11.
The new swings are a collaboration between the City of Milwaukee, the Brady Street BID and the grassroots organization beintween. Public artist and advocate Sara Daleiden was also recognized as integral to the process.
The park now has a total of 11 swings, including a wheelchair-accessible swing and baby swings. The ground is now covered in soft pieces of shredded tires.
No one knows exactly what to call the park. Some call it "swing park," others call it the "pop-up park," but it doesn't matter. If anything, the lack of an official name seems appropriate because it mirrors the park's unoffical start.
With the help of seven or eight others, Keith Hayes – a trained architect / "urban space pioneer" who heads beintween – hung the swings in the middle of the night on Sept. 9, 2012. 
"It was done in a really guerilla fashion," says Hayes. "It was a social and civil experiment."
His group maintained and repaired the swings – made mostly from repurposed materials – until January 2013 when the city acquired the space through a Common Council process.
The swings started to show signs of wear and tear and were determined potentially dangerous. By the end of 2013, the swings were gone. But certainly not forgotten. 
"The city could have chopped 'em down. The city could have said this wasn't in the plan and it isn't even technically legal – and maybe if we would have noticed it right away we would have done that – but fortunately the mayors' daughters … were on these swings, everyone was on these swings," says Ald. Nik Kovac. 
Hayes says the next eight months included "various negotiations" to decide what exactly to do with the space and how to keept the original intent while ensuring safety. The results were celebrated today.
"This park was created by the people and claimed by the people," says Kovac.
The park is open daily from 8 a.m. to 10 p.m. and will be used for a variety of entertainment purposes. A bike-in movie series has aired some Friday nights and various theater, dance and musical groups have already used the space or expressed interest in doing so.
Facebook comments
Disclaimer: Please note that Facebook comments are posted through Facebook and cannot be approved, edited or declined by OnMilwaukee.com. The opinions expressed in Facebook comments do not necessarily reflect those of OnMilwaukee.com or its staff.
Recent Articles & Blogs by Molly Snyder