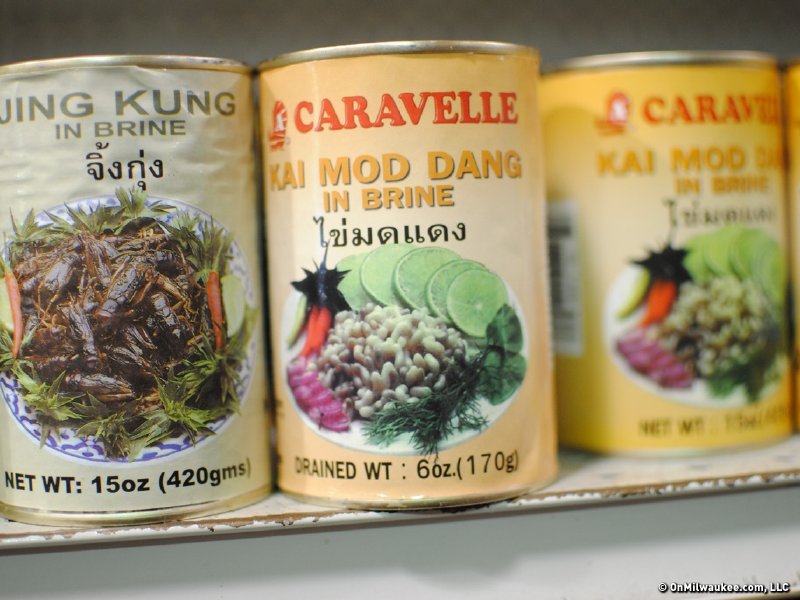 Shopping habits are changing, and as Milwaukee's retail landscape continues to evolve OnMilwaukee.com is pulling out the credit card for a full week of retail, shopping and commerce content. Stories about local stores, national retailers, online shopping and more. OnMilwaukee.com "Retail Week" will highlight shopping through a creative and diverse lens.
Rhino Food Store, 7411 W. Hampton Ave., is what I always want Pacific Produce to be: cheap, unoffensive to my sense of smell and filled with my favorite Asian foods and items.
Sure, Pacific Produce, 5455 S. 27th St., has a much larger selection (particularly for frozen foods), but the prices are a lot higher. Plus, Rhino is smaller – not small, but smaller – and less overwhelming, stocking everything I'm interested in, including straw gardening hats, Asian candy (hard-to-find black coffee candy and also ones with cute, bubble-headed panda wrappers), rice noodles, large bottles of Sriracha, coconuts and joss paper (gold paper used primarily in Chinese ceremonies but also makes for great crafting of all kinds).
It's also always fun to look at all the items that don't make it into my cart: cans of bananas, crickets, larvae and quail eggs along with fake money and massive woks.
I was particularly impressed with the price of wasabi-coated peas (about $3 less than the price at other grocery stores), the incredible bamboo shoot selection (at least 20 different brands to choose from) and the chopstick collection.
I also picked up a much-needed and attractive indoor / outdoor rug for my front porch for $12. I looked at something similar that cost four times that amount last summer at a box store and passed on it. 
Rhino is the largest Hmong-owned grocery store in Milwaukee. It's owned by Pai Yang and located inside a former engine and transmission shop.
Although I live on the near South Side, Rhino Foods on Milwaukee's Northwest Side is my new Asian market of choice.
Talkbacks
Senseisahnyathom | May 31, 2013 at 9:22 a.m. (report)
I do a twice a year stop at Rhino's and love it. I always find some old favorites and some new items. I love that it's food and treats from so many different Eastern Countries. Love the non Big Box Feeling! Love your blogs!
Facebook comments
Disclaimer: Please note that Facebook comments are posted through Facebook and cannot be approved, edited or declined by OnMilwaukee.com. The opinions expressed in Facebook comments do not necessarily reflect those of OnMilwaukee.com or its staff.
Recent Articles & Blogs by Molly Snyder