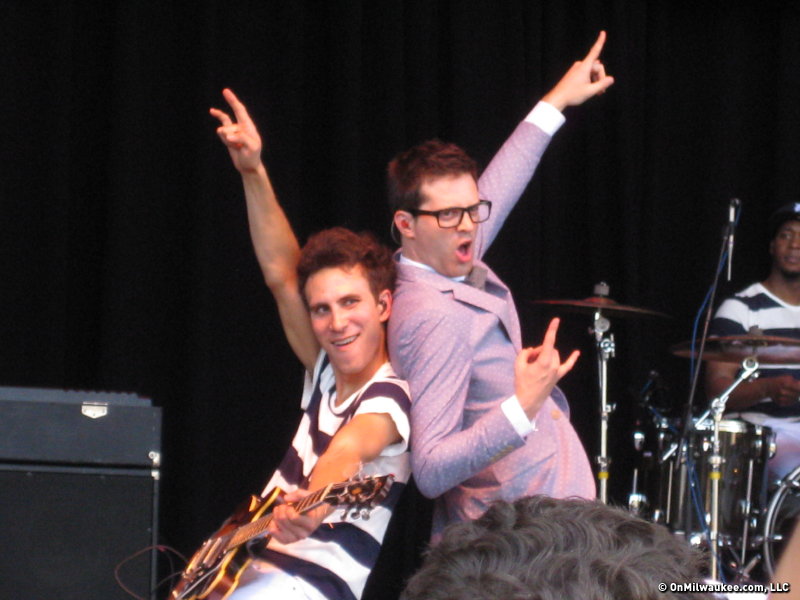 One of the beauties of Summerfest is that a music lover can start listening to one unique brand of music, walk 50 steps in another direction and hear a completely different genre or sound. It's even better when the experience can happen without having to move from a single stage, like it did Sunday night at the Briggs & Stratton Big Backyard with Motown-infused crooner Mayer Hawthorne and experimental musician Tune-Yards.
Mayer Hawthorne, accompanied by his band The County, is the latest in pop culture's recent obsession with '60s retro. While "Mad Men" currently owns the retro TV market (just ask NBC's failed attempt to cash-in, "The Playboy Club"), the music scene has plenty of Motown-influenced acts grabbing the spotlight. The late Amy Winehouse, Raphael Saddiq and most recently Bruno Mars have all found success by going back to the past's soulful, jazzy sound.
It'd be easy for Hawthorne to get lost in the shuffle, but instead, he has grown in popularity since his 2009 debut album, "A Strange Arrangement." Some of the credit could go to some glowing high-profile recommendations, including John Mayer and Snoop Dogg, who duets with the crooner on "Can't Stop" off of Hawthorne's latest album, "How Do You Do."
Saying that, however, would take away from Hawthorne's smooth and authentic Motown sound, which was on display during their spry and energetic Summerfest set. The band seamlessly bounded between songs, such as the bouncy "Your Easy Lovin' Ain't Pleasin' Nothin'," the groovy "The Walk" and the sultry smooth "No Strings."
Much of the group's success belongs to their figurehead, Mayer Hawthorne. Decked out in a grey patterned suit with matching shorts and a bow tie, the lead singer enthralled the crowd with his effortless charm. In between numbers, he told clever little anecdotes that perfectly led into the next song, including a goofy story about a Bootsy Collins tweet that segued into the funky "Love in Motion."
His natural showmanship helped cover the set's few flaws as well. While the lead guitarist went backstage after "I Wish It Would Rain" to have his earpiece fixed (which seemed to be giving him fits throughout the first half of the show), Hawthorne announced that he would be giving the crowd some "picture time" and proceeded to strike several goofy poses with his band mates.
The front man doesn't have the most powerful voice, but his fun audience interactions and stage persona makes his few vocal failings easy to forgive. His pitch perfect falsetto, which he showed off to great effect on the ridiculously flirty "Shiny & New," helped matters as well.
After Hawthorne's sizzling set, the packed crowd at the Big Backyard travelled back to the future thanks to an electric set by Tune-Yards that struck like musical lightning. Getting her start in 2009 with "Bird-Brains," the experimental electro-infused afro-jazz fusion (that's the shortest description possible for her genre-defying tunes) artist Merrill Garbus has found a following thanks to her music's strangely addictive energy and layered sound.
A common problem with electronic live acts is the complex beats, instruments and sounds that make the music so vibrant and fun are hard to synchronize and perfectly balance on stage. Garbus manages to keep her albums' eclectic sound mixtures with the help of looping pedals, a bassist and two sax players.
While Hawthorne is a natural performer, Garbus is more of a quiet technician. Her few interactions were somewhat stiff, including a unheralded request for the crowd to jump during "Party Can" (a difficult task while standing on Summerfest benches), and she doesn't get to move much during her songs since she must be close to her drum loop pedals.
When it comes to the utterly original music, however, it's hard to complain at all. Her fascinating singing style ranges from chill spoken word ("Killa") to intensely raw yells ("Riotriot"), and the intricate music has a kind of pounding, propulsive tribal energy that gets in the listener's bones.
There's an exciting sense of creation watching Tune-Yards piece together a song into an orchestra of organized chaos. "Gangsta," one of the night's biggest hits, slowly evolved from a couple of drumbeats into an ingenious mixture of coordinated beats, notes and chants before the audience's eyes.
Tune-Yards and her predecessor Mayer Hawthorne have very little in common musically, but Sunday night, they shared one similarity: They made the packed crowd's ears remarkably happy.
Facebook comments
Disclaimer: Please note that Facebook comments are posted through Facebook and cannot be approved, edited or declined by OnMilwaukee.com. The opinions expressed in Facebook comments do not necessarily reflect those of OnMilwaukee.com or its staff.
Recent Articles & Blogs by OnMilwaukee.com Staff Writers