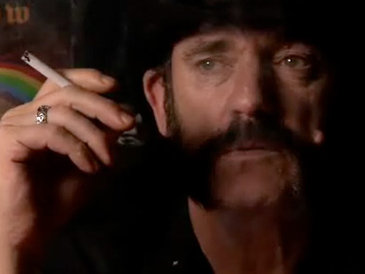 With "Lemmy" -- the critically lauded documentary about legendary rock n' roll tough guy and Motörhead frontman Lemmy Kilmister and his signature sideburn-mustache-combo showing at the Times Cinema  -- I got to thinking about other important moments in musical facial hair history.
For your consideration, my top five list of the most important furry face-configurations in the history of rock and pop music in no particular order.
Rick Ross -- The Miami prison guard gone self-professed drug boss made it acceptable for the hip-hop community rock a beard. His growing record sales reflect the Samson-like powers of his facial hair, and after making a diamond encrusted medallion replica of his face he may never be able to shave again.
ZZ Top -- Two thirds of ZZ Top are the most famous beards in rock and roll history. The Texas rockers may have an affection for cheap sunglasses, but it's their priceless chin dressing that gave them their signature look.
Doug Martsch -- Long before every Williamsburg hipster worth his weight in American Apparel gift cards was rocking a beard there was Built to Spill. While the band has several bearded members, Martsch has rocked the lumberjack look with consistency since the bands early '90s heyday. The band is still rocking and so are Martsch's sweet facelocks.
System of a Down -- The operatic nu-metal act's bass player Shavo Odadjian somehow managed to grow a goatee more distracting than his band's terrible music. Keeping his beard controlled and neatly banded in contrast to S.O.A.D's chaotic tunes, the legacy of Odadjian's goatee will live on much longer than that of his band.
Rick Rubin -- The hirsute super producer who's manned the board for a diverse group of acts including everyone from Johnny Cash to LL Cool J, has also manned the beard for as long as anyone can remember. While he is often credited with breathing new life into artists late in their career, I like to think the mere presence of his beard helped to make Slayer's "Rein In Blood" one of the heaviest albums of all time.
Facebook comments
Disclaimer: Please note that Facebook comments are posted through Facebook and cannot be approved, edited or declined by OnMilwaukee.com. The opinions expressed in Facebook comments do not necessarily reflect those of OnMilwaukee.com or its staff.
Recent Articles & Blogs by OnMilwaukee.com Staff Writers