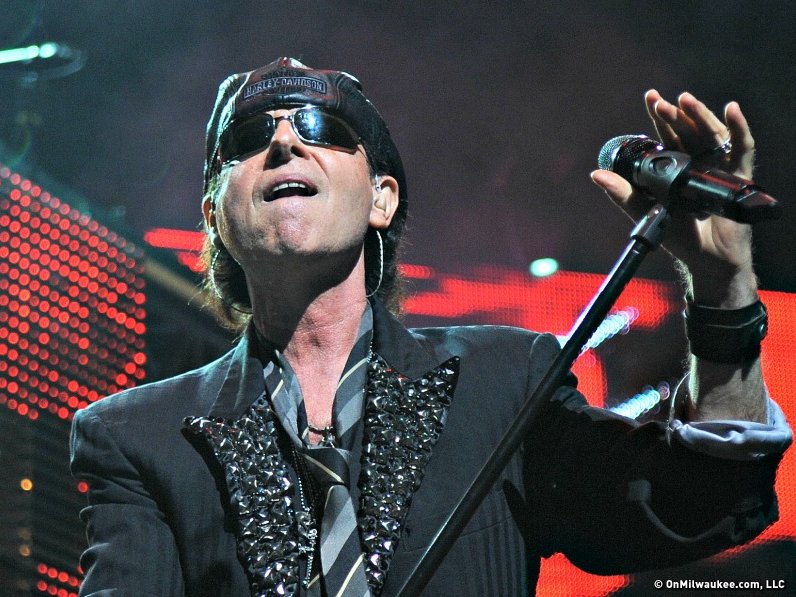 The hard-rocking, blue collar city of Milwaukee has been a regular and popular stop for virtually all of German metal-meisters Scorpions' U.S. tours over the past 34 years, so it's no surprise that they made their way back to the Brew City for one final blowout at Summerfest 2012.
Sure, lots of artists undertake premature (Elton John) or never-ending (Cher) "farewell" tours – but with typical no-nonsense German sensibility, it appears that the Scorps really mean it with their "Final Sting Tour."
But, let's be clear: based on Saturday night's performance, these guys – even though they've been recording and touring for more than 40 years – are by no means any less tight and powerful than they've ever been.
Saturday night at the new BMO Harris Pavilion Klaus Meine, Matthias Jabs, Rudolf Schenker, Pawel Maciwoda and James Kottak unleashed a show that sounded as if it could have taken place in 1982 instead of 2012. The whole gang looked lean and moved with energy and vitality that truly belied their "elder statesmen of metal" status.
Opening with "Sting In The Tail," the title track from their latest (and best in a while) release, Scorpions went on to unleash a string of hard rocking album tracks like "The Zoo," "Loving You Sunday Morning"and "Rhythm of Love," mixed with FM-radio staples like "Blackout" and "Big City Nights" that had the capacity crowd up on their feet from the first chord.
A fully engaged audience turned many of the evening's songs into interactive sing-alongs – highlighted by the still surprisingly moving Cold War anthem "Wind of Change."
Striking a delicate balance between crushing power chords and machismo with touching, tender ballads was the winning combination that made Scorpions a worldwide success and fully evident on "Loving You Sunday Morning" and "Holiday," during which Rudolph Schenker broke out his cool acoustic "Flying V"guitar.
Back in 1988, an upstart band named Metallica was third on the massive U.S. "Monsters of Rock" tour headlined by Van Halen. They were newly emerging as a force on the music scene, and the ferocity of Metallica live was a sight to behold. Few bands would consider or have even a small chance to succeed in following them on stage. 
Scorpions did – night after night – and did it with the taut professionalism that has earned them their ranking as one of metal's top bands of all time.
That confident showmanship, musical mastery and unbridled energy was still on full display at the show on Saturday night.
If you were there, I'm sure you'll agree that this was a memorable and fitting finale to Scorpions' long history with Milwaukee metal heads. If not, too bad for you – you certainly missed a great one.
Venerable '80s Milwaukee metal stalwarts Moxy Roxx opened the show
with an upbeat, workmanlike set to unfortunately, a relatively sparse crowd
in the new BMO Harris Pavilion "Blue Circle" reserved seating area.
The local metal faves sounded great on tunes like "Everybody Loves Alice" and even rolled out the requisite ear-busting drum solo. Moxy fans back in the general admission bleachers responded enthusiastically – despite the empty span of blue seats between them and the boys in the band.
Scorpions Setlist – Summerfest BMO Harris Pavilion – Saturday, June 30, 2012
1. Sting in the Tail
2. Make It Real
3. Is There Anybody There?
4. The Zoo
5. Coast to Coast
6. Loving You Sunday Morning
7. Rhythm of Love
8. Wind of Change
9. Holiday
10. Raised on Rock
11. Tease Me Please Me
12. Hit Between the Eyes
13. Kottak Attack
14. Blackout
15. Big City Nights
Encore:
17. Still Loving You
18. No One Like You
19. Rock You Like a Hurricane
Facebook comments
Disclaimer: Please note that Facebook comments are posted through Facebook and cannot be approved, edited or declined by OnMilwaukee.com. The opinions expressed in Facebook comments do not necessarily reflect those of OnMilwaukee.com or its staff.
Recent Articles & Blogs by OnMilwaukee.com Staff Writers