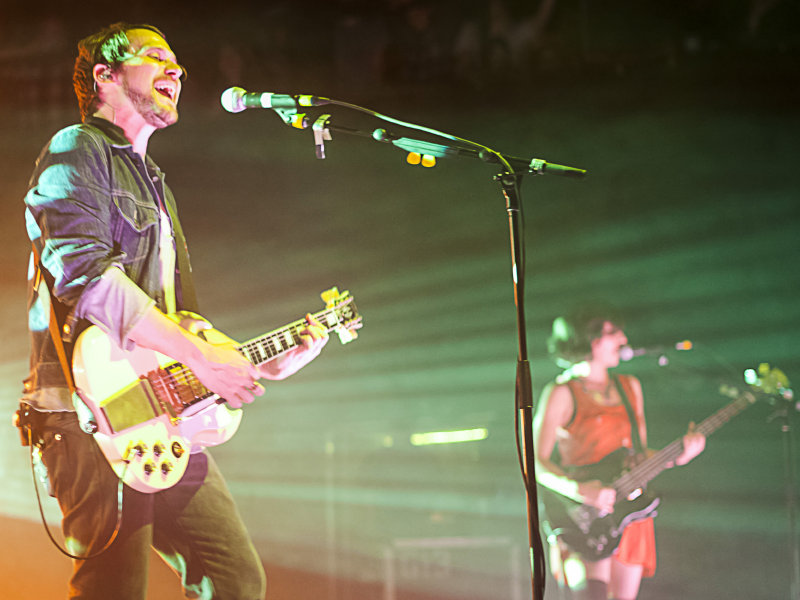 It's been a little over five months since the Silversun Pickups left their mark here in Milwaukee when they gave support to mega-rockers Foo Fighters at this year's Summerfest. But the crowd at The Rave on Saturday night was ready for round two, as they patiently waited for and welcomed a headlining tour to return to our neck of the woods. (Pun intended.)
"There's been a few changes since the last time we were in Milwaukee," explained Silversun Pickups frontman Brian Aubert. Longtime fans were greeted with a new face, Sarah Negahdari, who has been filling in on bass duties while Nikki Monninger is on maternity leave (Monninger posted a photo of her newborn twin daughters yesterday on Twitter). Changes aside, the band performed exceptionally to a packed crowd at The Rave.
This particular show was sponsored by local radio station FM 102.1 as a part of its annual Big Snow Show, now in its seventh year. Preceding each band, radio personalities Kramp and Adler, as well as the other on-air staff, took the stage and belted out jokes about the holidays and at one point even tossed an ugly Christmas sweater into the crowd before announcing that the Silversun Pickups were ready to hit the stage.
As the lights went down, the band walked on stage with smiles on their faces as they were graciously greeted by the familiar Milwaukee crowd. Keyboardist Joe Lester and singer/guitarist Brian Aubert began playing the dissonant intro to "Skin Graph," the opening track off their latest offering, "Neck of The Woods," before busting through to the first verse to put the set in to full swing.
Although seemingly shy and timid, Negahdari fit in quite well with the rest of the band as she wildly jumped up and down, back and forth, jamming out the infectious bass lines of "The Royal We" and "Simmer," even doing a more-than-modest vocal performance on cuts like "Little Lovers So Polite" and "Mean Spirits."
The other half of the rhythm section complemented Negahdari with unapologetic ferocity. Drummer Christopher Guanlao is a force to be reckoned with in a live setting. Thrashing about and head banging, his playing Saturday night was tight and precise as he pummeled the crowd during "Mean Spirits," "Panic Switch" and "Out of Breath."
Rounding the group out was Aubert, who put on a spine-tingling performance during the savory "Catch and Release" and slowly turned his graceful vocals to harsh howls during the build-up of fan favorite "Lazy Eye."
Not only did Lester provide a textured atmosphere via his chilling samples, but the light show displayed that night made the performance exceptionally attractive, hitting every musical peak and valley throughout the night.
For the most part, Silversun Pickups were all business. They didn't engage the crowd as much as I'm sure some wanted them to. When they did, they expressed their affection for Milwaukee as they were in town for a few days prior to the show, even checking out the Bucks game on Friday night.
Overall, the night was dedicated to showcasing their newest material from "Neck of The Woods," but they did sprinkle little surprises throughout the night. They played the opening melody and first verse of "Kissing Families" during their unforgettable three-song encore before finishing the night off with the electric "Well Thought Out Twinkles" from their debut "Carnavas," leaving Milwaukee in high spirits at the end of 2012.
Facebook comments
Disclaimer: Please note that Facebook comments are posted through Facebook and cannot be approved, edited or declined by OnMilwaukee.com. The opinions expressed in Facebook comments do not necessarily reflect those of OnMilwaukee.com or its staff.
Recent Articles & Blogs by OnMilwaukee.com Staff Writers