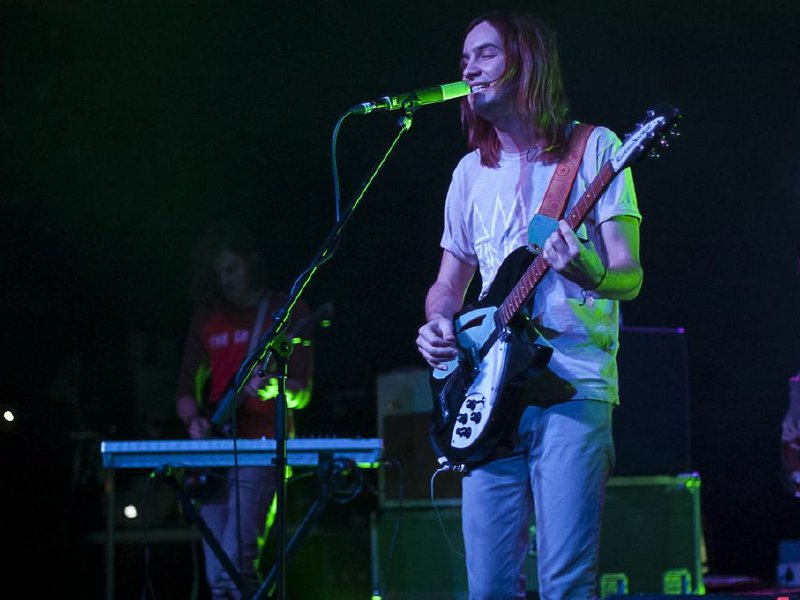 So your best friend from college is throwing this huge house party and he wants you to be there because, ya know, you're best buds. He tells you it's going to be the party of the year and even booked his friend's band. Except that this house party turns out to be a sold-out show at the Turner Hall Ballroom and his friend is Kevin Parker, whose band is Tame Impala.
This perfectly describes the atmosphere within the historical venue Sunday night. Turner Hall was primarily filled by a younger college crowd. Hanging out as if they rolled into the ballroom by mistake, many intermingled with one another, others danced to the house music before any band took the stage and you even had the outcasts of the party sitting out of sight with others who looked like they already had a little too much fun. But suddenly our friend Parker hits the stage and it becomes all too obvious why everyone is there.
Parker, basically, is Tame Impala. He writes and records all of the music himself back home in Australia, but on tour he brings a backing band to help bring his creations to life. And when the music is presented in a live setting, live is almost a figurative description.
The group opened its set with a short improvised jam before sliding into "Desire Be Desire Go" off of the debut album "Innerspeaker." This wouldn't be the first time the band strayed from the confines of Parker's already-expansive imagination. During a couple songs, such as the rumbling "Elephants," the group would helplessly deviate from the song structure only to build it up and bring it all back together again in one spectacular finale.
As loose and airy as the music is, the band performs fluently and tightly – especially drummer Julien Barbagallo, who often initiates these intimate jam sessions.
For the most part, Tame Impala isn't a very flashy band. Parker hardly makes any sudden movements except for some slight arm swaying and holding his guitar up to the sky as if he's succumbing to the resonance he just unleashed on the crowd.
Stage presence aside, it's all made up with the simple but fitting oscilloscope styled visuals and stage lighting which erupted in color with every sonic melody played by the band. Had you been anything else but sober, you could've probably seen the waves bursting from Parker's guitar, all of this bringing that lively element of the music as I mentioned prior.
Tame Impala's most majestic moment of the night was during the appropriate encore "Nothing That Has Happened So Far Has Been Anything We Could Control," where the group voyaged through a dreamy, cosmic landscape of melody that arguably sounds better live than its recorded counterpart.
Though the songs sound familiar, on stage Tame Impala transforms its music it into a massive, intense and very different kind of animal that will leave any audience in a blissful daze.
Facebook comments
Disclaimer: Please note that Facebook comments are posted through Facebook and cannot be approved, edited or declined by OnMilwaukee.com. The opinions expressed in Facebook comments do not necessarily reflect those of OnMilwaukee.com or its staff.
Recent Articles & Blogs by OnMilwaukee.com Staff Writers