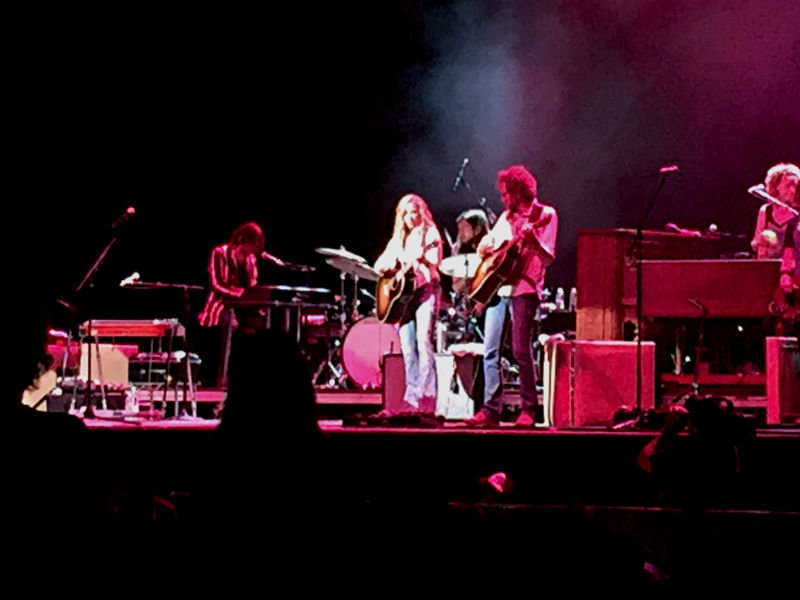 The OnMilwaukee.com Summer Festivals Guide is presented by Pick 'n Save, Where Wisconsin Saves on Groceries. Pick 'n Save is Wisconsin proud, and excited to help promote and feed the great Milwaukee summer that includes festivals and fun nearly every day. Click to save here!
Like a lot of people, I was a big Sheryl Crow fan back in the '90s. I saw her put on a great show at Lilith Fair in 1999, and I own her first four albums.
Considering that most of the crowd at her Summerfest concert Wednesday night looked to be in their 40s and 50s, it's fair to say the same was true for most of them. Not surprisingly, the audience saved its cheers and dancing for the songs that put Crow on the map, while the excitement level in the BMO Harris Pavilion dropped noticeably when Crow played songs off her most recent album, "Feels Like Home," released in 2013.
For their part, Crow and her band also gave their most enthusiastic performances on the hits that made her a star. They only played three songs off "Feels Like Home," and during them the band seemed to be going through the motions. But as they moved into familiar favorites like "Can't Cry Anymore," the crowd got on their feet and swayed along. Each time they returned to the new songs, you could feel the energy draining away as the audience resumed their seats.
Crow had minimal banter with the crowd at the beginning, but seemed to ease into it as the concert went on. She joked about being a crappy parent because her kids don't know who the Rolling Stones are, which drew applause. It's nice to know even musicians screw up their kids' musical educations. During "Members Only," when she asked who's sick of politicians, she got one of her biggest cheers of the night.
Crow and her band hit their stride for the last third of the show. Playing hits like "If it Makes You Happy," "Soak Up the Sun" and "Every Day is a Winding Road," the crowd got to its feet and stayed there for the rest of the night. It was like Crow slipped into her favorite pair of jeans, and now she was comfortable and could rock. She looked like she was having fun, the band looked like they were having fun and the crowd reacted ... by also having fun.
My favorite part of live concerts is when musicians are up there and just start jamming like they're in a practice session with no audience. In the current day and age of highly choreographed concerts requiring eight semis full of equipment to pull of a performance, it's fun to watch musicians loosely improvising and having fun. So for me, the highlight of the concert was an extended guitar riff during "Every Day is a Winding Road." If the energy and cheering from the audience were indicators, I'm not the only one.
Crow's voice has gotten deeper over the years, giving her songs a smokier quality. She's also added a slight country feel to her sound, in keeping with her overall shift toward country music. In keeping with this image, she wore boot cut jeans – she has her own jeans brand now – and a white shirt with fringe on the shoulders. All she was missing was the cowboy hat. But for fans who aren't into country, the changes are minimal enough that they wouldn't be off-putting.
And if her songs have aged well, so has Crow herself. At 53, she was rocking as hard as she did when I saw her 17 years ago.
While the reserved section of the Pavillion wasn't filled, enough people stood just outside the theater that could have easily filled all the seats. The BMO Harris stage provided a nice atmosphere for the concert, and the acoustics were perfect for the guitar-heavy songs. Mother Nature added an ideal backdrop of a cool night but lacking the chill you can get on the lakefront.
Overall, it was a fun way to spend an evening, revisiting old, familiar favorites with just enough changes to keep them interesting. And as Crow would tell us, that change will do us good.
Set List:
"Maybe Angels"
"Change Will Do You Good"
"Easy"
"Real Gone"
"Can't Cry Anymore"
"Favorite Mistake"
"Callin' Me When I'm Lonely"
"First Cut is the Deepest"
"Member's Only"
"The Best of Times"
"Strong Enough"
"Pictures/If It Makes You Happy"
"Soak Up the Sun"
"Every Day is a Winding Road"
Encore:
"Steve McQueen"
"All I Wanna Do"
Facebook comments
Disclaimer: Please note that Facebook comments are posted through Facebook and cannot be approved, edited or declined by OnMilwaukee.com. The opinions expressed in Facebook comments do not necessarily reflect those of OnMilwaukee.com or its staff.
Recent Articles & Blogs by OnMilwaukee Staff Writers