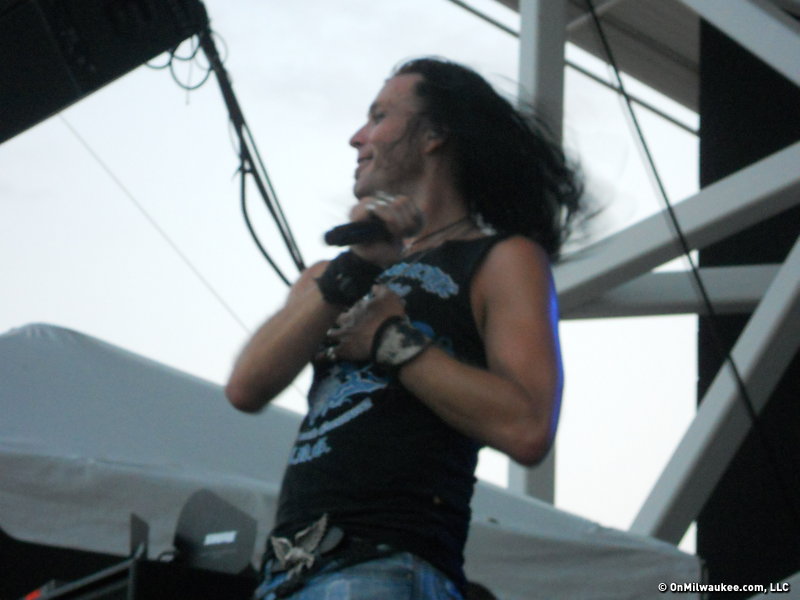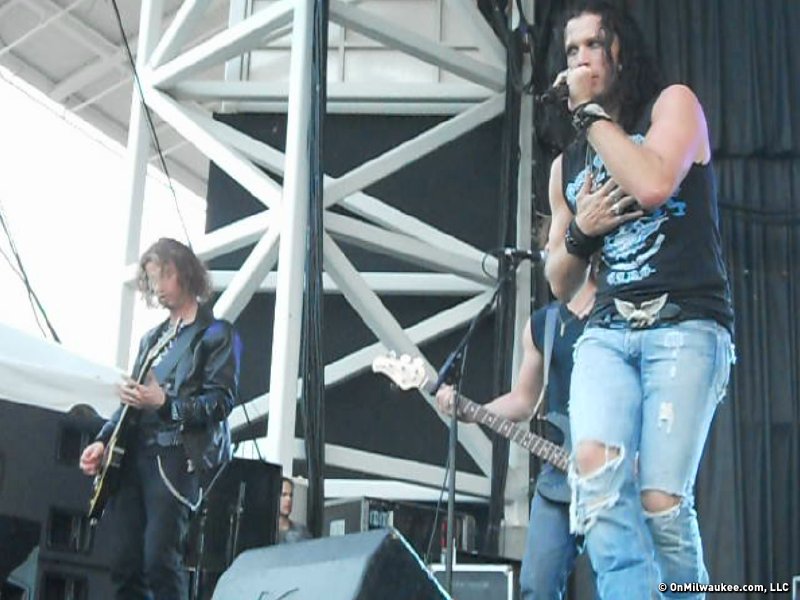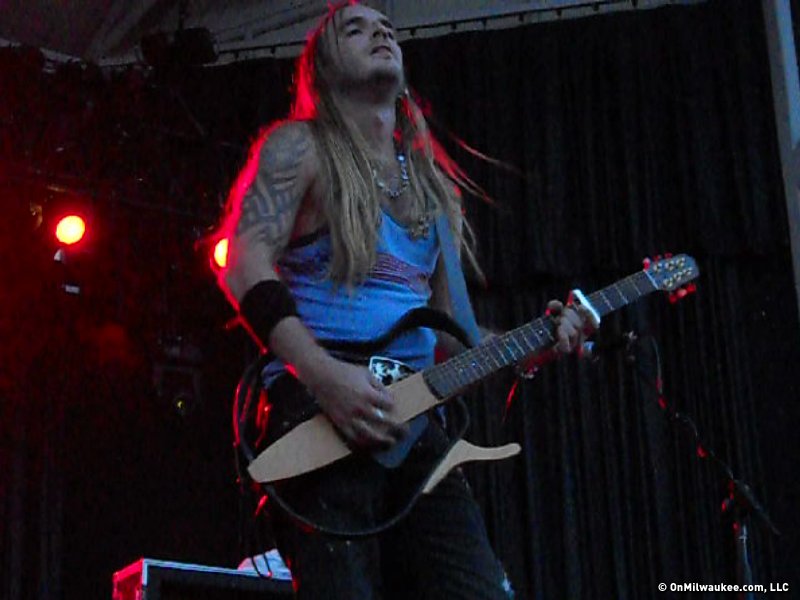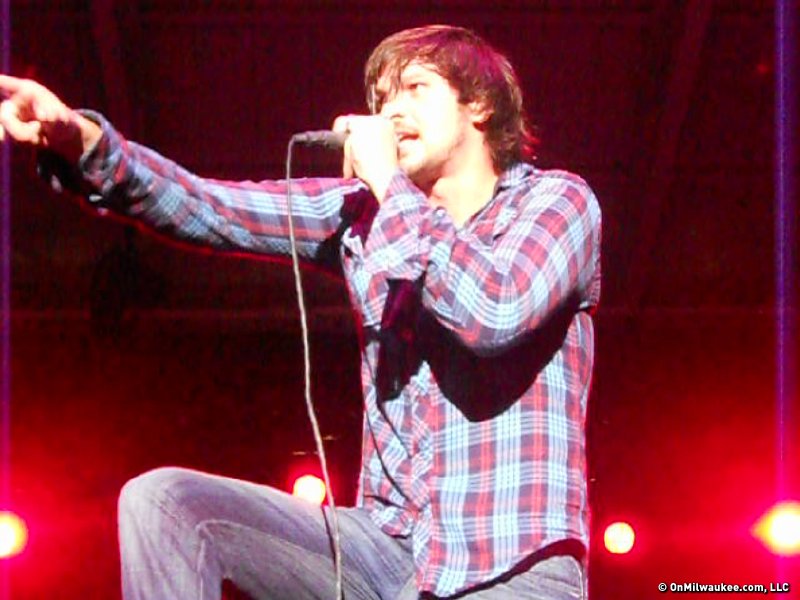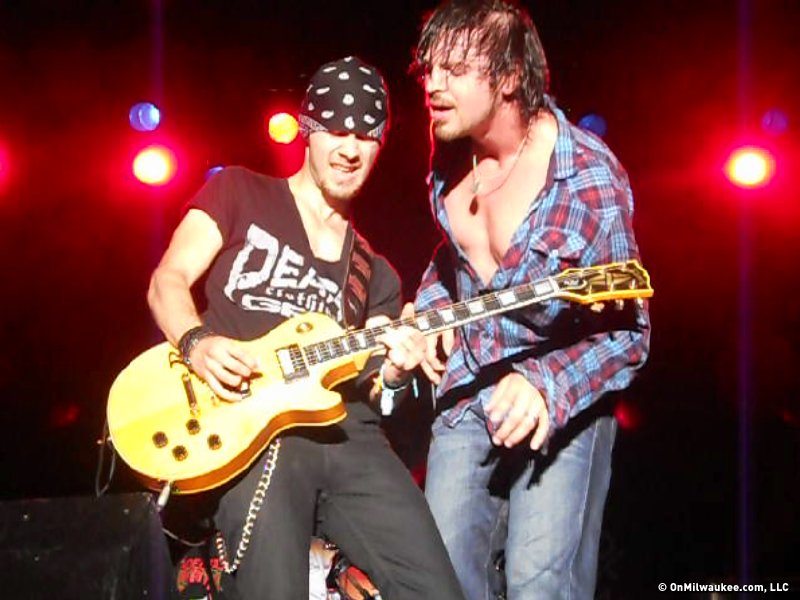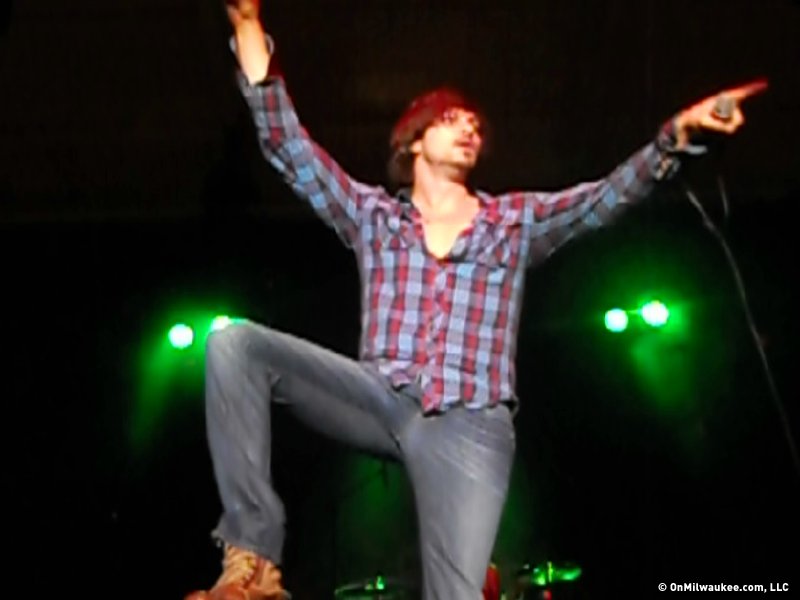 It's probably daunting to perform knowing you carry a stamp of approval from Disturbed's own David Draiman and Dan Donegan, but Art of Dying were far from timid as they hit the Summerfest Rock Stage Friday night. With their roaring set, they kicked off a double bill of rock that packed bleachers – and will probably leave plenty of ears ringing well into the morning.
The Vancouver band is still green in the grand scheme of things – they've only been on the scene for five years, give or take – but they showed all the polish of a veteran stage act, working the crowd on all sides and showcasing each member's skill with orchestrated finesse.
Lead singer Jonny Hetherington got right to the point early on after firing up with "Straight Across My Mind," asking the many fans, "Do you wanna get f*cking crazy?" The answer was obvious, but he made sure to drive the mission home with a playful call and response during their second song, "Whole World's Crazy."
The rest of the set went by in a haze of furious guitar solos, soaring three-part harmonies, smoke and a fair amount of booze. At one point, Hetherington took pause to toast the crowd for keeping rock and roll alive, raising a bottle of Jack and tipping another swig back for bandmate and hardworking guitarist Tavis Stanley.
To be fair, Art of Dying held more than their own for the cause as they hammered through hit after hit, including "Get Thru This," "Completely," "Sorry" and "Die Trying." It was a firestorm of rock that not only served as a perfect set-up for Adelitas Way, but stood alone as a killer, hard-and-fast rock show.
Las Vegas-based Adelitas Way claimed the headliner spot, picking up where Art of Dying left off with a relentless set list of heavy-hitting songs and blazing sonic fury. The group came out of the pitch black stage already mid-chord for their hit song "The Collapse," which they followed up with the similarly well-known "Dirty Little Thing."
The enraptured crowd hung every note, and by the time lead singer Rick DeJesus broke off the music to have a chat with the audience, all eyes and ears were fixed. He assured them in no uncertain terms that they were "about to f*ck sh*t up," emphasizing to everyone in attendance to "make sure to tell everyone who isn't here, who isn't in this crowd right here, what they missed."
Quickly making good on their promise, the band got back down to business with a sweaty, adrenaline-fueled performance that took them just over the hour mark. Among the more notable songs were "Alive," the band's latest single off "Home School Valedictorian," and "So What If You Go," which DeJesus confided the band hadn't played in four years.
The concert took a quick earnest turn as DeJesus led the crowd back to Adelitas Way's beginnings, introducing the very first songs he wrote, "All Falls Down" and "Brother," the latter of which featured only him and rhythm guitarist Keith Wallen in a slimmed-down duet.
Determined to go out with a bang, however, the band amped up one last time for their encore – a thunderous back-to-back metalgasm of "Sick" and "Invincible" that had the crowd screaming and stomping with enough force that it seemed entirely possible that Adelitas Way would bring the Summerfest Rock Stage to the ground as DeJesus had suggested.
After teasing the crowd all night, DeJesus pulled one last stunt, making good on his promise to jump off the stage and into the audience, surfing atop a sea of outstretched arms down the center of the crowd – and followed by a couple very pissed off-looking security members. It was a one-of-a-kind performance and a double-concert feature to remember, and if you weren't there – yes, you missed a hell of a show.
ztcszfsw
Facebook comments
Disclaimer: Please note that Facebook comments are posted through Facebook and cannot be approved, edited or declined by OnMilwaukee.com. The opinions expressed in Facebook comments do not necessarily reflect those of OnMilwaukee.com or its staff.
Recent Articles & Blogs by Renee Lorenz