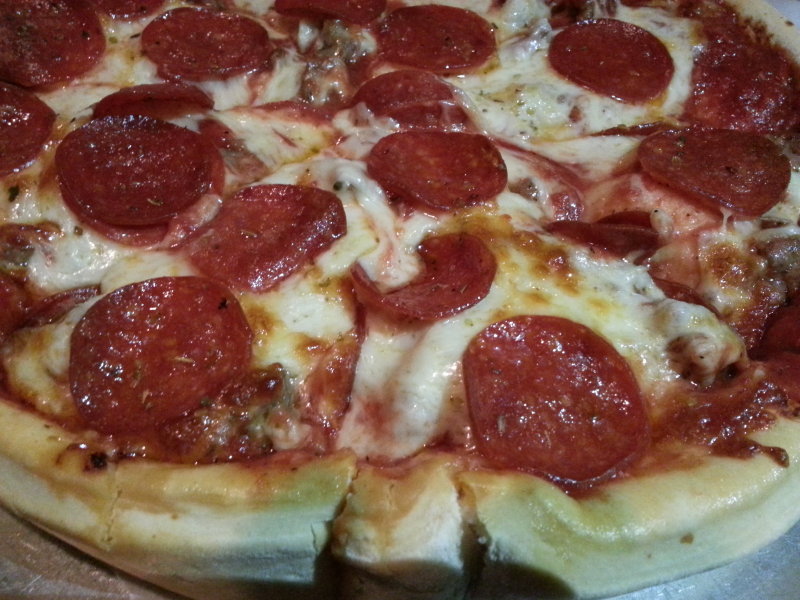 Beloit Road is one of the alternate routes I like to take between the southwest suburbs and Downtown during rush hour. Cataro's Italian Villa, 5641 W. Beloit Rd., is one of the establishments I've discovered on that road.
Owner Mark Swieciak, Sr. started working at Cataro's in 1966 when he was still a student at West Milwaukee High School. At that time Cataro's was one of two very popular hang-outs for the students and families of West Milwaukee High.
I was given a brief neighborhood history lesson, which included the close ties to the high school. Swieciak talked of days when the school would purchase pizzas for the students at a bargain price, but budget cuts to the school system over the years put a stop to that student perk.
In fact, Cataro's is still visited frequently by alumni of West Milwaukee High School, and acts as a meeting place for class reunion committees. A recent 50-year class reunion brought 102 guests that were spread out between the restaurant and a large tent outside.
Swieciak started out as a dishwasher and eventually grew with the business and learned more about running a restaurant. In 1978, he bought the restaurant from Frank Cataro and has run it ever since.
Cataro's menu includes appetizers, pastas, entrees and nightly specials priced under $10, but 95 percent of sales come from pizza. Friday nights feature a fish fry with choice of haddock, battered cod or breaded cod with fries, salad and bread for $8.25.
Pizzas are made with thin crust or pan-style deep-dish crusts and come in 12 and 14 inches. Thin-crust cheese pizzas are $11 and $14, respectively. Pan-style cheese pizzas are $12.25 and $15.50. Additional toppings are $.75 and $1 for both.
My friends and I ordered a thin-crust pizza with sausage, pepperoni, green peppers and onions and a pan-style with sausage and pepperoni.
Pizza crusts are made fresh daily using flour primarily found in bread dough. As a result, the pan-style crust has more of a thick and heavy bread-like consistency which my friends and I were not fans of. In fact, Swieciak prefers and recommends the thin crust over the pan-style crust.
At the end of each day, any unused dough is disposed of because using fresh dough and fresh ingredients are important to Swieciak. The dough is made in small batches throughout the day, so waste, if any exists, is kept to a bare minimum.
We enjoyed the thin-crust pizza, which was surprisingly crispy despite the bread dough crust. Both pizzas were light on the sauce, so we could barely taste it. I was able to isolate it and thought it was neither spicy nor sweet, but it wasn't bad.
I prefer spicy or sweet flavor in a pizza sauce, both if possible. Swieciak told me he starts with a tomato paste with basil and adds his own blend of seasoning.
He also told me that the sausage is house-made. He actually grinds pork shoulders at the restaurant. The sausage had a delicious, spicy flavor and was certainly a hit with us.
The pepperoni is purchased from a supplier. While we liked the spiciness and the flavor of the pepperoni, there was a clear difference in the texture and flavor between the pepperoni on the thin-crust and the pan-style pizzas.
We felt the pepperoni on the pan-style pizza was spicier and more flavorful. When I asked Swieciak about it, he smiled and nodded. He told me that the pepperoni comes from the same supplier but at times he receives two different types of pepperoni in the same batch, so he tries to view the product before purchasing to maximize quantities of the more popular version.
Swieciak tries very hard to keep his customers happy so they keep coming back. His recipes have been tweaked over the years in small doses in response to feedback from the customers.
In the past, Cataro's had to turn away large groups due to the lack of tables, so eight years ago Swieciak replaced the booths with more tables to improve seating flexibility. During my visit, a group of 10 walked in and Swieciak quickly rearranged tables to accommodate them.
Even with the large group and other diners, the restaurant was still quiet enough to hear my dining companions speak at a normal volume. The dim lighting also provided a cozy atmosphere.
I'm grateful that Swieciak took the time to chat with me for a while. If you lived in that neighborhood and want to learn more about the history, he's your guy.
Cataro's is a nice option for a quiet and relaxed family dining experience. If you get the chance to stop in for pizza, opt for the thin crust and give my regards to Mark.
Facebook comments
Disclaimer: Please note that Facebook comments are posted through Facebook and cannot be approved, edited or declined by OnMilwaukee.com. The opinions expressed in Facebook comments do not necessarily reflect those of OnMilwaukee.com or its staff.
Recent Articles & Blogs by Rick Rodriguez