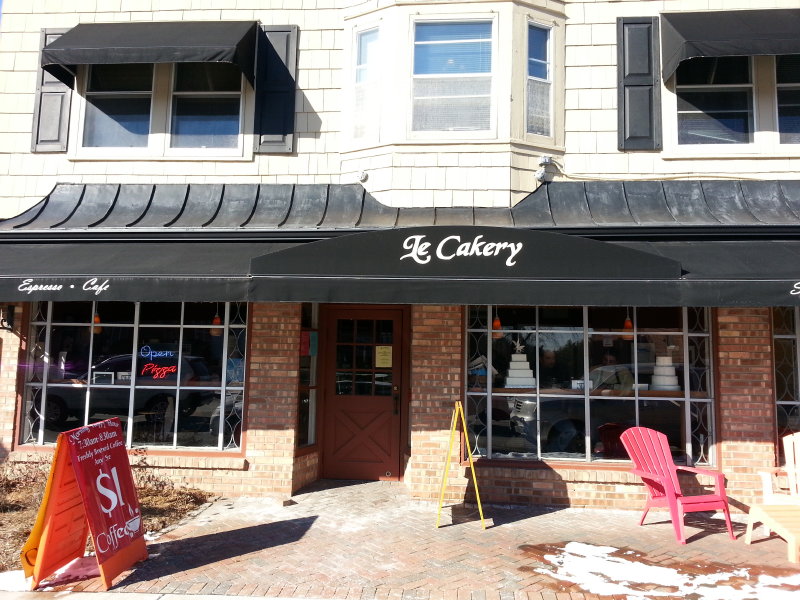 Le Cakery? That sounds like the name of a bakery. Well, it is, but it's also a café with a unique menu.
Owner Hakan Hare bought Le Cakery, 13320 Watertown Plank Rd., four-and-a-half years ago when it was exclusively a bakery and coffee shop. He and his kitchen staff developed a café menu soon after the acquisition and two years ago they added pizzas, which have become really popular among their customers.
Hare studied Hotel and Tourism in Turkey from 1988 to 1991. His career started on a cruise ship where he made some contacts that led to an opportunity in Milwaukee. After several years of managing restaurants in Milwaukee and Chicago, he felt he was ready to become a business owner.
Le Cakery opens for breakfast at 7:30 a.m. and features a breakfast panini, quiche, a breakfast pizza baked with egg, parmesan, rosemary and choice of prosciutto, bacon or pesto chicken and even a Turkish breakfast with two warm Pogca served with tomato and olive salad and yogurt topped with honey.
What is a Pogca (pronounced POE-cha)? I could make you go find out for yourself, but I think you'll want to try one after I tell you anyway. Pogca's are fresh baked brioche rolls stuffed with feta cheese and parsley.
The lunch and dinner menu includes appetizers such as a fig and olive tapenade and a bruschetta topped with roasted red pepper and feta, as well as homemade soups, salads, paninis, sandwiches and pizzas.
One of the popular lunch items is a 6-inch personal pizza with a small house or Caesar salad for only $8.00.
The pizzas come in two sizes, 10 and 14 inches, both served on Le Cakery's house-made, hand-tossed parmesan crust.
Specialty pizzas start at $13.00 and include the Chicken Artichoke topped with chicken, artichoke hearts and spinach on a creamy parmesan sauce and the Mediterranean topped with roasted garlic, caramelized onions, figs and arugula.
You can also build your own pizza with up to three toppings. The 10-inch is $13.00 and the 14-inch is $17.00.
If you're getting take-out, you can have the pizzas baked for you or you can order par-bake pizzas and bake them at home.
If dining in, beer and wine are available in addition to coffee, tea and soda.
The pizza crusts are made from scratch daily and Le Cakery adds their own blend of spices to the tomato sauce purchased from their distributor.
On my visit, they were running a buy-1-get-1-free pizza promo, which they offer frequently. Get on their email list to find out when the promo is running or keep up with other specials.
I decided to try the Carnivore topped with prosciutto, bacon, pepperoni and Italian sausage and the seafood pizza topped with plump lime marinated shrimp, red onion, sliced cherry tomatoes, artichoke hearts, cream cheese and a creamy cilantro sauce.
Both pizzas were generously topped.
First up was a slice of the Seafood pizza. The crust was slightly crisp and also chewy, which I liked. The flavors of the artichoke hearts, cream cheese and the cilantro sauce really stood out.
Those toppings alone would have sufficed, but the lime-marinated shrimp put it over the top. This pizza was a real treat! If that wasn't enough, Le Cakery Café & Pizzeria also includes a small container of hot giardiniera with every pizza.
I thought to myself: "Self, this pizza is pretty tasty, but what if you added some of that there giardiniera?" So I did and sure enough – BOOM, a flavor explosion!
If you prefer, you can order the seafood pizza with tuna. It's not on the menu, but it is an option.
The Carnivore was waiting so I set the seafood pizza aside. I don't think you can go wrong loading meats on a pizza and this one did not disappoint.
Usually the meat toppings would be my favorite, but it was the sauce that won me over.
It was on the thicker side and deliciously spicy. No surprise, but the hot giardiniera added another layer of great flavor to this pizza, as well.
I wasn't expecting pizza this good from a café that started out as a bakery and coffee shop, but Le Cakery Café & Pizzeria has developed some creative and tasty pizzas.
In addition to everything I've described, Le Cakery has a wedding cake business and a catering business that can accommodate any size group and function, including box lunches for your office.
Between the bakery and café menu, you're bound to find something that suits you at Le Cakery Café & Pizzeria, and when the temperatures rise, you might even find yourself sipping and nibbling on their patio.
Facebook comments
Disclaimer: Please note that Facebook comments are posted through Facebook and cannot be approved, edited or declined by OnMilwaukee.com. The opinions expressed in Facebook comments do not necessarily reflect those of OnMilwaukee.com or its staff.
Recent Articles & Blogs by Rick Rodriguez