Results tagged with 'crave brothers cheese'
Articles: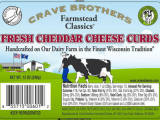 Published July 23, 2015
Just a few of the things #WeWant and need this week!
Published Dec. 27, 2012
Have you grown weary of holiday treats? Or are you up for something spectacular to assist you in ringing in the New Year? If so, I'd like to make a hearty recommendation for your New Year's Eve cheese plate.
Reader blogs:
There are no reader blogs tagged with crave brothers cheese
Write a blog now!