Results tagged with 'gustin'
Articles:
Published Oct. 30, 2014
A collection of things #WeWant and love this week!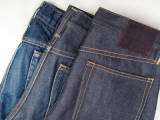 Published Jan. 15, 2013
Gustin is a high-end denim brand from the birthplace of blue jeans, San Francisco. For the past six years, its selvedge jeans sat on the shelves of boutique shops, selling for $205. Now, thanks to Kickstarter, the crowd-sourced funding tool, Gustin will sell the very same jeans, direct to customers, for its wholesale price of $81, shipped. The way it's all unraveled is impressive.