Results tagged with 'hotdoggers'
Articles: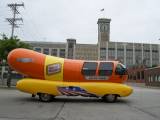 Published Aug. 11, 2013
We took a ride around Milwaukee on the wiernermobile today. It was a dream come true.
Published Aug. 12, 2012
Meet two "hotdoggers" who drive the Oscar Mayer Wienermobile, designed by a former Milwaukeean in 1958, around the country. The Wienermobile is currently on display at the Wisconsin State Fair.