Results tagged with 'interviews'
Articles:
Published Dec. 5, 2014
Kyle Cherek interviews chef Jan Kelly of Meritage.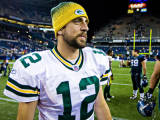 Published Nov. 28, 2012
Even though I'm not watching the Packers as much as I once did, I do my best to never to miss "Tuesdays with Aaron" on ESPN Radio. For me, it's even better than the game.
Published Nov. 20, 2008
In the coming weeks I'm hoping to secure a few big "Milwaukee Talks" interviews. But, I'd like some more suggestions.
Reader blogs:
WHAT IS MILWAUKEE ARTBEAT??? Visual and performance art of all types, artist interviews, audience participation, appetizers, beverages, gallery artists, and your donation benefits arts programs for Milwaukee's youth!! Hosted by local recording artist Annie B., and local free-style ra...
Write a blog now!