Results tagged with 'netiquette'
Articles: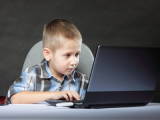 Published Nov. 1, 2013
For all of the good things technology brings our kids, we fear the dangers, too.
Reader blogs:
I swear sometimes I think people think the net, web, social media, whatever you want to call, is more like a personal bulletin board than the very public freely accessible vehicle that it is. It is as if they think that their post will only be read by people they know or like and forget that re...
Write a blog now!