Results tagged with 'north ave'
Articles: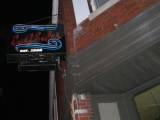 Published Dec. 20, 2009
The Eastsider, closed over the weekend for renovations. It will reopen next month.
Published Sept. 22, 2005
Just Jazz & Blues Lounge opened Aug. 21. as one of the first new businesses to establish itself in Bronzeville. This neighborhood is currently being redeveloped into an entertainment and cultural district.
Published Aug. 25, 2003
Once you get over the twinge of nostalgia that comes with being in the old Oriental Drugs, Twisted Fork is a comfortable eatery with a range of options that will please most diners and most pocketbooks.