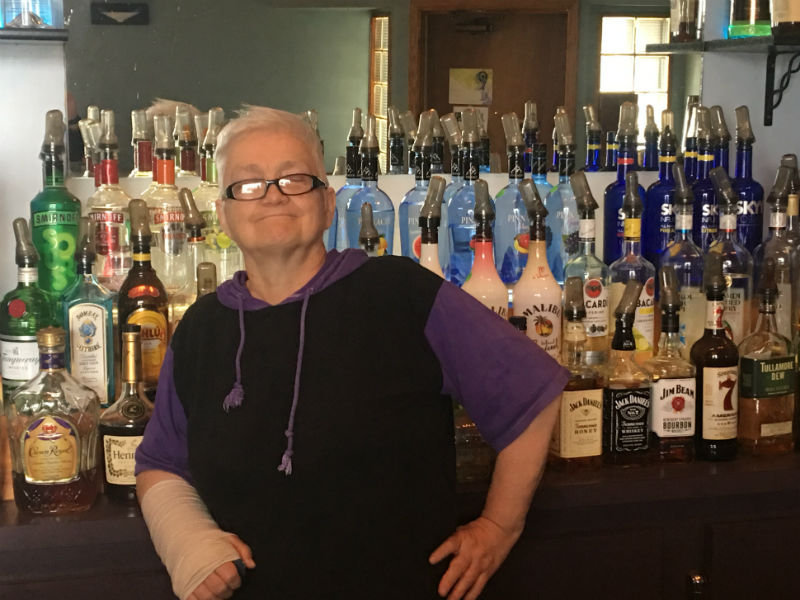 By women, for women: LGBTQ pioneer Sharon Dixon reflects on nightlife history
Milwaukee's LGBTQ history isn't just hidden history. It's a history that is slowly being lost as the elders and pioneers of our community leave us. Without their stories being protected and preserved for future generations, the 20th century history of LGBTQ Milwaukee is rapidly disappearing.
On Saturday, May 20, Milwaukee Pride and the Wisconsin LGBT History Project are hosting a Remember When: Women's History Party at Studio 200, 200 E. Washington St., focused on capturing the stories, photographs and souvenirs of Milwaukee's lesbian history. All content will be added to the project's archives, website and the History of Gay Milwaukee Facebook page.
Many Milwaukeeans will remember Studio 200 from its former life as Fannies, one of the city's longest-running lesbian bars. As a bouncer, bartender, businesswoman and community advocate since 1971, owner Sharon Dixon has made significant contributions to Milwaukee's LGBTQ history. At one point or another, she has been involved with almost every women's bar in town.
She laid the foundation for three of the city's most beloved and longest-running lesbian bars (Sugar Shack, Fannies and Kathy's Nut Hut), nearly bought a fourth one, almost sold her building for a fifth and still serves the community today at Studio 200.

(PHOTO: Courtesy Mary Connell)
Sharon doesn't usually do interviews, so I was very honored to speak with her this week about the upcoming Remember When party, her life experiences and the future of LGBTQ Milwaukee.
Coming to Milwaukee
Sharon's story began in a border town on the Wisconsin-Michigan border, where she played in the tunnel system between its sordid saloons as a child and baked Cornish pasties before school as a teenager. After losing her father and her uncle, Sharon decided at age 14 to run away.
"I just wanted to get out," said Sharon. "I wasn't getting along with my mother or the man she was seeing. I didn't approve and I didn't understand. So, it was time to go."
Sharon bought a bus ticket to Duluth, got off in Ashland and then hitchhiked all the way down to Milwaukee. When she arrived, she found it nearly impossible to secure a steady job or apartment as a 14-year-old runaway. Like most homeless LGBTQ youth, she took safe shelter wherever she could find it.
"I had to sleep in a lot of gas station bathrooms back then," said Sharon. "When the station closed for the night, the guys would lock the restroom doors, so I'd have a safe and warm place to sleep for the night."
One chilly night, Sharon realized she could stay overnight in a 24-hour downtown movie theater for just 25 cents. She picked up a hamburger from the nearby A&W on Wisconsin Avenue, bought her ticket and settled in for the night. She didn't even realize that the Princess Theater was an adult movie theater – or that the only other patrons spending the night had more dubious intentions.
"Nobody even carded me," said Sharon. "I knew nothing about that type of movie, but I can still remember the movie that night. It was called Chatterbox and it featured a woman with a talking vagina. It was as stupid as it gets.
"So I'm sitting in this theater, laughing my ass off, and all these dirty old men around me are trying to get their rocks off and yelling at me to shut up. Oh, and the story gets better: In the end, the woman with a talking vagina wound up on a TV talk show, met a man with a talking penis and rode off into the sunset together. It was the funniest thing that happened to me in months. I couldn't make this up if I tried!"
The next morning, Sharon found a live-in nanny job through the Milwaukee Sentinel. She was hired and moved to Lake Drive for the next two years. At age 16, she moved into the Abbott Crest Hotel, 1226 W. Wisconsin Ave., and worked third shift at Della's Drive-In restaurant on the hotel's ground floor.
"There was no lease or anything," Sharon explained. "I just paid my weekly rent in cash and nobody asked any questions. It really wasn't a hotel anymore by then, but more of a residence for senior citizens. I was the only young person in the hotel, and they all loved me. They thought I was older than I was, of course, but then again I lied about my age a lot back then."
Right before her 17th birthday, Sharon finally got caught. Two elderly neighbors overheard two brewery workers promising marijuana to Sharon and a friend. When she got home from work, the police were waiting for her in the elevator. As the only young person in the building, she was an easy mark.
"The whole thing was ridiculous. I'd never tried marijuana, and I didn't want any from those guys, either. They just wanted to pick us up. Try telling that to the cops. So, this female sergeant made me promise to stay at the hotel all weekend, because they were sending me back up north on a bus Monday morning. I smiled and acted happy about going home, but trust me, I crossed my fingers behind my back when I made that promise."
Monday morning came, and Sharon was long gone. She'd seen an ad in the Sunday Milwaukee Journal promising she could "Travel the USA – No Money Needed!" She was hired immediately and went to Terre Haute, Indiana the next day. For the next several years, she traveled the country in a Volkswagen van nicknamed the "Blue Goose," eventually seeing all 48 continental United States.
"My first driver's license was from Florida, and my first auto registration was from Vermont," said Sharon. "I got pulled over once and they said 'is this even legal?' How the hell would I know?"
Becoming her best self
While traveling, Sharon became increasingly aware of her sexual identity. As a self-described "good little small-town Catholic girl," she half-expected she'd grow up to become a mom like everyone else. At the same time, she half-expected that she was a lesbian. She just wasn't sure.
"I was aware that there were gay bars in Milwaukee, but I didn't recognize them as gay bars. I spent some time at the old Mint Bar on State Street, but that was just because they'd let me in. I was just happy to get into a bar."
One fateful night in New Orleans, her boss's wife dragged her out on the town. Sharon was surprised when the night ended at a gay bar.
"I was still in my old fuddy-duddy mindset at the time," said Sharon, "and it took me awhile to realize what was going on. It was very clearly what would be called a 'dyke bar.' I couldn't tell the difference between the men and women. I kept looking at the bartender, and only when they took their coat off, did I realize she was a woman. She was that masculine. Then, I looked around and realized that all of the kissing couples were women.
"I actually got really upset. It's hard to explain how I felt in that moment. I went and found my boss's wife making out with a woman laid out on a pool table. I never would have guessed that she was gay or bisexual. We went into the girl's room and I read her the riot act. She backhanded me – hard enough to make me fly – and said 'It's about time you come out of your closet. You're gay. You're a lesbian. You're a dyke. You can't tell me you haven't thought of women."
I didn't know what to say, I was speechless. I had thought of women, but my religion had told me that it was wrong. That night, the bartender took me back to her place. She left for a while, and when she came back, she showed me a strap-on. I said 'If I was interested in women, why would I want that thing?' It upset me so much that I left. I went right back into that closet."

(PHOTO: Courtesy Mary Connell)
Sharon finally came out six months later in Seattle – thanks to a drag queen's advice.
"I was a petite little thing with long hair and 'girly girl' clothing, and I couldn't understand why none of the women would talk to me," said Sharon. "I was talking to a drag queen and she said, 'Girl, if you want to be a lesbian, you have to decide first of all if you're going to be a she or a he, and then you have to figure out what you like.' I said, 'what do you mean? I'm a woman.' I just didn't get it."
That night, I proceeded to get very drunk, and went back to the hotel, where I attacked my head with a pair of scissors. I woke up the next morning yelling at the mirror, and the whole hotel heard me screaming. I refused to leave the room until a woman from the hair salon came up to fix my haircut. The night before, my hair was down to my back. The next morning, my hair was so short. I cried for days about that hair, but I never grew it back to that length.
"The first time I went back to a gay bar, all the girls were suddenly interested in me. I learned that I had to look butch to get a femme girl. I wasn't crazy about it, but it worked!"
Making it in Milwaukee
Sharon returned to Milwaukee in the early 1970s and worked as a third-shift switchboard operator at the Belmont Hotel. "It was an interesting place to work, for many reasons," said Sharon. "I can't even talk about some of the things that went on at that hotel."
Sharon started hanging out at the River Queen (402 N. Water St.,) a gay bar opened by Al Barry in 1971. As a self-described "brick shithouse," she took a job as a bouncer and started connecting with local nightlife leaders. Gay bars had been emerging in Milwaukee's industrial areas since the 1940s, and the 100 and 200 blocks of South 2nd Street were lined with eight known venues by the early 1970s. Now, a new loop was taking shape in the Historic Third Ward.
Page 1 of 3 (view all on one page)
Next >>
furyqtqbfvuuvetqryc
furyqtqbfvuuvetqryc
Facebook Comments
Disclaimer: Please note that Facebook comments are posted through Facebook and cannot be approved, edited or declined by OnMilwaukee.com. The opinions expressed in Facebook comments do not necessarily reflect those of OnMilwaukee.com or its staff.