Summerfest picks: Andy Tarnoff
There are years when Summerfest feels like my personal concert wishlist. This is not one of them, and that's OK.
Summerfest has an incredible task in appealing to tons of different people, so it's easy to complain. That said, I won't; even if the world's biggest gig isn't dazzling to me in 2017, there's plenty to keep me occupied during its 11-day run. Here's who I plan on checking out:
Wednesday, June 28
The last time I saw the Red Hot Chili Peppers was in 2000, I think, at the Marcus Amphitheater. Their best work was behind them even 17 years ago, but somehow the Chili Peppers have managed to eke out a bunch of hits since then, so that's my pick for opening day. I'll be reviewing the 7:30 p.m. show on the first night of the Big Gig.
At one point in my life (as a freshman in college), I would've recommended the Spin Doctors (10 p.m. at the Uline Stage), but that then-guilty pleasure is now just too much guilt and not enough pleasure.
Thursday, June 29
The standout on Thursday is definitely Fishbone, but 4 p.m. is a weird time slot for these punk-ska pioneers. I'm probably the only person in the world who remembers their cameo in "Tapeheads," right?
Friday, June 30
If you haven't seen Paul Simon live, you really should. It's been a while since I witnessed one of his shows, but that's the big winner on Friday. Back to my guilty college pleasures, I'd also advocate for House of Pain (9:45 p.m. at the BMO), but not because of "Jump Around." I actually liked Everlast, and 25 years after that first album, I can finally cash in on a very old inside joke: we used to listen to that tape on road trips, and one friend thought the lyric "The House Of Pain in effect, y'all" was "The House Of Pain in is a tent, y'all." Effectively, and hilariously (to me, anyway), they will be in a tent on Friday.
Saturday, July 1
Today would be a good day to stay home, relax and recharge. I will, however, tell you one guy that I have an irrational hatred for and refuse to see: John Waite, who is playing at 5 p.m. at the Uline Stage. He's probably a nice guy, but I can't stand 1984's "Missing You." Like, Bob Seger-level revulsion. Sorry not sorry.
Sunday, July 2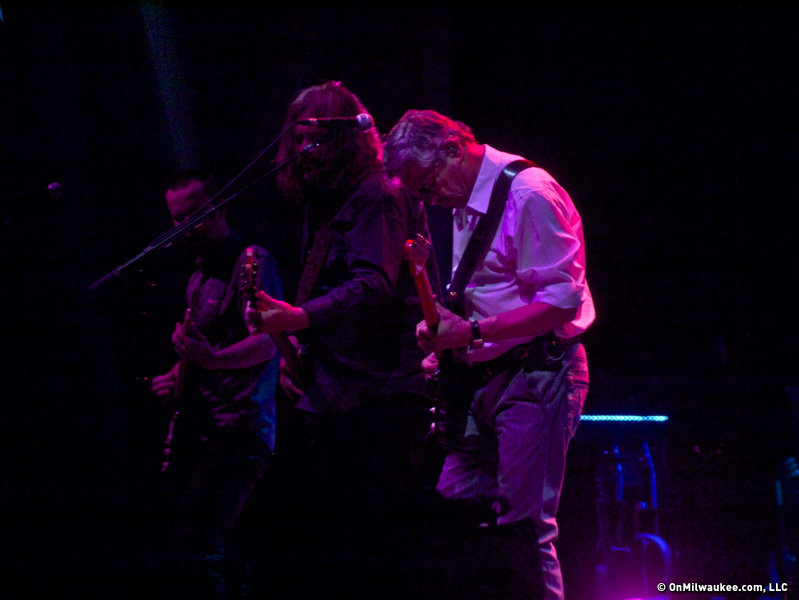 You've got a bunch of fun choices for Sunday night, none of which are super-amazing, but it would be a good day for strolling around and cup stacking. Steve Miller at 9:45 at the BMO is guaranteed fun. Frampton at 9:40 at Uline, same. Ziggy Marley, Ludacris … you can't go wrong.
Tuesday, July 4
I'd probably take the day off of Summerfest on Tuesday. Grill out at home and gear up for the last few days of the Big Gig.
Wednesday, July 5
Your best choice is clearly Tom Petty at the Amp at 7:30 p.m. He may play Summerfest just about every year (and twice this year), but he's a legend. Do this.
Thursday, July 6
Unless you missed Petty from the night before, the best show on Thursday is Nineteen Thirteen at 4:30 p.m. at the BMO. You will not believe what Milwaukee's Janet Schiff and Victor DeLorenzo can do with a cello and drums. Trust me on this.
Friday, July 7
Continuing my guilty pleasure tour of Summerfest, I'll be at Huey Lewis and the News at 9:45 p.m. at the BMO. I wasn't pleased with the review I wrote last time I saw him at the Big Gig. I'm gonna try harder this year.
Saturday, July 8
I dunno. Nothing really moves me on Saturday. It's possible (read: probable) that I'm getting old.
Sunday, July 9
Wow. What a way to wrap up Summerfest. Willie Nelson, Bob Dylan and Sheryl Crow at the Amp. Or, The Shins at the BMO. Closing out the Big Gig with a big bang!
dcwtbqebzcfrzqasvvb
Facebook Comments
Disclaimer: Please note that Facebook comments are posted through Facebook and cannot be approved, edited or declined by OnMilwaukee.com. The opinions expressed in Facebook comments do not necessarily reflect those of OnMilwaukee.com or its staff.