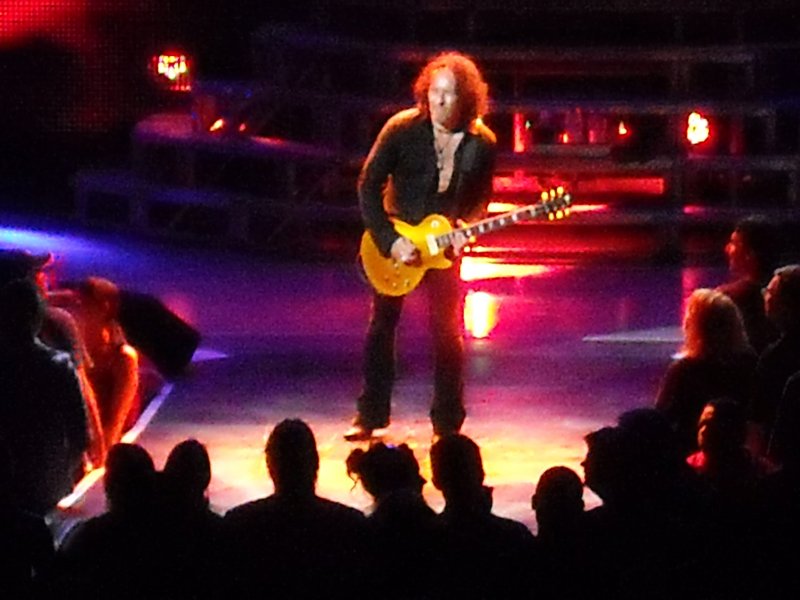 Def Leppard and Heart Rock Summerfest's Main Stage
Def Leppard rocks.
Period.
End of story. (Well, if that was really the end of this story, my editors at OnMilwaukee.com might not be too thrilled...)
But for the 15,000-plus hard rock fans in attendance at Tuesday night's Marcus Amphitheater headline show - those three words, as basic as a bumper sticker slogan - totally capture the essence of the show.
Due to the rapidly changing economics of the music business today – where touring has become the real source of income for many acts – if Def Leppard didn't rock as hard, fast and tight as ever, they'd never be able to play a venue as large as the Marcus and would very likely be relegated to the scrapheap of heavy metal history.
But these guys have survived some of the toughest luck a band could ever face (death, drug addiction and dismemberment) and they still put on a fist-pumping, heart pounding, lung scorching arena rock show as if they were still the hungry teenage band that conquered American rock scene in the early '80s.
Opening with "Undefeated," an anthemic track with a great sing-along chorus from their new and very first official live CD, "Mirrorball," the boys from Sheffield quickly demonstrated their ability to completely capture and command the crowd's attention.
After that, it was a torrent of hard rock hits from their multi-platinum canon – "Let's Get Rocked," "Hysteria," "Photograph," "Foolin'" and of course the number one pole-dancing song of all time, "Pour Some Sugar on Me," which turned every female (and just about every guy) in the audience into gyrating dervishes.
A fun acoustic break in the middle set featuring "Two Steps Behind" and "Bringin' On The Heartbreak" gave the band a chance to dial back the bombast just a bit and get up close and personal with the fans along the runway jutting out into the center of the theater – before launching back into the metal stratosphere with the bone-crunching instrumental – fan favorite "Switch 625."
A lot of people lump Def Leppard in with '80s hair metal bands like Warrant, Poison and Slaughter – when in reality, they were really front and center in leading the New Wave Of British Heavy Metal (NWOBHM) in the late '70s, alongside the likes of metal stalwarts like Judas Priest and Iron Maiden.
Steeped in the British glamtastic pop rock of the '70s – Def Leppard's slightly sugary spin on heavy metal hits like "Armageddon It," "Rocket" and a great cover of David Essex's "Rock On" along with their teeny-bopper good looks made them the easy choice to attract the elusive female hard rock fan. Those fans were in out in force on Tuesday, with nearly half of the audience female and virtually all of them singing along lustily with every lyric.
Joe Elliot's vocals still retain the gritty, emotive quality that gives Leppard a distinctive sound that resonates with rockers and rockettes alike. Add in the sharp and powerful twin lead guitar attack of Vivian Campbell and Phil Collen - paired with the rock-solid rhythm section of Rick "Sav" Savage and Rick "Thunder God" Allen - it's clear after nearly 35 years on the road, Def Leppard can still play circles around bands half their age.
The Queen of Rock
If Aretha Franklin is the "Queen of Soul," then Ann Wilson is definitely the "Queen of Rock."
Both have had lengthy and successful music careers and were highly influential in their respective genres. Most importantly, both have powerful, transcendent voices that basically define those genres.
Tuesday night at the Marcus, Ann – along with her sister Nancy and what may be the very best iteration of Heart since the original lineup – wore the mantle proudly as she effortlessly ripped through a set of Heart classics, old and new, and showed why there isn't a better female-fronted hard rock band on the planet.
Starting with the ageless "Cook With Fire" and "Heartless," Ann and Nancy quickly showed why they still command a huge fan base.
Ann still has inimitable vocal range and power that sets her apart from other women in rock – and she demonstrated that almost effortlessly as she and the band ripped through rousing versions of "Never," "You're The Voice," "What About Love" and "Alone."
Nancy Wilson still brings it as well – her fiery guitar work on "Crazy on You" lifted the crowd to their feet and her sweet, lilting vocals on "These Dreams" (which she described as a "relic of the roaring '90s") accompanied by her mandolin playing gave the ballad an ethereal quality, beautifully floating out over a rapt audience on a hot summer evening.
Heart closed their enjoyable set with another surprise for longtime fans – a wonderful encore of Led Zeppelin's "What Is and What Should Never Be."
Guitarist Evan Watson opened the show with a tidy three-song set of bluesy, soulful roots rock. Watson put in an admirable, yeoman-like effort – it's tough to get the attention of an audience in a cavernous venue like the Marcus as a solo artist – but his groove on "Woodpecker" and "The Giving Tree" earned him well-deserved applause from those who made it to their seats early.
Talkbacks
mippers | July 6, 2011 at 11:22 a.m. (report)
Loved the show and appreciate the well-written review. My only feedback is that the vocals for the Def Leppard show lacked clarity, at least from my seat in section 1. Both Ann and Nancy Wilson's vocals were easily heard and enjoyed, but I found myself struggling to hear Joe Elliot clearly.
pokerrioter1 | July 6, 2011 at 11:14 a.m. (report)
It looks like this was fantastic. You can tell because that guy in the red shirt is really haveing a great time. Rock on!
sandstorm | July 6, 2011 at 6:41 a.m. (report)
"when in reality, they were really front and center in leading the New Wave Of British Heavy Metal (NWOBHM) " such a strange strange "reality" you live in, as this is not true at all. that said, sounded like a great show!
Facebook Comments
Disclaimer: Please note that Facebook comments are posted through Facebook and cannot be approved, edited or declined by OnMilwaukee.com. The opinions expressed in Facebook comments do not necessarily reflect those of OnMilwaukee.com or its staff.