No piece of cake: DNCE overbakes its Summerfest show
Don't scoff, but Joe Jonas – formerly along side Kevin and Nick in the Jo Bros, the Disney-teen sensation of yesteryears ago; now of power poppers DNCE – is a solid pop performer.
His voice graduated, the squeaky teen idol voice of the past now developed into a smooth soaring falsetto, and he's smoothly compelling and easily, coolly charismatic on stage, using his heartthrob looks and experience on stage to great extent, teasing and taunting the crazed fans in the audience. He's a magnetic force of attraction – just ask the many breathlessly giddy girls standing and jumping around in my section.
It's a shame, then, that DNCE's headliner set at the Miller Lite Oasis Saturday night didn't seem to trust or know that, instead baking up a muggingly desperate night overwhelmingly thick with T-shirt and towel tosses, inflatable unicorns, spazzing bass players, white dude rap breakdowns, sequences of oddball covers and more. The Summerfest set was throwing everything at a wall and seeing what stuck – but even that has too much logic too it. No, it was more a messy random food fight eager for love and attention.
And also no one bothered to bring any actual cake.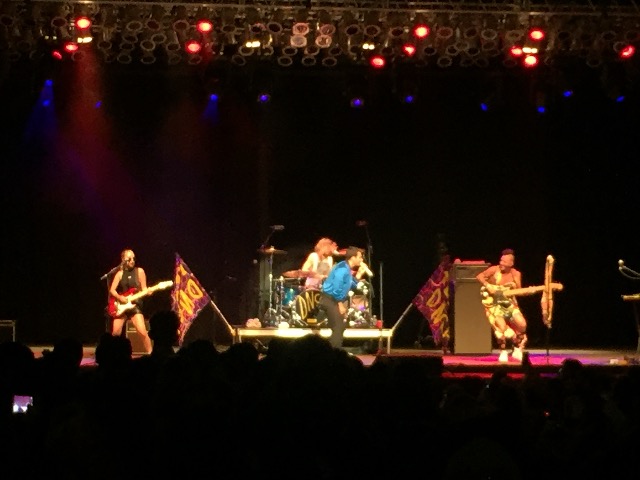 (PHOTO: Matt Mueller)
The 10:15 p.m. show cracked open with – what else – the classic theme to "Star Wars," including some stagehands in stormtrooper masks running out onto the stage with "Team DNCE" flags waving, getting the stage warmed up for the actual band, who would arrive second later all clad in Darth Vader masks and dueling with light sabers. Why? A fine question – but it sure seemed like a lot of effort to seem "craaaaazy" and fun. Luckily, they faired better with the actual music, starting with the funky pop dance floor anthems "Naked" and "DNCE" – complete with a clean, crisp audio mix that Jonas's vocals rang through.
For the next two songs, "Body Moves" and "Zoom," Jonas took over the stage a little bit, coolly letting his polished, slick leading man charisma and voice – especially his howling falsetto on the flirtily strutting "Zoom" – take the lead. But then the totally randomness took back over, throwing whatever at the audience. A cover of TLC's "No Scrubs"? Sure. Followed that with a growling rendition Drake's "Hold On, We're Going Home"? Why not? Toss in a giant inflatable unicorn? Makes sense here.
(PHOTO: Caitlin Forsythe)
All of it could be fun, but it didn't particularly feel like a cohesive set, instead just a lot of exhausting trying too hard for attention and affection. Instead of following its frontman's relaxed lead, the set seemed inspired by bassist Cole Whittle – a good, solid musician without a doubt, but whose energy wildly felt out of place in the live show.
While everyone else was cool, composed and slick, dressed in hip clothes like a slim black mini-dress or cool blue jacket, Whittle busted in done up like he thought the night's theme was manic tribal warrior and didn't bother to change when he realized no one else was on his level. Add in some nasally rapid-fire rap verses, water-spitting (or just some classic spit-spitting) and more manic on-stage behavior that seemed more like a violent possession by the spirit of Flea of the Red Hot Chili Peppers, and it was just too much of a muchness, a distraction rather than natural. There's a fine line between going nuts having fun on the stage and feeling like an effort or an act, and Whittle repeatedly fell on the wrong side of that line.
Then again, so did the whole show for much of its 80-minute time, from unicorns to rap breakdowns and more covers ("Let's Dance" and "Freedom! '90" briefly followed up "Blown"). Even Jonas got into mugging with some of the video screen cameras. I get performing to the back of the theater, but DNCE was sometimes performing to the last section of the Uline Warehouse a mile away.
The mania, however, soon took a major hit soon after the "Freedom" follow-up, "Good Day." Jonas took the now-requisite Snapchat and selfie with the crowd ... and then did another ... and one more, before starting to chuck T-shirts and towels into the audience – some even complete with a dabbing of Jonas sweat. Now, I'm never one to complain about free merch, but after a while, it felt like they were emptying out an entire Bed, Bath and Beyond on stage. After hurling T-shirts and towels like it was a timeout during an NBA game, Jonas and Whittle then hurled themselves into the crowd, the latter sprinting down the middle photo aisle while Jonas casually high-fived his way through the audience, rendering several screaming ladies' hands no longer washable.
(PHOTO: Matt Mueller)
It was a bit of fun, but also brought the show's shrieking energy to a grinding halt; eventually, Jonas told the fans they were struggling with some sound problems, but in the moment, it felt like just more overeager stuff thrown at the crowd.
Unfortunately, the concert took a while afterwards to get what odd rhythm it had back. "Doctor You" brought some energy back, but it was quickly sucked out by a three-song slow slog through "Truthfully," "Jinx" (complete with kazoo accompaniment from Whittle because KOOOKY!) and "Almost." My particular section of the crowd spent most of the extended chill session unfortunately distracted by the inflated unicorn bouncing around the bleachers – predictably hijacked at one point by a eager fan who hopped on board, only for gravity to buck him off.
Thankfully, "Almost" built up a little bit and began to get the show out of its ballad murk, while the playfully slinky "Toothbrush" – complete with a dynamite guitar solo from JinJoo Lee – and the funky "Kissing Strangers" finished the resuscitation. Sure, the latter also came with yet another nasal white-dude rap from Whittle, but he also gave the song its strutty bass groove, so all is forgiven. "Pay My Rent" kept the energy and enthusiasm up – especially when the crowd realized that DNCE was coming to the end of its promised hour of music (a bump-up from the 30 minutes they played opening for Selena Gomez last year) and that the hit "Cake By the Ocean" couldn't be far.
Sadly, instead of leaping into the hit, the band stalled with a few more mashed-up covers, from the Spice Girls' "Wannabe" to "Fade" by Kanye West and "Oops! I Did It Again." The needless detour, however, eventually came to an end, and the crowd got "Cake" by the lake (huh, a big Summerfest for cake at the Miller Lite Oasis this year, with this and Steve Aoki) and a big climactic finale.
Perhaps more annoying than the Buzzfeed-approved random pandering cover sessions, Whittle's overeager on-stage mania or the endless T-shirt toss is the fact that, really, DNCE doesn't need these gimmicks and distractions. The music, for the entire night – save for the extended slow block – was really strong, funky grooves that had the crowd dancing. It has a proven, polished star in Jonas and a sneaky secret MVP in Lee on lead guitar. Whittle's bass skills are good and don't need to be bolstered by a Flea Halloween costume (especially when the real Flea was here just over a week ago).
DNCE tried very hard to please Saturday night. If only they trusted how easy that could be for them.
Setlist
"Naked"
"DNCE"
"Body Moves"
"Zoom"
"No Scrubs/Hold On, We're Going Home" medley (TLC/Drake cover)
"Blown"
"Let's Dance" (David Bowie cover)
"Freedom! '90"
"Good Day"
"Doctor You"
"Truthfully"
"Jinx"
"Almost"
"Toothbrush"
"Kissing Strangers"
"Unsweet"
"Pay My Rent"
"Wannabe/Oops ... I Did It Again/Fade" (Spice Girls/Britney Spears/Kanye West cover)
"Cake By the Ocean"
bquteeyavuuqsuyzwxdvxzws
bquteeyavuuqsuyzwxdvxzws
Facebook Comments
Disclaimer: Please note that Facebook comments are posted through Facebook and cannot be approved, edited or declined by OnMilwaukee.com. The opinions expressed in Facebook comments do not necessarily reflect those of OnMilwaukee.com or its staff.