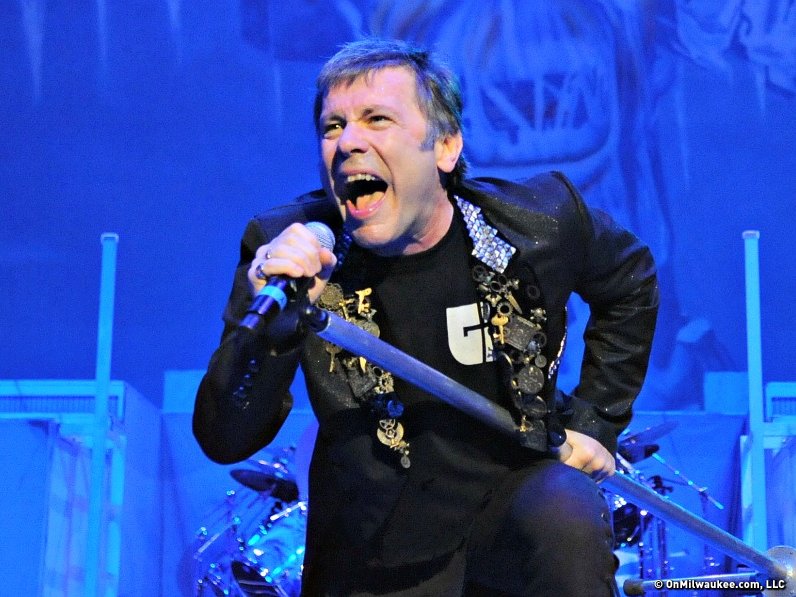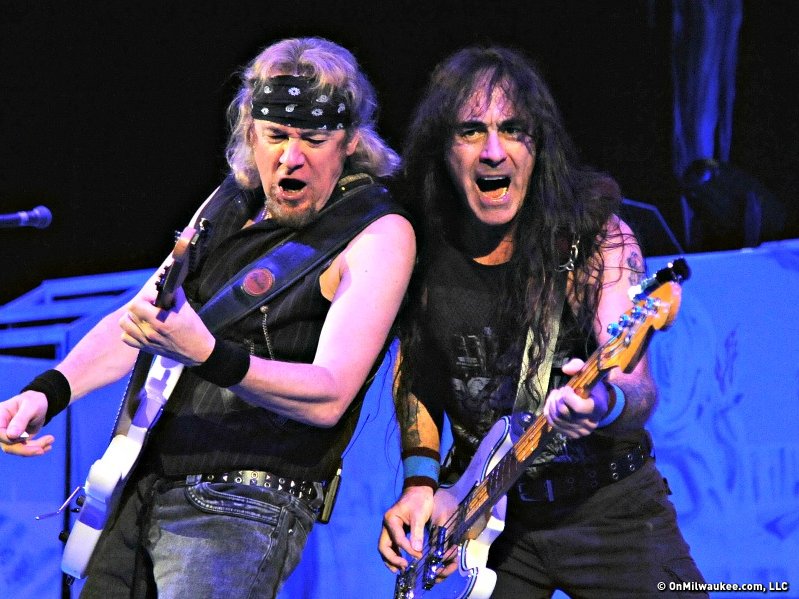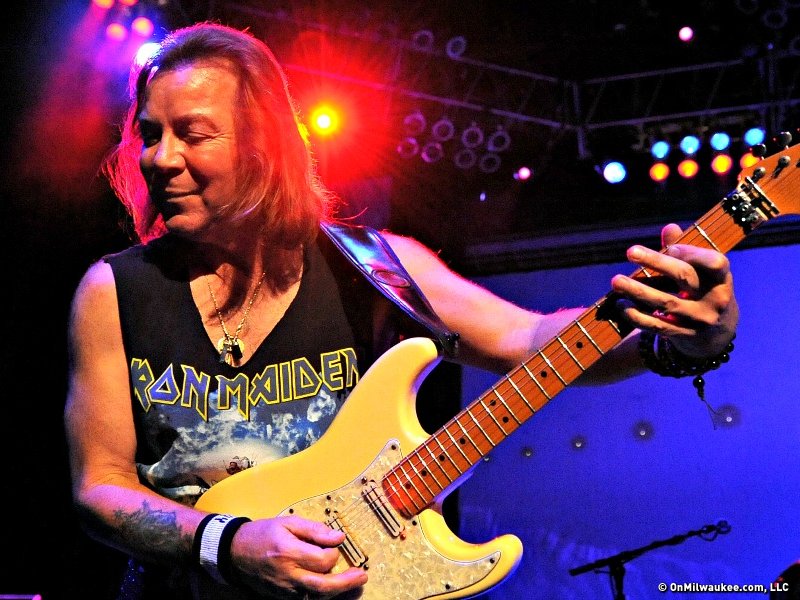 Maiden melts Milwaukee
Way back in 1981, my metalhead friends and I were totally geeked about seeing a young hard rock band from England making their very first appearance in Milwaukee on Summerfest's rock stage.
We didn't know that much about them (this was waaaaay before MTV, the Internet and YouTube) other than the fact that their first two albums – a self-titled debut and the second called "Killers" – were tightly wound, enthusiastic slabs of hard rock and both sported awesome cover art featuring a zombie/corpse-like creature. (Exactly the right thing to appeal to your typical 16-year-old headbanger.)
That rock stage show (in the location that now houses the Briggs & Stratton Big Backyard) was totally packed – a sweaty, pulsating, ear-shattering explosion of guitars and drums, and a prime example of something that would soon become an industry phenomenon called "The New Wave of British Heavy Metal (NWOBHM)."
I remember walking away thinking, "If only their lead singer was a bit more dynamic, these guys could really be big..." Little did I know that before the end of the tour, original Iron Maiden vocalist Paul Di'Anno would be given his walking papers in favor of a leather-lunged, dynamic and highly theatrical front man by the name of Bruce Dickinson.
Thirty years and nearly 100 million albums sold later, the Dickinson-fronted, mighty Iron Maiden returned to Milwaukee for another sweaty, molten-metal sing-along for the ages with 13,000-plus raucous fans at the Marcus Amphitheater on Wednesday night.
The current Iron Maiden show is built around their 1988 "Maiden England" tour set, which focused on the intriguing "Seventh Son of a Seventh Son" concept album based on Orson Scott Card's science fiction novel "Seventh Son" and was immortalized on a home video release.
The night's performance showcased a number of songs like "Afraid to Shoot Strangers" and the epic "Seventh Son of a Seventh Son" that the band hasn't played live for years. Opening with "Moonchild," the boys from London were in fine form – especially Dickinson, who prowled the stage with boundless energy and offered his trademark soaring vocals that give Maiden songs their appealing, over-the-top operatic flair.
In addition to Dickinson's commanding presence, last night's show featured all the elements that make Iron Maiden one of the most popular metal bands of all time: main songwriter/bassist Steve Harris charging back and forth across the stage while pounding out thunderous bass lines, dual lead guitarists Adrian Smith and Dave Murray effortlessly recreating complex and intricate guitar architectures, guitarist Janick Gers twirling his ax and even letting Eddie do a solo, and drummer Nicko McBrain's rock-solid, workmanlike rhythms.
The omnipresence of the aforementioned zombie – "Eddie," the band's long-time mascot – helped shape the mood and feel of the show, with different incarnations appearing for just about every song.
Despite the fact that Dickinson told the crowd they were unable to unleash all of the incarnations in Milwaukee due to space limitations on the Marcus Amp stage, Eddie made a variety of appearances throughout the evening – most of them on massive, colorfully intricate and artistic backdrops, but also in the (rotting) flesh. A 12-foot-tall Eddie stomped around the stage on "Run to the Hills" and a giant Eddie with flames shooting out of his head popped up behind McBrain on the show closer "Iron Maiden."
Despite the expansive, multi-leveled ice-themed set, the band's penchant for pyrotechnics (really, a lot of pyro – we're talking Michael Bay stuff) made an extremely hot night even hotter – especially for the few hundred sweaty souls in the general admission pit in front of the stage.
Overall, it was a fantastic set from a band that truly seems to understand what their fans are looking for – a nice balance between favorites like "2 Minutes To Midnight," and "Wasted Years" that prod them to sing along with the melodies and choruses, and a few of Seventh Son's mystical, synth-laden, almost prog-like tunes like "Seventh Son," "Can I Play With Madness" and "The Evil That Men Do."
And apparently, that "new guy" Dickinson has worked out pretty well…
Everybody loves Alice
As if fans needed anything more to make this a memorable evening, Rock and Roll Hall of Famer Alice Cooper and his razor-sharp band kicked off the evening with a slightly shortened – but completely enjoyable – set of hard rock classics.
In addition to the requisite hits like "Billion Dollar Babies" and "Poison," Alice and his crack crew rolled out a couple of lesser-known but much heavier tracks like "Wicked Young Man" and "Brutal Planet" in the effort to connect with the Maiden crowd – and it worked.
Alice's band – Chuck Garric on bass, Tommy Henrikson and Ryan Roxie on guitar, drummer Jonathan Mover (sitting in on drums for Glen Sobel who's on the IR list) and 24-year-old hot-shot female guitar whiz Orianthi Panagaris – were a tight, well-oiled machine. The fact that all four of them contributed backup vocals helped to nicely balance bone-crushing riffs on tunes like "Hey Stoopid" and "Feed My Frankenstein."
As a Fourth of July nod to the good ol' US of A, Coop sported a tattered American flag t-shirt under his studded leather jacket during show closer "School's Out" – and a studded black top hat, of course.
Alice remains one of hard rock's road warriors, consistently providing fans young and old alike with amazing live shows. He doesn't look like he's slowing down a bit, as planning is underway to develop a full-blown stage show to complement the successful release of "Welcome 2 My Nightmare" – the sequel to his original 1975 smash.
Setlists – Marcus Amphitheater Summerfest – Wednesday, July 4, 2012
Alice Cooper:
1. The Black Widow
2. Brutal Planet
3. I'm Eighteen
4. No More Mr. Nice Guy
5. Hey Stoopid
6. Billion Dollar Babies
7. Feed My Frankenstein
8. Poison
9. Wicked Young Man / Killer
10. I Love the Dead
11. School's Out / Another Brick in the Wall Pt. 2
Iron Maiden:
1. Moonchild
2. Can I Play With Madness
3. The Prisoner
4. 2 Minutes to Midnight
5. Afraid to Shoot Strangers
6. The Trooper
7. The Number of the Beast
8. Phantom of the Opera
9. Run to the Hills
10. Wasted Years
11. Seventh Son of a Seventh Son
12. The Clairvoyant
13. Fear of the Dark
14. Iron Maiden
Encore: Churchill's Speech
15. Aces High
16. The Evil That Men Do
17. Running Free
Out: Always Look on the Bright Side of Life (taped Monty Python song)
becxuwqerfduvsurafczw
becxuwqerfduvsurafczw
Facebook Comments
Disclaimer: Please note that Facebook comments are posted through Facebook and cannot be approved, edited or declined by OnMilwaukee.com. The opinions expressed in Facebook comments do not necessarily reflect those of OnMilwaukee.com or its staff.