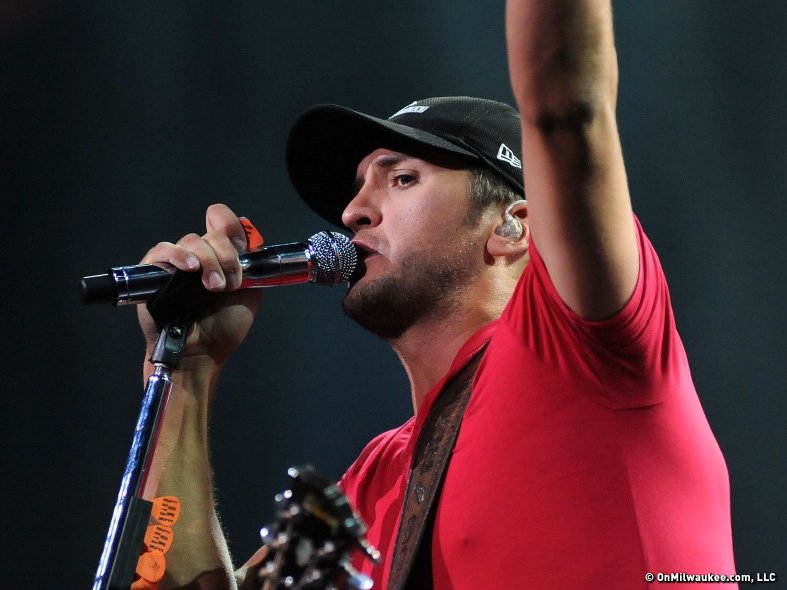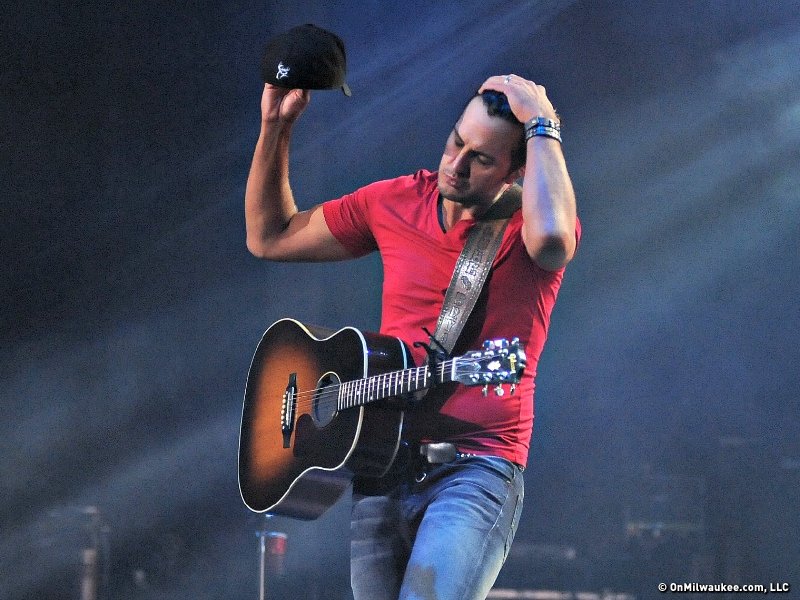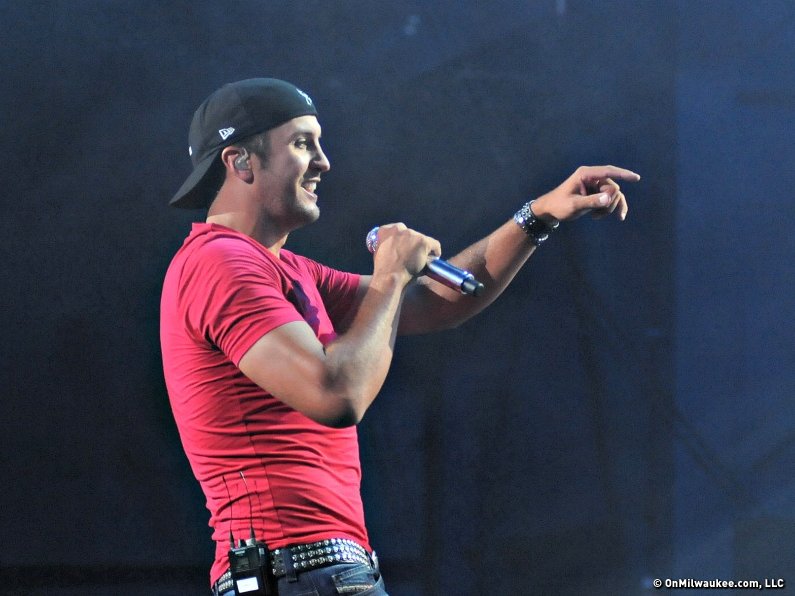 Bryan delivers more than the typical country star formula
As the 2013 ACM Entertainer of the Year and Billboard's top country artist, there is no questioning the popularity of Luke Bryan, who headlined a sold out Marcus Amphiteater show Saturday night during day four of Summerfest.
Combined with the amazing speed of the ticket sales for his second Wisconsin appearance within a week (with yet another in a couple weeks), I had no doubts about the level of adoration he would receive.
I wasn't even curious to see if he'd avoid falling off the stage. I was curious to see if he would rely on the time-tested formula for country music idolization: beer + trucks + tight jeans with hat x a few more alcohol references = frenzy.
Certainly almost anyone has access to those components. Waiting for the show to start, I tested those references on some of the lovely ladies in my presence by referencing beer, trucks, alcohol and other various country oriented subjects.
Their collective reaction to my experiment was, and I quote, "meh."
Aside from my slight lack of physical resemblance to Luke Bryan, I probably miss two key ingredients: talent and charisma. While Bryan's voice isn't ranging or unique, he does combine hit songwriting ability with a great persona, a great stage show and an even greater ability to connect to the crowd. Most impressive is the fact that his show is based on the strong songs and his ability to deliver them.
The tour is named "That's My Kind of Night," and when Bryan took the stage at 8:45 p.m., he started with, wait for it, "That's My Kind of Night." Followed by "Rain Is A Good Thing" (rain makes corn, corn makes whiskey and tonight in Milwaukee, there was finally no rain or fog; it finally felt like a summer night), "Kiss Tomorrow Goodbye" and "All My Friends Say," it was evident that the crowd was enthralled by the songs. Unlike those artists that lean on beach balls, pyrotechnics and elaborate videos, Bryan had to do no more than sing his hits.
When he announced the inevitable "new song" warning, I didn't notice many leaving for refills during "Roller Coaster."
"Do I," his first number one hit back from 2009, was an opportunity to both show his musical strength and throw in the hits of a few others before him, namely Lionel Ritchie with "Easy" and Brian Adams' "Summer of 69."
Just as I was about to assume this evening was a solid but steady example of an artist giving people what they want (along with just a few mentions of the city they are in), the decibel level rose with the appearance of Florida Georgia Line. "This Is How We Roll" was a true highlight. Bryan told the crowd, "Hey you all, they had the night off and choose to be with you guys." They will be in Cadott on Sunday, but seeing the band Saturday in Milwaukee was a treat the crowd loved.
Again, I was surprised by the power of the playing and the lack of patronizing tricks. Although it might seem like a contradiction to be sitting on a stage pier for "Drink A Beer," the sincerity of the song worked. And when Bryan told the crowd, "You know I'm sponsored by Miller Lite," he certainly wasn't alienating anyone.
While he didn't need any additional Milwaukee references to fire up the crowd, the exclamation point of his song "Shake It For Me" included not only a reminder of where he was but literally shaking of Miller Lite cans (and the inevitable spray) with another appearance by his Florida Georgia Line buddies, providing additional literal shaking.
I have to say I was braced for a lot of tight jeans shaking and what some would call pandering to the ladies (far be it from me to ever resort to such things). However, I was truly impressed with Bryan's ability to use his music to make his mark. I did overhear a number of "How hot is he?!" comments, but that was secondary to his musicianship (don't judge me on my looks, a curse many of us bear).
Maybe the most telling part of Bryan's ability to simply use songs to keep a crowd happy was his crossover snippet of the Taio Cruz song "Dynamite." Who cares what the genre or formula is when the music is good and fun.
And Bryan was both.
Facebook Comments
Disclaimer: Please note that Facebook comments are posted through Facebook and cannot be approved, edited or declined by OnMilwaukee.com. The opinions expressed in Facebook comments do not necessarily reflect those of OnMilwaukee.com or its staff.