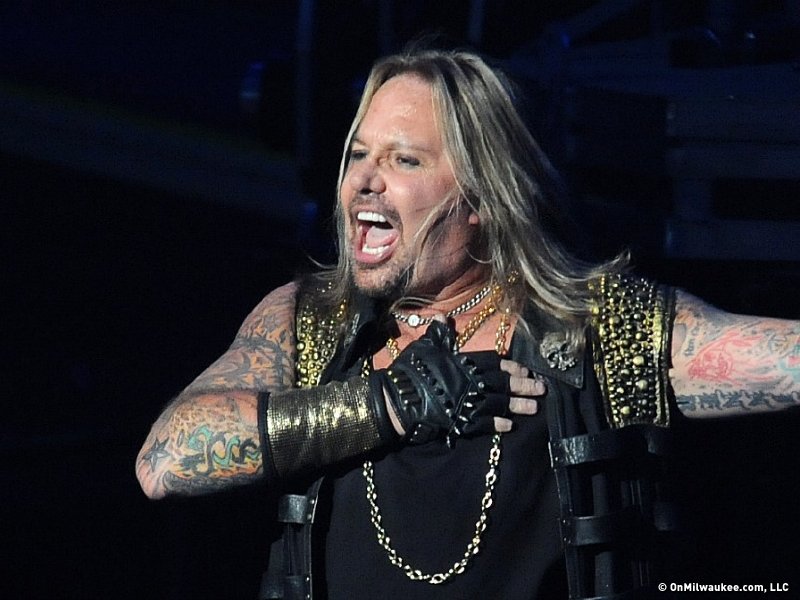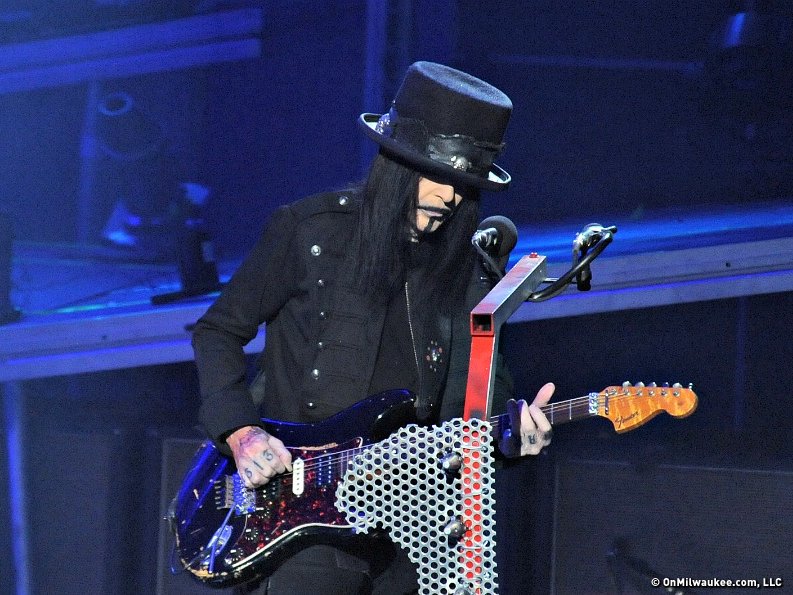 Mötley Crüe makes good in Milwaukee
After a rough start to Mötley Crüe's "All Bad Things Must Come To An End" tour on Wednesday at the kickoff in Grand Rapids, the party-hardy metal rockers delivered a redeeming second show at Summerfest tonight.
The band, which formed in Los Angeles in 1981, is supposedly on its final tour, a 72-date ordeal that runs until sometime in 2015 and has them gigging all over the map. (Including a pit stop back in Wisconsin on Nov. 11 where they have a show booked at Green Bay's Resch Center.)
Despite low expectations due to unanimously terrible reviews from the only other show – which claimed the band was technically and musically weak – the Crüe produced a solid two-hour set.
It was spotty, at times sloppy, but overall, it got the lighters flicking and the crowd singing which is what this band has always been best at doing.
To say the band went out on a bang during this Fourth of July final performance would actually be literally and figuratively true.
Tonight's show– which started an hour late due to "technical difficulties" – featured uncomfortably loud and fiery explosions on stage as well as a fun performance by a band that apparently got their crap somewhat together in two days to give fans a fair final show that was no better or worse than any other Crüe show from decades past.
Frontman Vince Neil, now 53, promised a concert that was "from the very old to the f-cking new brand new" and that's exactly what we got, including early-day tunes from the first album "Too Fast For Love" like "On With The Show," "Too Fast For Love" and "Live Wire."
They also performed an as-of-yet unreleased song, "All Bad Things Must Come To An End," which is a tribute to retirement (as well as the name of the tour).
Perhaps the most surprising aspect of modern-day Mötley Crüe is that all four of the original members are still in the band. Known as notoriously hedonistic rockers who dipped in and out of prison and addiction, the fact no one died and are still on speaking terms seems amazing.
Along with Neil, the band is comprised of bassist Nikki Sixx, – who is now 55 and has always been the lead writer and primary force behind the band – along with guitarist Mick Mars and drummer Tommy Lee.
Unfortunately, the "technical glitch" that caused the show to start an hour later than scheduled might also explain why Lee didn't perform his signature drum solo during which he straps himself into the kit as it follows a rollercoaster-style track up and over the crowd. This was disappointing because the "special effects" add a lot to a show, especially these days when the band seems tired and ready to do exactly what they plan to do: retire.
The question as to whether the Crüe is more sizzle than steak for some fans is debatable. The band is obscured by, might even hide behind, sing-alongs, f-bombs, flames, fireworks, strobe lights, confetti and scantily dressed backup singers.
However, we're reminded of their music passion during instances like Mars' guitar solo – which wasn't incredible but admirable for a man with arthritis among other health issues – as well as the reaction of the fans who did not sit down during the 20-song set (except when told to briefly by Sixx).
For those of us who are both fans and feminist-minded, the role of women in the band is problematic due to the aforementioned backup singers / dancers as well as the band's insistence on the word "girls." The fact that, unbelievably, the line for the men's room at the Marcus Ampitheater tonight was longer than the women's line, suggests that The Crüe is undoubtedly a boys' band.
Even when Sixx called out reviewers in the audience – obviously a reaction to the recent bad reviews – and said we were all just going to go home and jack off suggested that it didn't occur to him that female reviewers were a possibility.
But the Crüe's desire to please the audience is admirable to anyone. From inviting fans on stage to encouraging sing-a-longs to even thanking and acknowledging the audience as their "rock and roll family" there is heart beneath the flamboyant fashion and heavy makeup.
But one thing's for sure: retirement is a good plan for the Crüe.
Opener Alice Cooper – featuring bassist Chuck Garric, who has Milwaukee connections – continues to master the lost art of rock theatrics and, despite being the opener of tonight's show, generated headliner enthusiasm from the crowd who stood and rocked out for the entire 50-minute set which included "School's Out," "Under my Wheels," "I'm Eighteen," "Poison" and "No More Mr. Nice Guy."
Cooper's horror-rock antics included wearing his pet boa constrictor, having his head chopped off in a guillotine, being tortured by a naughty and ghoulish nurse and electrocuted in a Frankensteinian contraption.
This is nothing new for Cooper, the man who put "Mill-e-wah-que" on the map, and he continues to entertain without fail.
Set list:
Motherf—er of the Year
Wild Side
Primal Scream
Same Ol' Situation (S.O.S.)
Looks That Kill
On With the Show
Too Fast for Love
All Bad Things
Smokin' in the Boys' Room
Without You
Saints of Los Angeles
Anarchy in the U.K.
Too Young to Fall in Love
Shout at the Devil
Don't Go Away Mad (Just Go Away)
Live Wire
Dr. Feelgood
Girls, Girls, Girls
Kickstart My Heart
Home Sweet Home
Facebook Comments
Disclaimer: Please note that Facebook comments are posted through Facebook and cannot be approved, edited or declined by OnMilwaukee.com. The opinions expressed in Facebook comments do not necessarily reflect those of OnMilwaukee.com or its staff.