Beloved restaurants offer a taste of nostalgia at Summerfest
The OnMilwaukee Summer Festivals Guide is presented by Potawatomi Hotel & Casino. Create your summer story by participating in casino wide promotions with the chance to win big. This summer I will own it! Click here for more details.
If you take a look across the list of Summerfest food vendors with a keen eye, you might note something interesting.
As you'd expect, many of the vendors providing festival provisions also own brick-and-mortar establishments around town. Take, for example, AJ Bombers, Chubby's Cheesesteaks, Divino Wine & Dine, Mader's and Vagabond.
Interestingly, though, there are also a number vendors who – while they no longer maintain permanent locations in the city – still have a presence at the festival, making Summerfest (and sometimes other festivals) the only place to get their fare. We ran through the list and sorted out four such spots, along with a bit of history about each one.
1. Angelo's Pizza
For more than 50 years, Angelo's Pizza Restaurant and Bar was a fixture on the corner of 16th and Wells Streets. For Marquette students, the small, family owned and operated pizza joint was an integral part of campus life. Folks bear fond memories of their pizza, which was ultra cheesy, and, according to some, developed a mysteriously "buttery" flavor as it cooled. Others extolled the deliciousness of the lasagna, which some say is still unmatched in the city of Milwaukee.
Fortunately, you can still get a taste of Angelo's Pizza (and the lasagne, sort of) on the grounds at Summerfest, where they've been a vendor for the past 16 years. The most popular item? The lasagna sticks.
2. Mille's Spaghetti Factory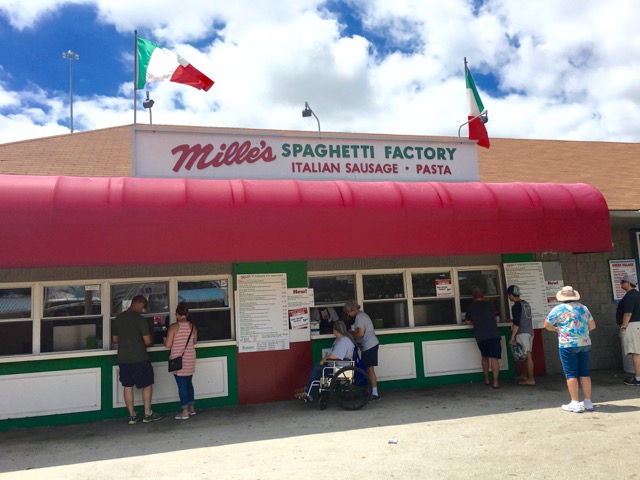 Mille's Italian Sausage has been a Milwaukee fixture since 1932. Founded by Italian immigrants Amatore and Antonette Mille, Mille's Italian Sausage was first sold at street and church festivals, as well as at the Wisconsin State Fair.
As is the case with many Italian recipes, Mille's sausage ingredients have been a long-held secret and one that has attracted the attention of fans for generations. The family also operated a variety of restaurants, including Mille's Barbecue Restaurant in West Allis, Michaelango's in Milwaukee and, most recently, Mille's Spaghetti Factory, which was located at 10365 N. Cedarburg Rd. before closing in 2006.
Fortunately, the family has continued its festival sausage business, which has grown to include Summerfest, Bastille Days and Festa Italiana. Their sausages are also available for purchase in select grocers – but they're always better when made by the family.
Millie's has been a vendor at Summerfest for 35 years, where they're likely to sling several tons of their most popular item: the Italian sausage sandwich.
Tip: If you choose to indulge, be prepared to answer the question "Sharp, or sweet?" with regard to the type of (fresh fried) peppers you want on your sandwich.
3. Sil's Mini Donuts
There's something magical about fried dough that's covered with sugar (or dipped into frosting). And that's a fact Sil's Mini Donuts has capitalized on for nearly 15 years. And they were smart. They made their doughnuts small and snackable, and decided to serve them not only in the morning, but also in the evening.
In fact, they became known for their ability to satiate night doughnut fixes at their iconic drive-thru doughnut shop on the East Side at 1802 E. North Ave. And they had a great run. They served up some of Milwaukee's most popular drunk (and sober) eats for almost 10 years before closing their doors in 2012.
Fortunately, Sil's took their business to the festivals, where they've been offering fresh, piping hot donuts to hungry fest-goers for the past four years. Beginning this year, they've got stands at both the north and south ends of the festival grounds. And lest you doubt the popularity of a simple sleeve of warm doughnuts, Sil's went through approximately two tons of doughnut dough at Summerfest in 2015.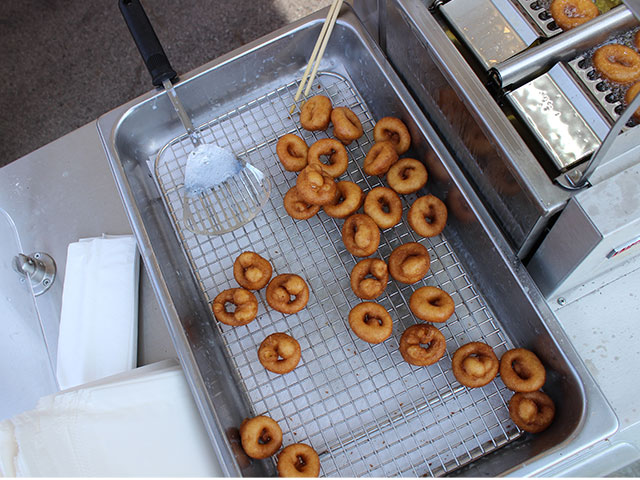 4. Venice Club
The Venice Club, long known for its fish fry, pizza and Italian dishes, has quite the history in Milwaukee. In 1947, it laid down its roots in the Third Ward, where it operated for just over 10 years before relocating Downtown to accommodate freeway construction. It moved again in 1983, this time to Brookfield, where it operated for 31 years before closing in May of 2014.
The Venice Club is the oldest Summerfest vendor of all, logging a total of 42 years. They began in 1974, offering French fried eggplant. The item was so popular that Summerfest moved them to a larger booth (their current location) by 1975. And the popularity of their eggplant is no joke. On an annual basis, the stand goes through at least 2,000 pounds (a full ton) of eggplant. "We're the largest seller of eggplant in the world for 11 days," notes co-owner Tom Balistreri.
Of course, there are other items at Venice Club that are worth a try. Co-owner Casper Balistreri handles the production of the Italian sausage, which is made by hand right on the grounds. And if you miss the chicken parmesan from the restaurant, that's also on the menu during Summerfest.
cqtzettuudxtvqbyxebcxcyeququrtvbacs
Facebook Comments
Disclaimer: Please note that Facebook comments are posted through Facebook and cannot be approved, edited or declined by OnMilwaukee.com. The opinions expressed in Facebook comments do not necessarily reflect those of OnMilwaukee.com or its staff.