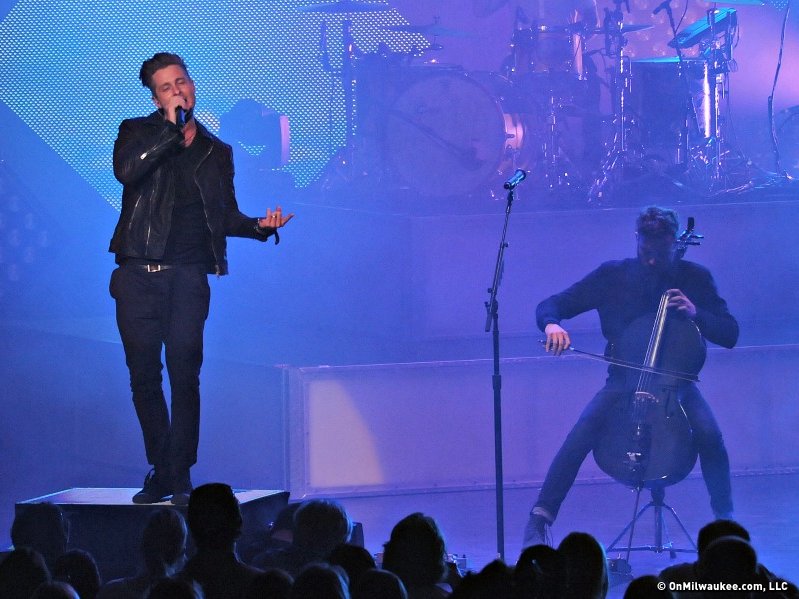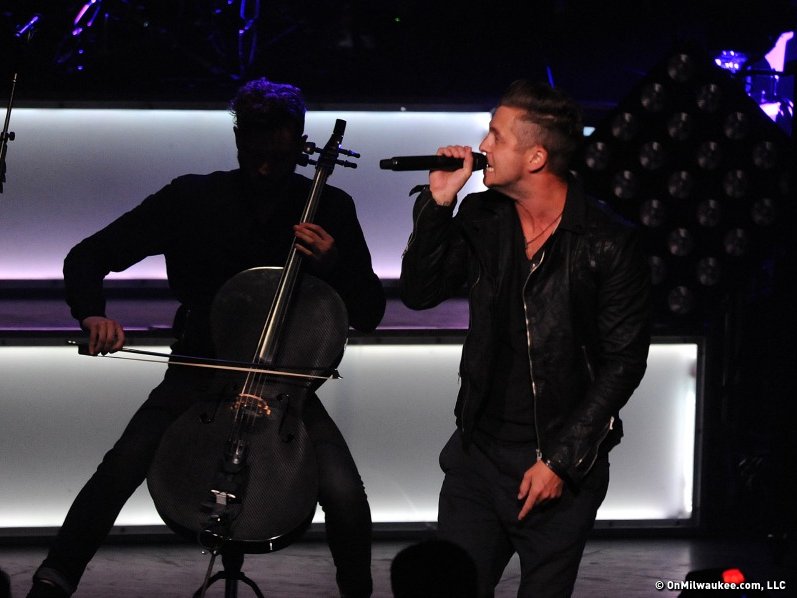 OneRepublic and friends put on one solid show
You've heard OneRepublic. Even if you don't think you've heard OneRepublic, you've heard OneRepublic – either in commercials, brief TV segment stings, on the radio or somewhere else floating around – a point made very clear Tuesday night at the Marcus Amphitheater during the hit band's strong, solid set of hits both expected and unexpected that pleased the understandably enthusiastic, if far from capacity, crowd.
The hit-making band (recently one of the stars of Bud Light's Super Bowl ad campaign) raised the curtain on the show ... by starting off behind a massive white curtain, backlit so only the band members' shifting and floating silhouettes could be seen. They stayed behind the curtain for a surprising number of verses of "Light It Up," holding the tension until finally it dropped away and – voila – OneRepublic in action. It was a visually impressive and sneakily tense way to get the show going.
OneRepublic soon broke into their first hit of the evening, "Secrets." If the vocals were minorly muddled on "Light It Up," they were quickly cleaned up and leveled out for the hit tune, which had much of the crowd singing along. And, in a move impressively impromptu moment of drama, near the end of the track, the Big Bang started popping in the background. It was a moment so theatrical and unexpectedly grand that it surely left lead singer Ryan Tedder and company wishing they had planned it.
The band continued banging out hits over the Big Bang ("I feel like we should be singing 'The Star Spangled Banner'," Tedder joked), including "All The Right Moves" – featuring a pre-song video of British children (cue requisite optimistically bold shot of Abbey Road) singing the tune's chorus – "What You Wanted" and the group's first non-Timbaland aided hit "Stop and Stare," topped with an extra dose of Tedder's gliding falsetto at the very end.
For "Something I Need," Tedder turned to the crowd for help on the chorus – a move Tedder described as "a little cheesy if you overdo it," though it didn't stop him from handing the excitable crowd the mic a few other times throughout the evening. The number ended with the Big Bang grand finale, perfectly timed and proving the point that some of the best moments are the ones that are unplanned.
After a brief break and stage adjustment – set to Moby's "Run On" and Charlie Chaplin clips, so no problems here – OneRepublic starting mellowing things out, beginning with "Apologize" (sans Timbaland's little verbal hiccups; no big loss). They soon moved into a piano-led cover of Sam Smith's "Stay With Me" (in which Tedder amusingly noted he spent much of the ballad dodging mosquito attacks), "Preacher" and "Come Home," a touching ode to an old soldier friend who, according to Tedder's pre-song story, was given his deployment orders right around the time he got engaged, buying a ring and filling out a will at the same time.
This middle section was definitely a less high-octane segment of the show, but it still didn't lack energy. No one was struggling to make it through this segment (save for Tedder and the aforementioned mosquito siege) or desperately needing a hit to get back into the concert. In fact, when they followed that up with an impressive solo Spanish guitar riffing/looping session (at least it looked like looping was involved; there was a lot going on with just one instrument) with lead guitarist Zach Filkins, nobody had a problem. The crowd had even less of a problem when the Filkins' guitar riffs morphed into "Counting Stars."
OneRepublic soon entered the last leg of its set, complete with "Can't Stop," "Feel Again" and a funky arrangement – complete with an acoustic opening and, wait, was that a little M83 "Midnight City" I heard over top of it all? – of "Good Life." Before "Good Life," Tedder – charmingly and pleasantly chatty most of the night, plus two little trots through the crowd – made a brief shout-out to Team USA's World Cup efforts (too soon! Wound's still healing, Ryan!).
Tedder and company wrapped up the show with the road trip-ready, life affirming "I Lived" before leaving the stage and soon coming back out for a much appreciated encore. Considering the audience had already gotten most of OneRepublic's hits, it was a bit of a mystery what we would get. It wound up being the trio of "Love Runs Out," a very unexpected cover of Louis Armstrong's famous "What a Wonderful World" (a song Tedder admitted he wished he'd written) and "If I Lose Myself," complete with bonus glowing drums and confetti.
The frontman also gave Milwaukee multiple complements, noting this was essentially a one-off bonus show for the end of the band's tour and promising to come back soon – likely with new music and newly washed wardrobes, he joked – especially to Madison, sending the folks from the state's capital in the crowd wild (and everyone else that matter; for a maybe 75 percent filled show, the fans made their presence felt).
Now, before the show, I never would have particularly confused OneRepublic for a band with a surplus of personality (the phrase "Instagram rock" keeps coming to mind for some reason). Their music is somewhat anonymous – a earwormy, radio ready mix of pounding drums, lightly inspirational and emotional lyrics, and big soundscapes landing somewhere between Coldplay and Imagine Dragons – and so is the entire band. Only lead singer Ryan Tedder gets much face time, and even he is a bit of a blank.
Or so I thought. The band's big, impressive set Tuesday night was the kind that could change minds, yours truly's included.
As for the openers, American Authors and Mayer Hawthorne were fun and entertaining as well, if not quite as memorable. American Authors – a little muddy sounding at first, but soon cleared up – were the first of the dual openers and got the crowd up and going, especially when they got to the hit "Best Day of My Life." However, looking up the exact title on Google, I accidentally typed in "On Top of the World," the very similar Imagine Dragons hit. For the sake of longevity, the band may have to start carving out a new sound of its own.
Mayer Hawthorne was a tad disappointing for one of my most anticipated acts of Summerfest. The on-stage energy and charismatic charms on display a few years back at the Big Backyard and even further back opening for Passion Pit at The Riverside were swamped under and muted by the big, wide venue – though the fashionably dubious suit jacket and shorts combo was back with a vengeance.
Still, the modern Motown groove – plus a touch of disco this time around – still sounded good, the band's little choreographed dance moves and steps still charmed, and a night featuring "No Strings," "The Walk" (an ode to a "sh*tty girlfriend," announced Hawthorne) and a brief taste of Bell Biv DeVoe's "Poison" can't be all that bad.
Facebook Comments
Disclaimer: Please note that Facebook comments are posted through Facebook and cannot be approved, edited or declined by OnMilwaukee.com. The opinions expressed in Facebook comments do not necessarily reflect those of OnMilwaukee.com or its staff.