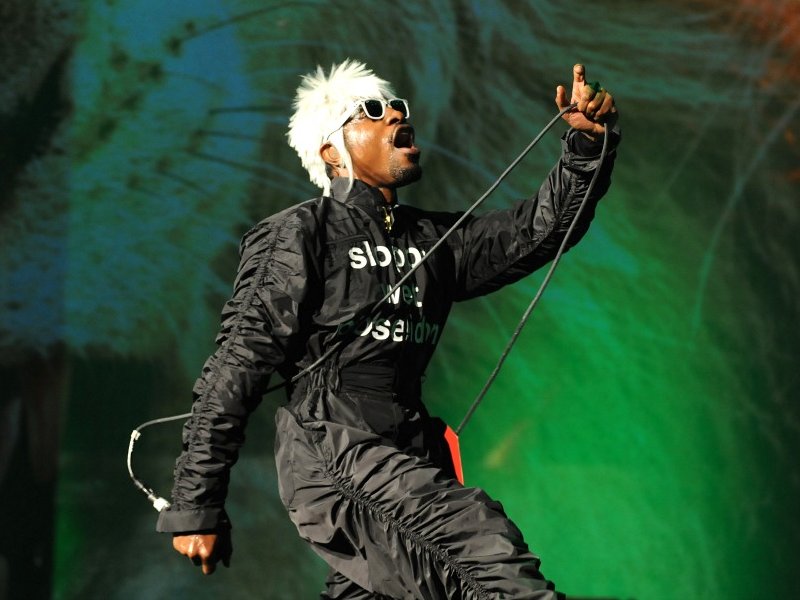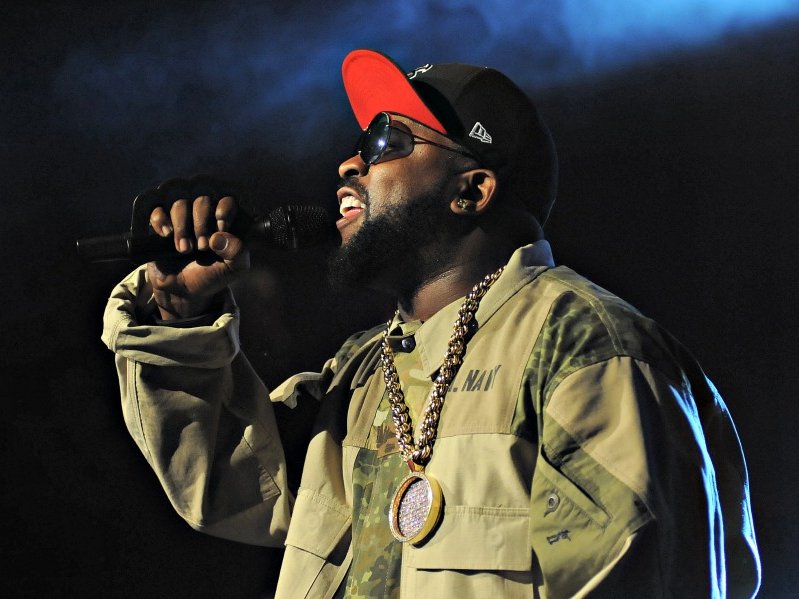 Outkast reunited, and it feels so good
The smile said it all.
André Benjamin's toothy grin is as recognizable as his pitch – and you could see it from the lawn Sunday night at the Marcus Amphitheater.
Benjamin, aka André 3000, and Antwan "Big Boi" Patton have reunited this summer as Outkast for a festival tour, and the duo brought a frenetic pace and a lot of fun to the Summerfest grounds in a 24-song set that lasted nearly 90 minutes on the nose.
While the crowds at Summerfest – even at the Marcus – have been considered somewhat sleepy, Patton remarked on several occasions how energetic the crowd was, and said Milwaukee was one of the loudest venues they've played to date.
Perhaps part of that was because the pair opened with the frenzied "B.O.B." and just plowed through favorites like "Gasoline Dreams," "ATLiens," "Skew It On The Bar-B" and "Rosa Parks."
They stopped after those first five songs to introduce themselves – sort of.
"Y'all know who we are – we are the coolest muthafu***s on the planet," said Benjamin, who wore a white wig with white-framed sunglasses and a black jumpsuit that read "Sloppy Wet Poseidon." across the chest with a Price is Right-styled pricetag dangling from his hip. One side had a "$" printed on it, the other "Sold."
"Even though you know we are the coolest muthaf***s on the planet, we're hot as a muthaf***!"
And almost on command, a crisp breeze shot in down off the lake.
Patton welcomed the city and recognized the Milwaukee Brewers – several of which were in attendance.
They then led into "Aquemini," the title track off their 1996 studio release. To perform it, they entered a see-through cube that had been on stage, and walked around the inside as water effects streamed down around them.
Near the end of the song, symbolically, old images of the pair performing appeared on the cube.
"Oh, that's cool," remarked one fan.
The duo performed the hook one last time at the end, standing at the back of the cube, as the superimposed images scrolled through.
Even the sun goes down, heroes eventually die
Horoscopes often lie and sometimes "y"
Nothin' is for sure nothin' is for certain nothin' lasts forever
But until they close the curtain, it's him and I - Aquemini

It was just the two of them, and they seemed at their best.
Those looking for any signs of tension between the pair, which basically split after their 2003 "Speakerboxx/The Love Below" double album, couldn't see it. They both worked the ends of the stage, and came together naturally.
There were a couple of times where they spoke over each other, or Benjamin didn't finish a bar expecting Patton to pick him up – but those instances could be counted on one hand and didn't impact the overall performance.
They genuinely seemed to be having fun. Benajmin was magnetic, as you'd expect, engaging the crowd, the cameras, and the band and backup vocalists. Patton, who wore a heavy camouflage jacket and shorts along with sunglasses and a black Atlanta Falcons hat – and black and red brass knuckles around his mic – frequently asked "Are you still having a good time?!" but his ever present smile indicated he knew the answer.
Anyone who looked at the advance set list for the pair knew that small solo sets were going to come following "SpottieOttieDopaliscious" (this song introduced the crowd to singer Patrick "Sleepy" Brown, who guested on many of the group's biggest hits) and "Ms. Jackson," but the exchange to get Benjamin off the stage was still somewhat awkward.
The crowd really responded to Patton's first solo song, "Kryptonite (I'm On It)," which was a single off a 2005 compilation he put together. That really seemed to lift him up, and that carried through the rest of the set.
Benjamin slowed the show down with his first two solo songs ("She Lives In My Lap" and "Prototype") and then got everyone moving again with a rousing rendition of his 2003 smash "Hey Ya," which featured about a ten female fans dancing on stage.
Their big finish began with "Roses," provided Milwaukee with a "giant bar of soap" for "So Fresh, So Clean" and "International Players Anthem (I Choose You)," a song dedicated to the late rapper Chad "Pimp C" Butler which they wrote for his group UGK and featured Patton.
The duo stayed true to the set list of their last handful of concerts, as they seem to have once again found a groove together after reuniting at Coachella in early April. The tracks covered the breadth and depth of their 20-year career together, including an "Old School Set" that featured four songs off their 1994 debut record, "Southernplayalisticadillacmuzik" and "Elevators" off "ATLiens."
During that segment of the show, a mock street sign was put in the cube to signify where they're from while older personal images and album art was superimposed on the outside.
Only songs off the 2006 "Idlewild" soundtrack did not make the cut, as the pair featured the hits and well-known songs off their five full length records.
The show ended with "The Whole World," the 2001 single off their compilation album "Big Boi and Dre Present… Outkast" and as it ended, he ran in slow motion and pretended to fall and roll over the finish line.
Despite the small breaks before and after their solo sets, and in the moments they introduced certain songs, the pace was consistent and they did a good job lifting the crowd up, settling it down, and then revving it back up again.
"We wanted to thank you for being down with us for 20 years," Benjamin said.
As fans streamed out of the amphitheater, they were thankful they got the chance to see Outkast perform together again.
It was a late arriving crowd though, as opener Gary Clark, Jr. played to a sparsely occupied setting. Those who came late missed out, as the Texas-based Grammy-winning blues man was fantastic. His vocals were sharp, and his talent with a guitar moved you. He won over anyone who came in late during his nearly hour-long set and ended to a well-deserved standing ovation.
Setlist

B.O.B
Gasoline Dreams
ATLiens
Skew It
Rosa Parks
Da Art of Storytellin, part 1
Aquemini
SpottieOttieDopaliscious
Ms. Jackson
Big Boi solo set:
Krytponite (I'm on it)
GhettoMusick
The Way You Move
André 3000 solo set:
She Lives in My Lap
Prototype
Hey Ya
Old school set:
Hootie Hoo
Crumblin Herb
Southernplayalisticadillackmuzik
Players Ball
Elevators
Roses
So Fresh, So Clean
International Players Anthem (I Choose You)
The Whole World
Facebook Comments
Disclaimer: Please note that Facebook comments are posted through Facebook and cannot be approved, edited or declined by OnMilwaukee.com. The opinions expressed in Facebook comments do not necessarily reflect those of OnMilwaukee.com or its staff.