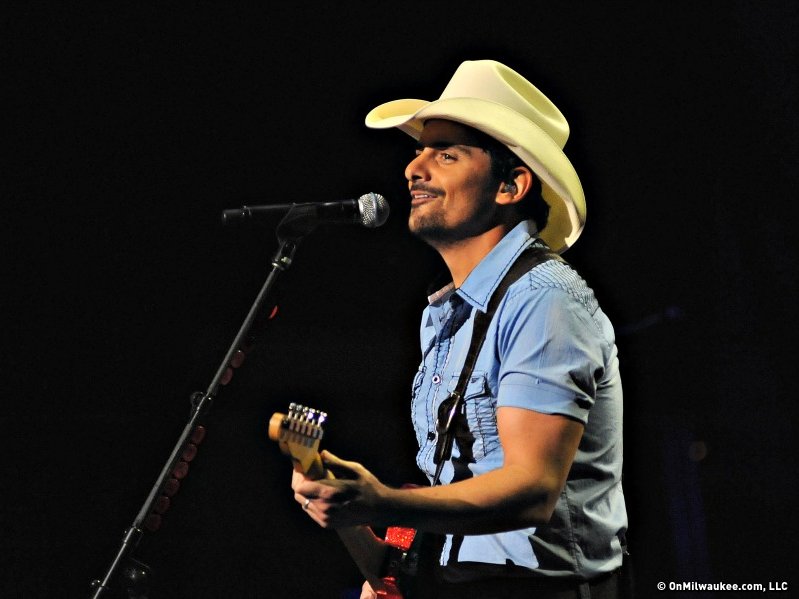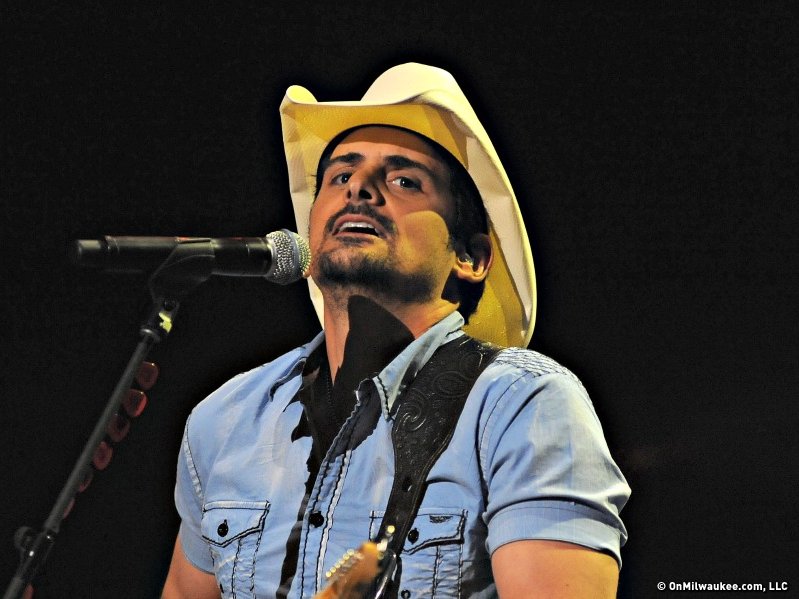 Paisley powers through fun Summerfest set
I pulled the set list from Brad Paisley's June 20 show at Riverbend Music Center in Cincinnati and I used it as a guide for his Friday night Summerfest show. I was hoping that he'd mix it up a bit, but expected he'd crank through his hits and some new stuff, too.
Song by song, Paisley stayed true to his current tour and, despite some sound issues, powered through his Summerfest set with personality, passion and punch.
One week into his judging job on the new ABC show "Rising Star," Paisley came to Milwaukee's walking in similar footsteps as fellow country stars Blake Shelton and Keith Urban, who are also singing contest judges ("The Voice" and "American Idol," respectively).
Indeed, country music is a force in the American music industry. On Friday night, Milwaukee ate it up and drank it in.
A bit different than his 2012 show at the BMO Harris Bradley Center, Paisley's current tour isn't in support of a new album. But he did showcase a few new songs, including the opener "Moonshine in the Trunk" – the title track of his new album that's set for release in August.
Paisley doesn't take himself too seriously, and that's a big part of his appeal. Like many country stars, they know the themes that hit. Paisley packages them with a big production, huge background videos, in-the-crowd charm and a hit list that spans more than a decade.
The 41-year-old Grand Old Opry member knows his stuff and has the acting ability to charm. He demontsrated both on Friday, while also playing a mean guitar.
Five songs in, during "Waiting on a Woman," his 2008 tune that's also a tribute to Andy Griffith, the sound at the show shifted a bit and the background band got louder while Paisley's vocals got softer. It was subtle at first, but the band's sound was definitely, at least to my ear and from my seat, a bit too hot for the remainder of the set.
Sound issues aside, the show powered through and Paisley cranked through "Celebrity" and his personal paean to his genre, "This is County Music."
After three more songs, including "Beat this Summer" and "The Mona Lisa," Paisley walked to the "cheap seats" and did a set to the uncovered portion of the Marcus Amphitheater that began with his heartfelt "Then."
Throughout the show, Paisley grabbed phones from fans, snapped photos and shot videos. (Selfies, ya know, you gotta do it.) He also, of course, laced his set with Wisconsin and Milwaukee references. Beer, cheese, Packers, Lake Michigan and even Aaron Rodgers all got some love.
Paisley's a veteran and tours with a slick production including the Carrie Underwood hologram that accompanies him on "Remind Me." The dude's also a great guitar player and uses a DJ set to showcase his skills by sampling riffs from rock tunes and morphing into Van Halen's "Hot for Teacher."
Paisley closed his set with "Water," and as he's done on other tours "dove" into a fake pool and swam away. It's fun and corny at the same time.
The encore, of course, closed with his hit "Alcohol,"a tribute to drinking that proudly mentions Milwaukee. Summerfest drank in every line and serenaded Paisley off the stage and onward to the Chippewa Valley Country Fest Saturday night for his next appearance.
Opener Darius Rucker showcased his strong vocals, amazing stage appeal and all around good guy approach with a 45-minute set that featured three "Hootie in the Blowfish" songs, all of his county hits and his powerhouse rendition of "Wagon Wheel." Rucker toasted Paisley on stage with a shot and called him a "great guy." He later joined Paisley for his final tune, "Alcohol."
Set list

Moonshine in the Trunk
Ticks
American Saturday Night
Southern Comfort Zone
Waiting' On A Woman
Celebrity
This Is Country Music
I'm Still a Guy
She's Everything
Beat This Summer
The Mona Lisa
Then
Online
Four-wheel Park
Mud on the Tires
River Bank
DJ set / Hot for Teacher (Van Halen cover)
I'm Gonna Miss Her
Remind Me
Water
Encore:
Old Alabama
Alcohol
Facebook Comments
Disclaimer: Please note that Facebook comments are posted through Facebook and cannot be approved, edited or declined by OnMilwaukee.com. The opinions expressed in Facebook comments do not necessarily reflect those of OnMilwaukee.com or its staff.