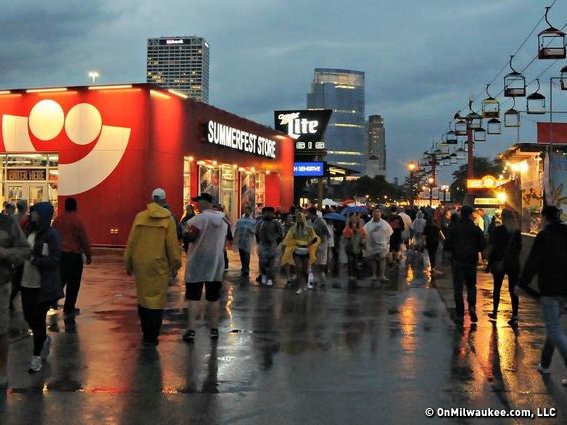 Summerfest 50 is done, but the three Ds ruled
Music and sports. Music and sports. Music and sports. Well, and food. Yes, food.
I've said this before, but it deserves attention again. Nothing brings us all together like music and sports. And, yes, food. We can disagree on almost everything, but once music, sports and food are presented, we find ways to come together. Sure, tastes may not all reconcile, but community rallies around musics, sports and food.
So, thank you, once again, Summerfest, for being our guiding light, our civic flag and our collective place to to join, jam and just enjoy life.
I love Summerfest. Always have.
For me, it's like this massive party that's personalized in so many ways that it just truly does appeal to everyone from 8-80. Complain as you will about the crowds, construction and whatnot, but those things add to what our Downtown area has worked so hard to get: density, discovery and diversity.
Let's explore these important traits as they related to the Big Gig.
Density
Great cities work with development, transit and people that are efficiently packed together. Summerfest does this well. Not only on its grounds, but all over Downtown. Midnight comes and 90,000-plus scatter about and explore. It's beautiful and impactful.
Discovery
Great cities create multiple ways for people to discover what they have. Same goes for Summerfest.
This year, there were so many more efficient ways to get there, and soon Downtown will add a Streetcar that will only help get people around and connected. The grounds added retail, stages, new food and more engaging ways to connect to Summerfest's past, present and future.
I love that Summerfest is slowly adding VIP experiences too. Sports teams call this "segmented luxury." All event-goers want to be VIPs, so the creation of multiple areas and opportunities while always focusing on making the whole better works. Treat patrons well, design great experiences for them and they will spend. And Milwaukee does just that.
I also love when the artists discover the rest of Milwaukee. One example? Phil Vassar and Huey Lewis (and the News) stopped at the Calderone Club in Downtown for dinner.
Diversity
If you're from Milwaukee, you may have a complex that Summerfest isn't The Governor's Ball, Bonnaroo Music and Arts Festival, SXSW or whatever the next hot music festival is. Screw that. Summerfest is the world's largest musical festival, and it's in Milwaukee.
It's also about multiple generational connections: generations X,Y, Z and even younger. Kids Day, July 5, was huge this year – and free. Summerfest connects with nearly anyone and truly offers something for everyone.
Add the weather from day one to this mix, and you have climate diversity too. Admit it: You loved those storms. That's the stuff of which Summerfest legend is made. Everyone connects with weather. And, as I mentioned, everyone connects with music – no matter your background or taste preference. Summerfest offered it all.
Weather Nights like tonight become @summerfest folklore and stuff of legend. #Summerfest50 pic.twitter.com/zpfgNmIIx6

— Jeff Sherman (@ShermanJeff) June 29, 2017
Yet Summerfest is over, and again I'm kinda sad. I already miss the buzz and activity that comes with those 11 days. But I know that the planning and future building are already underway for the 51st version.
I'm excited, and we're honored that OnMilwaukee is a partner in an event that screams and cheers Milwaukee each and every year.
Onward – and on to #Summerfest51
Facebook Comments
Disclaimer: Please note that Facebook comments are posted through Facebook and cannot be approved, edited or declined by OnMilwaukee.com. The opinions expressed in Facebook comments do not necessarily reflect those of OnMilwaukee.com or its staff.