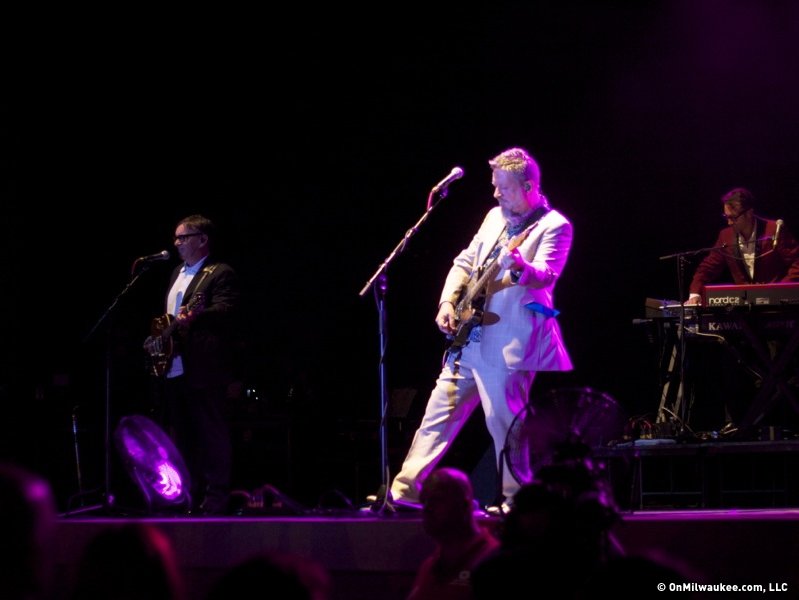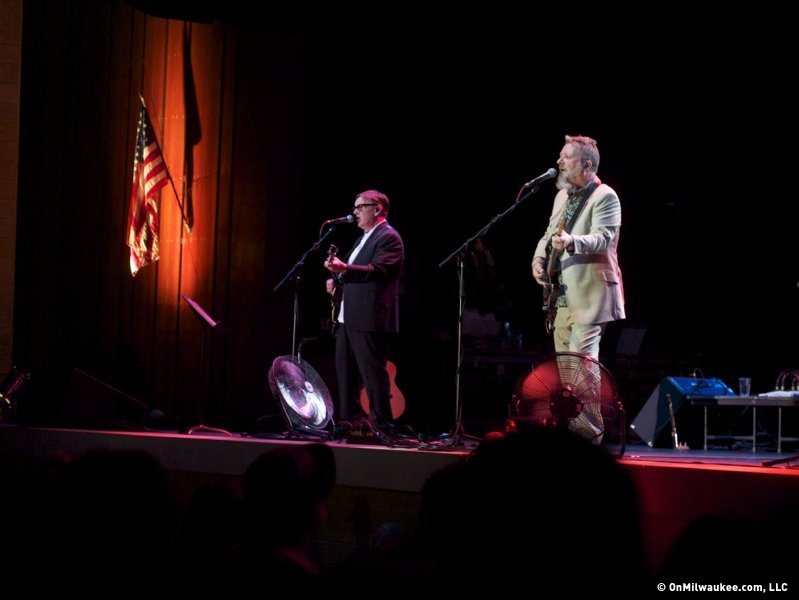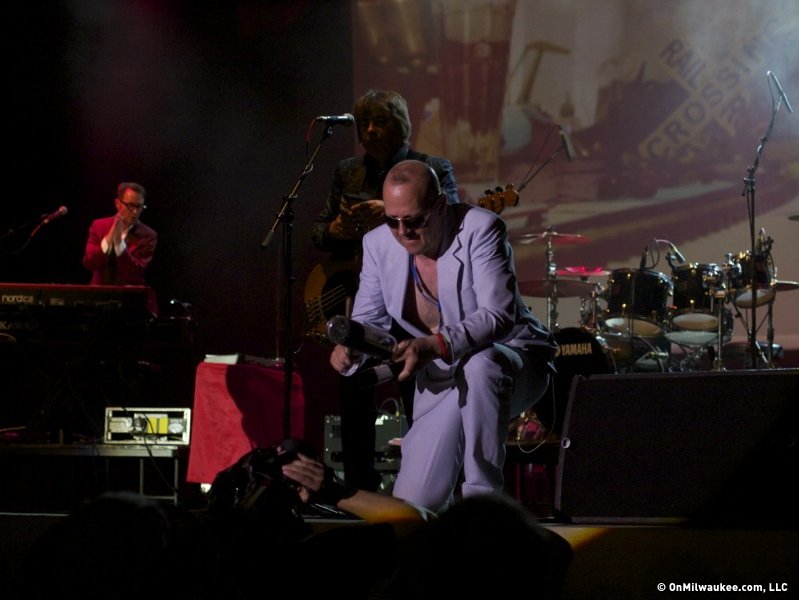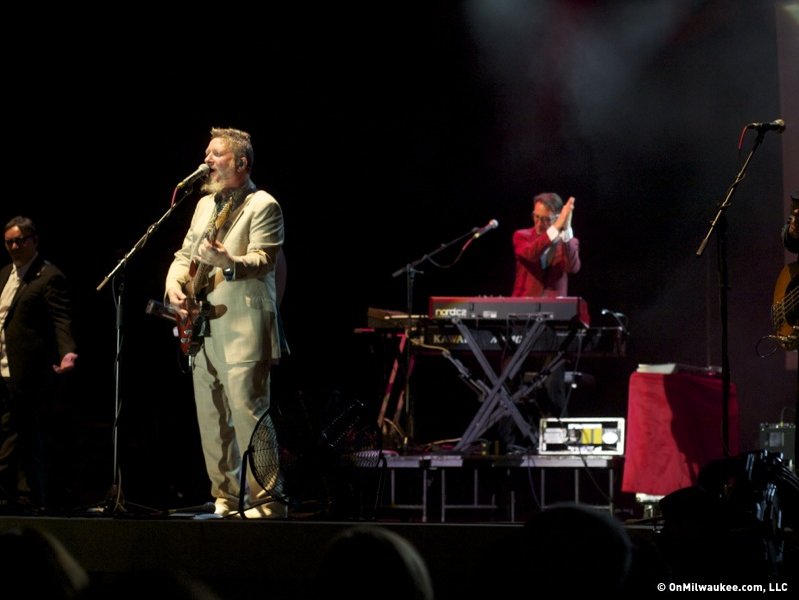 Squeeze closes Summerfest with amazing set of old New Wave hits
My slate of Summerfest reviews this season has been nothing but comfortable. I picked four bands that I've known and appreciated over the years; not the most musically challenging assignments, but some of the most pleasant.
So it's fitting that on the final night of Summerfest that, just like in 2010, I checked out a band that was part of my soundtrack growing up. Then, it was Devo, who made one of the first tapes I bought as a kid. Tonight, it was Squeeze, the band behind one of those 14-for-a-penny CDs I bought to play on the stereo I got at age 14.
I played "Singles – 45's and Under" in my room after school, that awesome 1982 album that, to me, best typifies this great New Wave band. No, I never spent much time dwelling on the breakups, reunions and the rotating door of musicians that made up Squeeze. I just listened and enjoyed, not knowing at the time that they were discovered by the Velvet Underground and that Elvis Costello produced their fourth album.
Sure, I knew who Jools Holland was (primarily because of his awesome name), but I was content, then and now, to know that Glenn Tilbrook and Chris Difford wrote each and every hit, and stayed with Squeeze since their 1974 inception. Bassist John Bentley spent some time with Squeeze in the early '80s and rejoined the band in 2007.
So tonight, some of the players have changed (no more Holland or Paul Carrack, who sang on "Tempted"), but this wonderfully dated, British band sounded smooth, energetic and plenty great in this latest incarnation, on its "Summer Dance Party" tour.
Actually, tonight's show was in my top five of all time at Summerfest. Squeeze sounded better live than on the records. I barely stopped smiling during the 75-minute set.
Tilbrook looked a little like Col. Sanders with a long beard being blown by two strategically-placed fans. Dressed up like a southern gentleman, he voice was perfectly clear and his guitar playing was superb. His solo on "Cool For Cats" was excellent, and he looked genuinely happy to be in Milwaukee.
Difford, by comparison, looked mellow, his low voice complimenting Tilbrook ever so nicely. The show could hardly be more perfect.
Even if you don't call yourself a Squeeze fan, you'd know plenty of the songs Squeeze performed at this 9:30 p.m. show at the Briggs and Stratton Back Yard. You've heard "Cool For Cats," "Pulling Mussels (From the Shell)" and of course, "Tempted," which they played acoustically for the first part. (For those who care, "Pulling Mussels" contains my all-time favorite tiny piano solo from 2:15 to 2:38.)
You probably also know the final song of the encore, "Black Coffee in Bed," but I was pleased to hear a few of my favorites, too, like "If I Didn't Love You," "Is This Love?" and "Another Nail in My Heart."
Squeeze also tried out "Top Of The Form" and "Honey Trap" from their upcoming album. And you know what? These new songs sounded like Squeeze.
For a band that's been together off and on for almost 40 years – they played Summerfest in 1980, for goodness' sake – Squeeze sounded tight and faster than on the records, and the crowd soaked up their performance (and thankfully, not standing on the bleachers). On a lovely, finally cool evening at the lakefront, this show was a wonderful way to close out another busy Summerfest.
'80s New Wave, beautiful harmonies and pumped up alternative music before it was called that ... I'm happy I finally had the chance to see Squeeze live. This Summerfest show will go down in the history books.
Set list:
Take Me I'm Yours
If I Didn't Love You
In Quintessence
Is That Love
Tommy
Top of the Form
Another Nail in My Heart
Melody Motel
Cool for Cats
Up the Junction
Honey Trap
Goodbye Girl
Bang Bang
Annie Get Your Gun
Hourglass
Pulling Mussels (From the Shell)
Tempted
Encore:
Slap and Tickle
Black Coffee in Bed
Talkbacks
devidia | July 9, 2012 at 10:22 a.m. (report)
Yes, that was an excellent show. I didn't really know anything about this band and the two friends that I attended this show with tried to fill me in as best they could. I only knew one song ("Tempted") but they sounded great and everything seemed really "on" during this show. Your review was spot on!!
ubufwzqdcbtxwxdzsxzrxf
Facebook Comments
Disclaimer: Please note that Facebook comments are posted through Facebook and cannot be approved, edited or declined by OnMilwaukee.com. The opinions expressed in Facebook comments do not necessarily reflect those of OnMilwaukee.com or its staff.