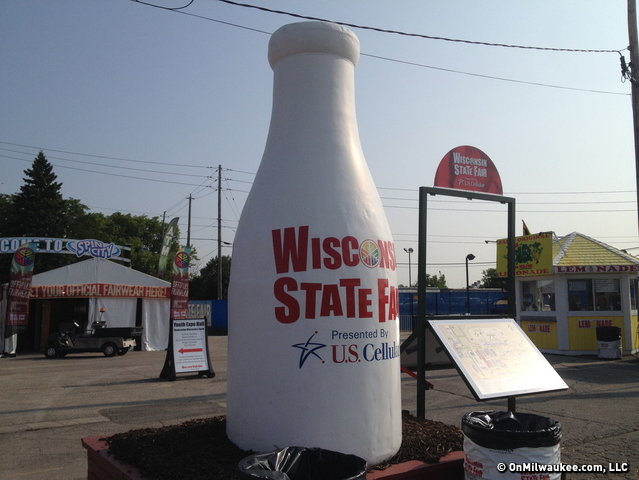 The 2014 Wisconsin State Fair by the numbers
Less than 24 hours after closing its gates for 2014, the Wisconsin State Fair tallied up and released its final numbers for this year's edition. The results equal out to yet another year of big numbers and broken records.
The 2014 Wisconsin State Fair wound up bringing in 1,030,881 fairgoers, making this the second year in a row in which attendance has reached over a million patrons. It not only topped last year's total – 1,012,552, which was the largest reported overall Fair attendance since 1969 – but also delivered two of the highest paid attendance days in the history of the Wisconsin State Fair: Saturday, Aug. 2 and Saturday, Aug. 9.
While weekends were predictably successful, weekdays brought in hefty crowds as well, with each day of the State Fair bringing in between 70,000 and 137,000 people.
"We are aware that another year of great weather helped us once again reach over one million in attendance, but beautiful weather does not necessarily mean people want to attend your event," said John Yingling, chairman of the Wisconsin State Fair Park Board.
"There are many things people can enjoy on a beautiful summer day in Wisconsin, and the fact that these people chose to spend their time enjoying the Wisconsin State Fair is a testament to the quality of the event and the memorable experiences that our visitors have each year."
The record-breaking turnout was an active bunch, as well. More than 2,700 exhibitors participated in various State Fair competitions, while patrons took more than 125,000 trips down the Giant Slide and 112,000 trips on the Sky Glider.
The crowd also managed to make a hefty and healthy impact on the state – all while being thrifty – thanks to the State Fair's admission discounts. On Wells Fargo $2 Day, patrons wound up donating more than 111,000 pounds of food and $6,450 in cash donations to the Hunger Task Force. On UW-Madison Day, visitors turned in 141 fifty-five gallon bags worth of school supplies and $40,000 in cash to put toward Milwaukee Public Schools.
And now, for the freak show numbers: the food.
The Fair sold a record-breaking amount of cream puffs (now proven to be the best thanks to science – or at least something almost kind of sort of like it!) with 400,678 puffs dished out. By the end, the Fair was supplied with 579,920 lbs. of Arctic Glacier ice, while Catalano's squeezed its way through 28,000 lemons.
Meanwhile, over 55,000 grilled cheese sandwiches, 20,000 pork chop sandwiches, almost 14,000 rib eye sandwiches and 5,850 orders of Bacon Wrapped Cherrywood Smoked Pork Belly on a Stick were consumed over the 11-day festivities. It's okay; everyone got their veggies in too with over 58,000 baked potatoes and almost 107,000 ears of corn also sold.
We'll all do it again next year too when the State Fair rolls back around Aug. 6-16.
Facebook Comments
Disclaimer: Please note that Facebook comments are posted through Facebook and cannot be approved, edited or declined by OnMilwaukee.com. The opinions expressed in Facebook comments do not necessarily reflect those of OnMilwaukee.com or its staff.